Trump shifts meaning of 'Drain the Swamp' from ethics to anything he objects to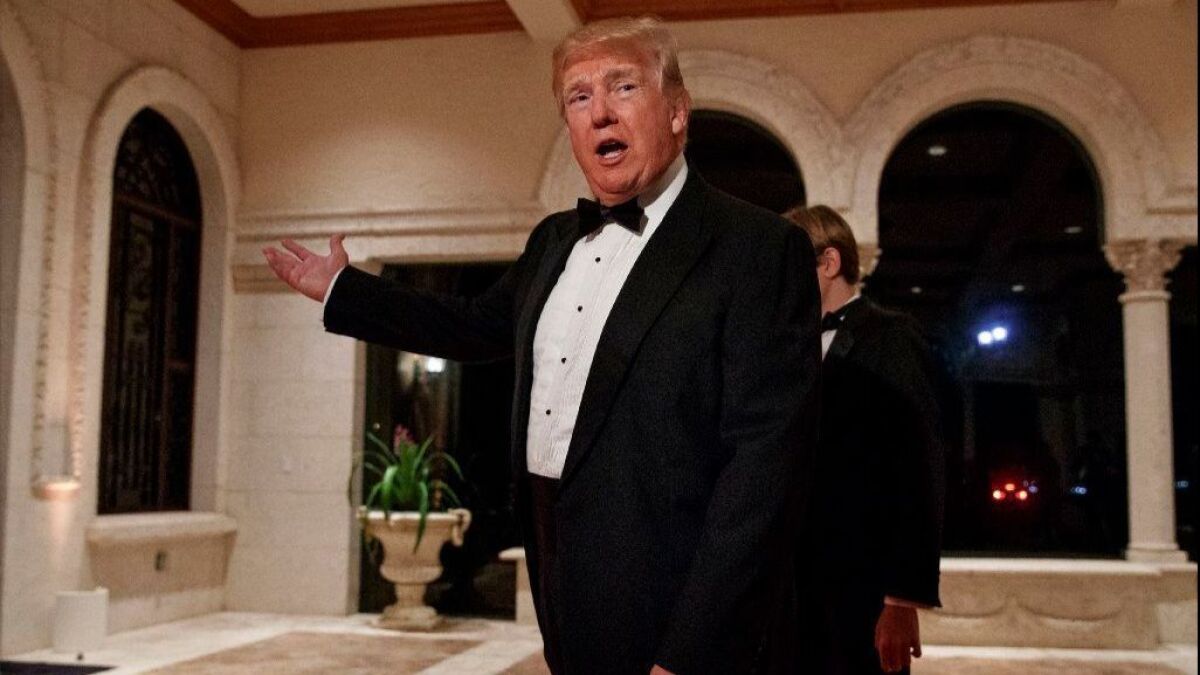 Reporting from Washington —
Donald Trump long thought the phrase "Drain the Swamp" was a little hokey, he has confessed to crowds. Yet it stayed. If Frank Sinatra had to croon "My Way," even when he tired of it, Trump reasoned aloud, Trump could belt out his crowd-pleasing catchphrase.
More than a year into his presidency, Trump mouths the words a little less often. But rather than completely kill off a slogan that once rivaled "Build the Wall" in the Trump repertoire, he has done something more subversive: He has drained it of its meaning.
The motto no longer refers to Trump's promises of ethics and lobbying reforms — many of which have dropped by the wayside or been watered down — or to vows about stopping members of his administration from profiting from their service.
In recent months, Trump has rebranded the "swamp" to mean almost anything he objects to: reporters, opponents of his immigration plan, free traders, phonies, bureaucrats, politicians who vote against tax cuts.
"By ending excessive regulation, we are defending democracy and draining the swamp," Trump declared at a White House event in December where he stood by stacks of paper symbolizing government regulations. "Truly, we are draining the swamp."
Many of those regulations were repealed after high-priced campaigns by industry lobbyists, the very swamp creatures Trump railed about on the campaign trail.
"If Trump doesn't like it, it becomes draining the swamp," said John Kelly, who writes about language for Oxford Dictionaries, Dictionary.com and other publications. "It becomes semantically bleached in that way. It becomes its own opposite."
The shift is emblematic of a wider trend with the administration, which often seems to have adopted Humpty Dumpty's rule that a word "means just what I choose it to mean — neither more nor less." The words "fake news" in Trump's lexicon mean almost any story he objects to.
Earlier this week, Trump declared Democrats who didn't clap for his State of the Union speech "treasonous." And, as he's repeatedly shown, he likes to sprinkle superlatives on actions that don't measure up to labels like "the biggest" or "the best."
"It is 'Alice in Wonderland' logic," said Robert Weissman, president of Public Citizen, a liberal advocacy group. "It's a tautology: Whatever I'm doing is draining the swamp, by definition."
The White House did not respond to questions about its use of the phrase.
Trump's most prominent supporters have cast an even wider net around the slogan. To them, stocking the courts with conservative judges now counts as swamp-draining. So does cutting taxes and shrinking the Internal Revenue Service. Donald Trump Jr. invoked the war against the swamp to defend Trump's decision to fire FBI Director James B. Comey last year.
"'Drain the Swamp' came to mean two different things," said former Republican House Speaker Newt Gingrich, who speaks frequently for Trump, and has helped expand the phrase's definition in television interviews.
One category is the "sort of K Street lobbyist-political corruption kind of swamp" that formed the basis of Trump's attacks on Democratic presidential nominee Hillary Clinton, he said.
The other is "huge elements of power held by people virtually unaccountable — who basically impose their own values and prejudices with very little supervisions."
And who are they?
"Regulators, FBI agents. You name it."
Weissman and other critics point to myriad concerns over the kind of cronyism and self-dealing to which "Drain the Swamp" once referred.
This week alone, Republicans raising money for congressional seats are raffling off a weekend at Trump Winery, one of many product tie-ins ushered in during the Trump era. Trump's top public health official, Dr. Brenda Fitzgerald, was forced to resign last week after she was caught trading tobacco stocks, while his top housing official, Dr. Ben Carson, faced new scrutiny over whether his son was using his dad's position to beef up business.
Mick Mulvaney, his budget director, who also runs the federal consumer protection agency, took thousands of dollars in campaign contributions from the payday loan industry while serving in Congress. Under Mulaney, the agency is pulling back from enforcement efforts aimed at cracking down on predatory lenders.
Former top campaign officials have opened lobby shops. Trump's Mar-a-Lago club in Florida has doubled membership fees to $200,000, which includes access to what the administration actively promotes as the "Winter White House." His hotel in Washington, operated in a government-owned historic building through a special lease deal, has foreign interests lining up to book rooms.
Those who seem to profit from their association with Trump have seized on alternative definitions for the swamp.
"We hear what we want to hear out of the phrase, but I think that it was geared toward the establishment of government," said Barry Bennett, a former campaign aide whose lobbying firm has several ties to Trump.
"I'm part of the change," he insisted. "Beauty is in the eye of the beholder."
Etymologists trace "Drain the Swamp" — a metaphor for getting rid of disease-carrying mosquitoes — at least a century back. It has been used to rally Americans behind a variety of political causes: from stamping out capitalism on the far left to terrorism at the center to destroying big government on the right. The image is enriched by the legend that Washington is built over a swamp. It is not, at least mostly not, although it does get muggy in the summer.
When it entered Trump's lexicon, the phrase referred to a specific attack he was making on Clinton, an accusation that she was a leading force in a self-dealing culture, enriching herself through her political position and insulating herself from an FBI investigation through connections.
He used the slogan to roll out a series of ethics reforms that he promised would protect his administration from the opportunism that affects so many in Washington.
"When he first said 'Drain the Swamp,' the hair in the back of my neck stood up," said Eric Bolling, a former Fox News host who last year published the book, "The Swamp: Washington's Murky Pool of Corruption and Cronyism and How Trump Can Drain It."
"It was the right comment at the right time," said Bolling, a supporter who speaks on occasion with Trump.
Though his book title refers to Trump's original meaning, Bolling defines the swamp in the broader terms used by Trump's allies. To him, defeating the swamp means conquering opponents, including establishment Republicans in the "Never Trump" movement who don't support Trump's agenda.
But even the party's establishment seems to have taken a cue from Trump. In a year-end press release, Majority Leader Mitch McConnell, the Republican from Kentucky who epitomizes the GOP mainstream, touted the party's "historic" economic accomplishment: "Draining the Regulatory Swamp."
Twitter: @noahbierman
---
Life is stressful. Our weekly mental wellness newsletter can help.
You may occasionally receive promotional content from the Los Angeles Times.