Trump says talks with North Korea are already in high gear, tries to reassure Japan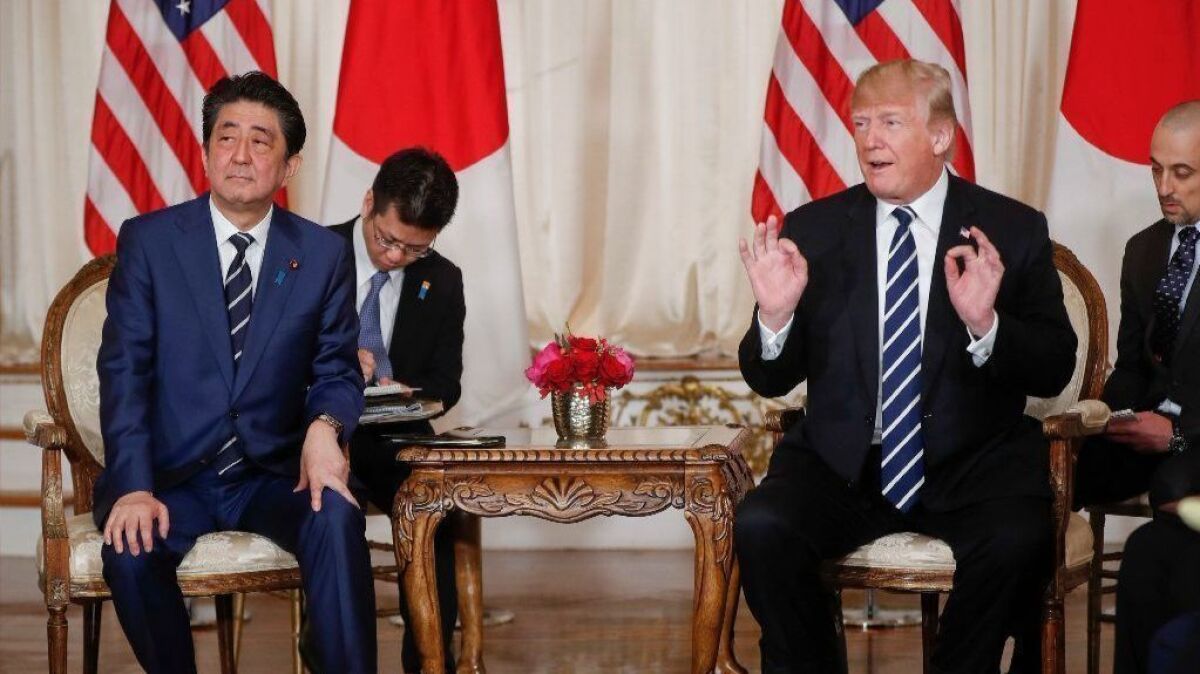 Reporting from Washington —
President Trump said on Tuesday that direct talks with North Korea have already begun at "extremely high levels" and that five undisclosed sites are being considered for his meeting with North Korean leader Kim Jong Un, signals that plans for a once unlikely summit between Trump and the leader of the adversary regime have new momentum.
"There's a great chance to solve a world problem," Trump said. "This is not a problem for the United States. This is not a problem for Japan or any other country. This is a problem for the world."
The hopeful comments came as Trump tried to reassure a key ally in the region, Japan. With Japanese Prime Minster Shinzo Abe at Trump's Mar-a-Lago retreat for two days of talks, the president said that the United States and Japan "are very unified on the subject of North Korea." North Korea and disagreements over trade are the primary subjects of the two leaders' meeting.
Trump also praised negotiations between North and South Korea, which were reported Tuesday, to officially end the war between them that concluded in 1953 without a peace treaty. A treaty between North and South Korea would be a crucial step toward ending North Korea's isolation, and Trump said several times that the discussions have his blessing.
Trump did not identify who was involved in the high-level talks between the U.S. and North Korea, and neither a national security spokesman nor Press Secretary Sarah Huckabee Sanders would comment. The Washington Post reported late Tuesday that CIA Director Mike Pompeo, Trump's nominee for secretary of State, secretly visited Kim in North Korea over the Easter weekend.
Trump also did not name any of the potential sites for a meeting between him and Kim, though he shook his head no when asked whether the United States was a potential venue.
"We'll be having discussions with Kim Jong Un very soon," Trump said. He added that talks could take place by early June, "assuming that things go well."
"It's possible things won't go well and we won't have the meetings and we'll just continue to go on this very strong path we have taken," Trump added.
The prospect of talks between Trump and Kim have Japan on edge, given the risk to Japan posed by North Korea, a hostile, nuclear-armed neighbor. Japan has depended on the U.S. for its defense since the end of World War II and views any potential shift in strategy with apprehension, particularly any deal that would require the U.S. to pull back some of its troops from the region.
The Japanese were neither consulted nor informed before Trump abruptly announced last month that he would meet with Kim.
The Japanese are also frustrated with Trump's recent round of steel and aluminum tariffs, which exempted other allies but left Japan subject to higher import taxes.
Even so, Trump and Abe, who is facing heightened political troubles at home because of a land-sale scandal, have forged a strong bond. This is their fourth meeting since Trump was elected, and they speak on the phone frequently. As they sat down amid the gilded chandeliers of Trump's club for the first time Tuesday, the president and Abe exchanged smiles and talk of another round of golf, which has been the basis of their personal diplomacy.
Abe is trying to make sure Trump does not forge a pact with Kim that could leave Japan vulnerable. He emphasized the success of the joint U.S.-Japan "maximum pressure" strategy that prompted Kim to request talks with Trump.
The Japanese prime minister employed the approach that he pioneered and that other foreign leaders have since taken with Trump: prodding him with flattery.
Abe praised Trump for his "courage" in agreeing to meet with Kim, emphasizing the potential to make history while underscoring "the importance of achieving the complete verifiable and irreversible denuclearization" of North Korea.
"Donald's unwavering conviction as well as the determination that you demonstrated … made it possible to achieve this major change," Abe said.
Trump, for his part, tried to smooth over any disagreements with Abe.
"Our nations, I think, have never been closer than they are right now," he said. Trump said the two countries had made "a lot of progress" leading up to this week's meeting in talks over trade and security.
Before they met, American officials stressed the need to allay Japanese concerns.
"The reassurances that the president has provided from the beginning of his relationship still stand," said Matt Pottinger, the senior director for Asian affairs at the White House National Security Council. "And I don't think that Prime Minister Abe will leave Mar-a-Lago with anything other than a high degree of confidence in the health of the alliance, including as we go into a summit with the North Koreans."
Trump's top economic advisor, Larry Kudlow, told reporters earlier Tuesday that the Trans-Pacific Partnership was also expected to be discussed during the meeting, though he downplayed the possibility of the United States reentering the multi-nation trade deal that Trump abandoned soon after taking office to keep a campaign promise.
Trump seemed to confirm that unlikelihood in a tweet late Tuesday night. After telling pro-TPP Republican senators last week that he would review his decision to withdraw from the proposed 12-nation pact, and ordering Kudlow to look into reentering the deal, the president tweeted, "While Japan and South Korea would like us to go back into TPP, I don't like the deal for the United States."
Previously, Abe has urged Trump to reconsider. Earlier Tuesday, Kudlow said there was "nothing at all concrete" on the table.
At a news briefing Tuesday in Seoul about negotiations between North and South Korea, an aide to South Korean President Moon Jae-in said the South hopes Moon's upcoming meeting with Kim will address "fundamental issues."
Im Jong-seok, Moon's chief of staff, said Seoul and Pyongyang have agreed to three issues at the top of the agenda: denuclearization of North Korea, establishment of permanent peace on the Korean peninsula and the improvement in inter-Korean ties.
Officials from the South have said they are proceeding cautiously with the issue of achieving peace between the two countries at this first meeting between Moon and Kim. A 1953 armistice ended fighting in the Korean War between the two countries, but they remain technically at war.
"As they say, we cannot get full with the first spoonful," Im said.
"A journey of a thousand miles begins with a single step," he added. "Peace is a difficult issue for us. But we believe this summit will be a new start."
Times staff writer Matt Stiles in Seoul, South Korea, contributed to this report.
Follow the latest news of the Trump administration on Essential Washington »
Twitter: @noahbierman
---
UPDATES:
8:10 p.m.: This article was updated to include Trump's tweet against the Trans-Pacific Partnership.
6:25 p.m.: This article was updated to note the Washington Post report of Pompeo's visit with Kim in North Korea.
This article was originally published at 5:05 p.m.
---
Life is stressful. Our weekly mental wellness newsletter can help.
You may occasionally receive promotional content from the Los Angeles Times.