Trump arrives in London — and attacks Mayor Sadiq Khan as a 'stone cold loser'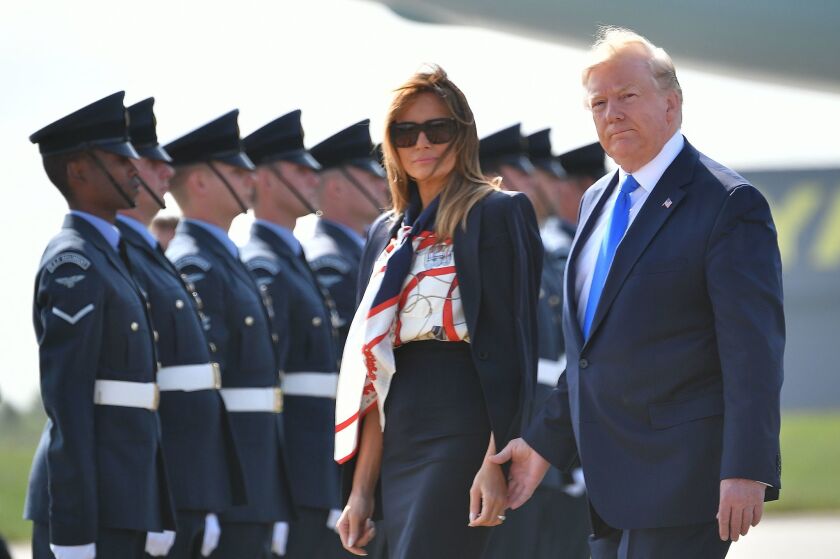 Reporting from London —
President Trump arrived in London early Monday to begin a five-day European tour that centers around a banquet hosted by Queen Elizabeth II and a visit to an American cemetery near the beaches in France where U.S. troops stormed ashore in the D-day landings 75 years ago.
Leaving behind the impeachment talk that dominates Washington and a Wall Street slump triggered by his trade tariffs, Trump's first state visit to Britain coincides with political upheaval over Brexit and the impending resignation of Prime Minister Theresa May on Friday.
But just as Air Force One was touching down at Stanstead Airport on the outskirts of London around 9 a.m. local time, Trump was already tweeting attacks against the city's mayor, Sadiq Khan, calling him "a stone cold loser."
Trump added, in a second tweet in which he likened Khan to "our very dumb and incompetent Mayor of NYC de Blasio" and mocked Khan's height, that he is glad to be in the United Kingdom.
"In any event, I look forward to being a great friend to the United Kingdom, and am looking very much forward to my visit. Landing now!" he wrote.
Even before he left Washington, however, Trump's now-familiar penchant for sharp insults and unsolicited advice about other countries' politics overshadowed the planned pomp and rituals, at least in the British media.
During an interview with the British tabloid the Sun, Trump was informed that Meghan, Duchess of Sussex, who married Prince Harry in May 2018, had called him "misogynistic" and "divisive" during the 2016 presidential race.
"I didn't know that. I didn't know she was nasty," Trump said of the former Meghan Markle, who was born in Los Angeles and is now a popular member of the royal family.
The Sun released audio of Trump's interview after he denied calling her "nasty." He then tweeted that the "fake news" had invented his comment, although the audio makes clear he said it.
Asked on CBS' "Face the Nation" if the kerfuffle would disrupt the president's visit, Jeremy Hunt, the British foreign secretary, said the British have a "whole list" of disagreements with the Trump administration.
"I don't think it's going to disrupt the welcome at all because I think the other thing we've learned from the president is that you know regularly we have to agree to disagree, and there's a whole list of things that we don't agree with the administration on," he said. "But it doesn't affect the fact that we have the most important partnership that there is in the world for freedom, democracy, the rule of law, the things that really matter, and that's what we're celebrating."
The president set a similar caustic tone before his working visit to London in July, when, in another tabloid itnerview, he criticized May for her handling of Brexit. The president's critique of his host was widely panned in the British media.
"This is what he does," said Rachel Rizzo, a fellow at the Center for a New American Security, a nonpartisan think tank in Washington. "He goes to other countries, takes part in diplomatic visits and throws jabs."
Trump jumped into British politics in a separate pre-trip interview last week, telling the Sunday Times that Britain's next leader should make Nigel Farage, the far-right populist who had helped lead the Brexit movement, the country's chief negotiator.
He also said Boris Johnson, the pro-Brexit former foreign minister, was a good candidate to succeed May when she steps down Friday. Trump and May are scheduled to meet at 10 Downing St. on Tuesday in one of her final official acts as prime minister.
Speaking to reporters Sunday evening before departing the White House, Trump shrugged off questions of impropriety as to his willingness to opine on British politics, blaming the media for compelling him to comment.
"Well, people ask me questions," he said. "Don't ask me the question if you don't want me to talk about it."
On Monday, politics may be temporarily sidelined when the president goes to Buckingham Palace for ceremonies intended to cement the historic bonds and so-called special relationship between the United States and Britain.
Following a welcoming ceremony, Trump is scheduled to have lunch with the 93-year-old monarch. He then heads to Westminster Abbey for a cultural event and then to Clarence House for tea with Charles, Prince of Wales and heir to the throne, and his wife Camilla Parker Bowles, Duchess of Cornwall.
Trump will be the guest of honor at a state dinner hosted by the queen on Monday night. She previously held state dinners for Presidents George W. Bush and Barack Obama.
Markle won't attend any of the functions. Officially, the reason is that she remains on maternity leave with her 3-week-old son, Archie.
Protests are expected around Buckingham Palace throughout the day, and Khan has authorized protesters to fly a giant inflated "Baby Trump" balloon over Parliament Square.
Khan, who has sparred with Trump in the past over immigration policies, made no secret that he won't be on hand to welcome Trump.
"In years to come, I suspect this state visit will be one we look back on with profound regret and acknowledge that we were on the wrong side of history," Khan wrote in an opinion piece in the Guardian.
Khan called Trump part of the global rise of the "far right" that threatened "our hard-won rights and freedoms and the values that have defined our liberal, democratic societies for more than seventy years."
The article was published online with the headline, "It's un-British to roll out the red carpet for Donald Trump."
More stories from Eli Stokols »
---
Get our Essential Politics newsletter
The latest news, analysis and insights from our politics teams from Sacramento to D.C.
You may occasionally receive promotional content from the Los Angeles Times.