Trump and Biden trade barbs as they cross paths and split screens in Iowa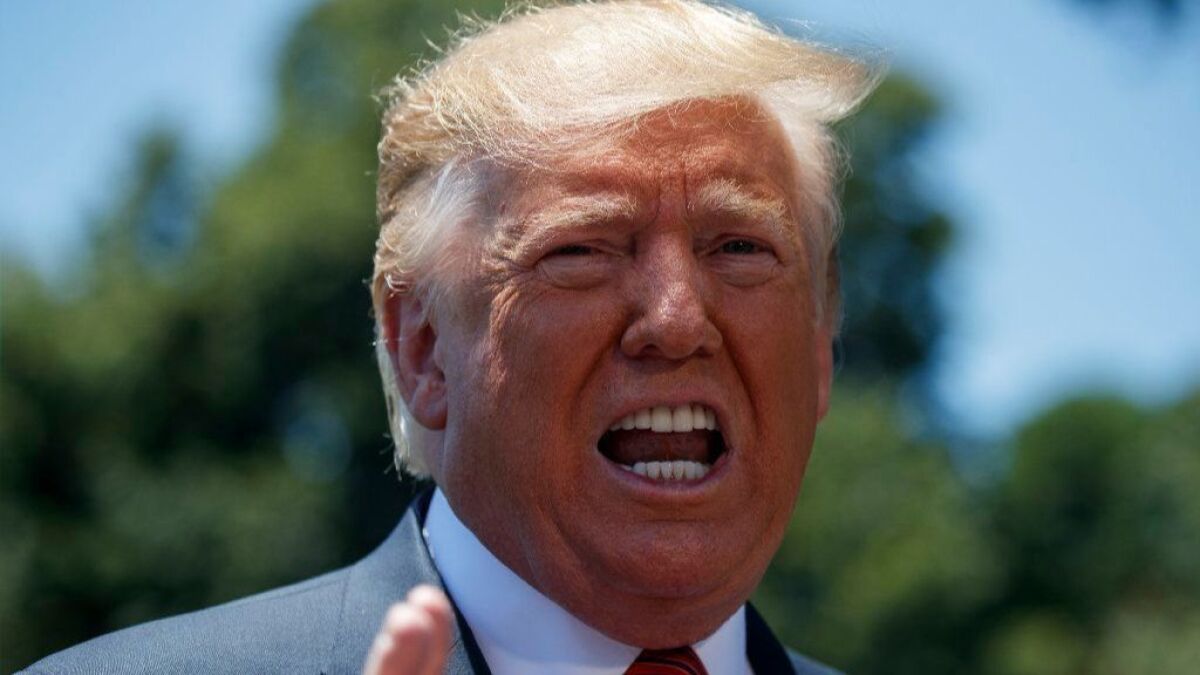 Reporting from Washington —
President Trump couldn't wait to arrive in Iowa on Tuesday before attacking Joe Biden. And vice versa.
With the presidential rivals crisscrossing the state that holds the first contest of 2020, the acid back-and-forth offered a preview of a possible general election matchup — and a cautionary tale of how much vitriol the race is likely to unleash.
Biden's campaign fired the first shot, releasing early excerpts of a speech he would deliver in Davenport. In it, the former vice president labeled Trump "an existential threat" to the nation, a term normally reserved for major foreign adversaries, and appealed to Midwestern farmers and autoworkers by blasting the president's tariffs for "choking" their industries.
Trump fired back as he left the White House for visits to Council Bluffs and Des Moines, dismissing Biden as "a loser" and "a dummy." Then he got personal.
Saying he'd "rather run against" Biden than other Democrats, he added, "I think he's the weakest mentally, and I think Joe is weak mentally. The others have much more energy."
Trump has been obsessed with Biden, partly because his campaign's internal polls show the Democrat leading the president in critical swing states like Pennsylvania and Michigan, both of which Trump unexpectedly won in 2016 and probably needs again if he is to win reelection.
Biden, seeking to position himself above his party's multitude of candidates, has focused largely on drawing contrasts with Trump. And by releasing his harshest comments early, Biden's campaign provoked the president and garnered more attention as cable TV stations broadcast his first comments live.
In the near term, Iowa's Feb. 3 caucuses are far more important for Biden than for Trump, who is virtually assured of capturing his party's nomination absent an unlikely political earthquake.
A major loss for Biden in the state could hobble his White House bid, however, just as his 1% showing in 2008 ended his presidential campaign that year.
Despite his front-runner status, Biden has yet to win over Iowa's Democratic activists. He has faced criticism from some voters and rivals for not spending more time in a state that expects and normally gets close attention from candidates in living rooms and cafes.
Biden's three stops Tuesday were his first appearance in Iowa in this campaign, and he began his remarks at a community center in Ottumwa, southeast of Des Moines, with an apology for his decision to skip a forum Sunday in Cedar Rapids that drew 19 Democratic candidates.
A weekend Des Moines Register poll showed Biden atop the Democratic field with 24%, a significant share considering the 23 candidates in the race but smaller than his lead in most national polls.
The newspaper survey found three candidates tightly packed in a second tier behind Biden: Sen. Bernie Sanders with 16%, Sen. Elizabeth Warren with 15% and Mayor Pete Buttigieg with 14%.
As a result, Biden's campaign is rushing to ramp up its presence with ground troops and endorsements. The campaign expects to have 50 staffers in the state by the end of June, an aide said, still fewer than some other Democrats.
Trump, ever tuned to cable news coverage of the race, mocked Biden's belated start in the state when he spoke at an ethanol plant in Council Bluffs, saying "it reminds me of 'Crooked Hillary.'"
He mostly focused on his administration's decision to lift a restriction that prevented the renewable fuel, which is produced in large part from corn, from being sold year-round. The issue is important almost nowhere but in Iowa and Trump wants to keep the state's farmers and manufacturers in his corner.
He couldn't resist at least partly framing his pitch around Biden, claiming the United States was too dependent on foreign energy sources during "the Obama-'Sleepy Joe'" administration and too acquiescent to China and other countries on trade.
Biden "was someplace in Iowa today and he said my name so many times that people couldn't stand it anymore," Trump said. "'No, don't keep saying it,'" he said, impersonating an imaginary Iowan reacting to Biden's speech. "Sleepy guy."
Trump's fixation on Biden has helped the former vice president cast himself as an inevitable and formidable challenger to the incumbent, at least for now. The strategy works both ways, highlighting both his front-runner status and his vulnerabilities after decades in public service.
In reality, one obscured by the split-screen sparring Tuesday, several Democrat candidates may be positioned to defeat Trump next year.
A Quinnipiac University poll released Tuesday showed six Democrats beating Trump in a head-to-head general election matchup: Biden's 13% margin was the largest, but Sanders, Warren and Buttigieg, as well as Sens. Kamala Harris and Cory Booker, all lead by at least 5%.
Biden was assertive in Ottumwa but his manner was restrained as he read from prepared remarks.
"President Trump is in Iowa today," he said. "I hope his presence here will be a clarifying event, because Iowa farmers have been crushed by his tariff war on China. He thinks he's being tough. It's easy to be tough when someone else feels the pain."
He derided Trump for threatening punitive tariffs on Mexico but then backing down, attributing the change of heart to Trump's fear of political and economic blowback in swing states — not the concessions on immigration that the White House claims it got from Mexico.
"He realized that he was likely to lose Michigan, Ohio and Iowa," Biden said. "He's seen the Lord. He had, as we say in Delaware, an altar call."
Biden also sounded his usual alarm about Trump's corrosive effect on American politics and culture, calling him "a threat to our core values."
"He found time to go after Bette Midler in the middle of the D-day ceremonies," Biden said, referring to Trump's tweet attacking the actress during his trip to Europe last week.
Later, in Mount Pleasant, Biden said that Trump watched his Ottumwa speech while traveling on Air Force One. "I guess he's really fascinated with me," Biden said.
Brad Parscale, Trump's campaign manager, offered another version of watching Biden's speech on an aircraft, however.
"The entire row on my flight today is watching Biden speak," he tweeted. "They are all now asleep."
---
Life is stressful. Our weekly mental wellness newsletter can help.
You may occasionally receive promotional content from the Los Angeles Times.