Trump says he'll turn over his company to his sons, but ethics questions persist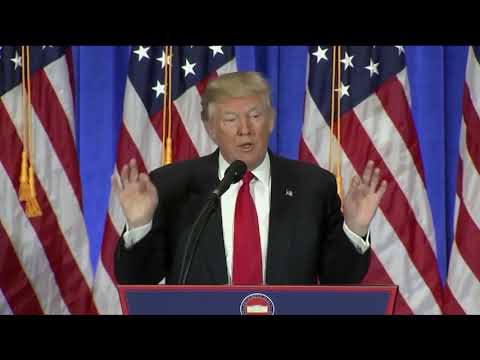 President-elect Donald Trump, under fire for his business conflicts, said Wednesday that he will turn his company over to his sons — but he won't sell his network of properties and deals.
Reporting from Washington —
President-elect Donald Trump said Wednesday he won't be selling his company, virtually ensuring that his administration will continue to face questions about potential conflicts between his public duties and private interests.
Instead of divesting his hotels, golf courses, office buildings and other assets, Trump will create a trust for his Trump Organization holdings and turn over management to his sons, Donald Jr. and Eric.

For the record:
2:04 p.m. June 11, 2019Rep. Mark Sanford is a Republican from South Carolina, not North Carolina.
Trump will have nothing to do with any decisions involving the company, and it will avoid any foreign deals while he is president, said Sheri A. Dillon, a lawyer for Trump who outlined the plan during a news conference the president-elect held at Trump Tower in New York.
Ethics experts questioned whether the steps Trump outlined would significantly reduce the potential for conflicts of interest. But Dillon said any further moves, such as selling assets or creating a blind trust, would be unfair and unworkable.
"President-elect Trump should not be expected to destroy the company he built," she said.
Trump, in a raucous exchange with reporters, said he does not believe the public cares much about his business dealings. He made it clear he would keep ownership of all properties throughout his presidency and planned to resume management of the company when he leaves office.
He also said he had no plans to release his tax returns to provide transparency about his finances, a practice started by Richard Nixon and followed by every subsequent president except Gerald Ford.
"The only ones that care about my tax returns are the reporters, OK?" Trump said.
As for voters, he said: "I won. No, I don't think they care at all."
He also noted that, as president, he is exempt from the federal conflict of interest law.
"I could actually run my business and run government at the same time," he said. "I don't like the way that looks, but I would be able to do that if I wanted to."
The government's chief ethics officer criticized that assertion and called Trump's plan "perplexing."
It is "quite obviously not true" that the president can't have a conflict of interest, Walter Shaub Jr., director of the U.S. Office of Government Ethics, said in remarks at the Brookings Institution.
Although the main federal law on conflicts doesn't apply to the president, that doesn't mean no conflicts will occur, he said. "For that reason, it's been the consistent policy of the executive branch that the president should act as though the financial conflict of interest law applied," Shaub said.
"Stepping back from running his business is meaningless from a conflict-of-interest perspective," Shaub added. Trump's plan, he said, "doesn't meet the standards that the best of his nominees are meeting and that every president in the past four decades has met."
"The only thing this has in common with a blind trust is the label 'trust,'" Shaub said. "His sons are still running the businesses, and, of course, he knows what he owns."
A leading outside legal expert agreed.
"I think there's going to be lawsuits. I think there's the possibility, if it's serious enough, of impeachment proceedings down the road. So I don't think this begins to solve the problem," said Erwin Chemerinsky, dean of the law school at UC Irvine and an expert on constitutional law.
Trump appeared to concede that he could face actual conflicts, if not legal ones, when he asserted he had no business dealings in Russia.
"We could make deals in Russia very easily if we wanted to," Trump said. "I just don't want to, because I think that would be a conflict."
With more than 500 corporations, hundreds of millions in outstanding debts and real estate deals from Dubai in the United Arab Emirates to a hotel down the street from the White House, Trump's business represents unprecedented potential conflicts with his duties as president.
To deal with those issues, Dillon said Trump would resign from any positions with his companies and turn over control to his sons and a company vice president, Allen Weisselberg. Trump will not participate in any decisions, nor get any information about how individual properties are doing — just a general profit and loss statement, Dillon said.
The trust agreement requires that all pending deals, more than 30 of them, be terminated, she said. While the company will do no new foreign deals while Trump is president, domestic deals will still be permitted but only after written approval from a new ethics officer who will work for the Trump company, she added.
Dillon said it would be infeasible for the Trump Organization to sell properties like Trump Tower and the Mar-a-Lago resort in Florida or to unwind the dozens of deals in which Trump gets paid a licensing fee for his name.
That would "greatly diminish the value of assets and create a fire sale," she said.
Selling the assets would exacerbate conflicts, not cure them, Dillon said. The sons would have to take on huge debts to buy out their father's interests, and that would raise questions about the terms of the loans and whether the lenders were trying to curry favor with Trump, she noted.
Dillon also maintained that Trump was not in danger of violating a provision in the Constitution, known as the emoluments clause, which prohibits U.S. officials from getting certain payments from foreign powers. Trump is already drawing heat because his Washington hotel is getting business from foreign governments.
Dillon said that payments for services, as opposed to gifts, are not emoluments and that, in any case, Trump would donate any hotel profits from foreign governments to the U.S. Treasury.
"Nobody seems to think, other than his lawyer, that this solves his emoluments problem," said Norman Eisen, chief White House ethics lawyer in President Obama's first term.
Dillon compared Trump's business empire to the fortune held by Nelson Rockefeller when he became vice president in 1974, "but at that time, no one was so concerned."
In fact, the nomination of Rockefeller to become vice president after Ford ascended to the presidency was held up for months because of concerns about conflicts of interest. Rockefeller, heir to an oil fortune, was one of America's richest people at the time and promised to put all his securities into a blind trust. The Senate did not impose such a condition before confirming him.
Democrats jumped on Trump's refusal to sell his holdings or to release tax records.
"They've not been transparent," said White House spokesman Josh Earnest, noting that Trump, facing questions about dealings with Russia, could release documents proving that he has no dealings there. "But they've refused to do so. That kind of secrecy only serves to sow public doubt."
Some Republicans also criticized Trump. Rep. Mark Sanford (R-S.C.) called the decision not to release tax returns a "grave mistake."
"This is about upholding precedent and encouraging transparency," he said.
Twitter: @jtanfani
ALSO:
Obama delivers emotional final speech to the nation: 'Yes, we did. Yes, we can.'
Trump's pick for Homeland Security chief says border wall 'will not do the job'
Tillerson, Trump's pick for secretary of State, seeks to allay fears about his ties to Russia
---
UPDATES:
3:30 p.m.: This article has been revised with additional quotes and details.
It was originally posted at 10:25 a.m.
Get our Essential Politics newsletter
The latest news, analysis and insights from our politics team.
You may occasionally receive promotional content from the Los Angeles Times.