Trump blames Thousand Oaks shooting on ex-Marine's combat service, suggests he had PTSD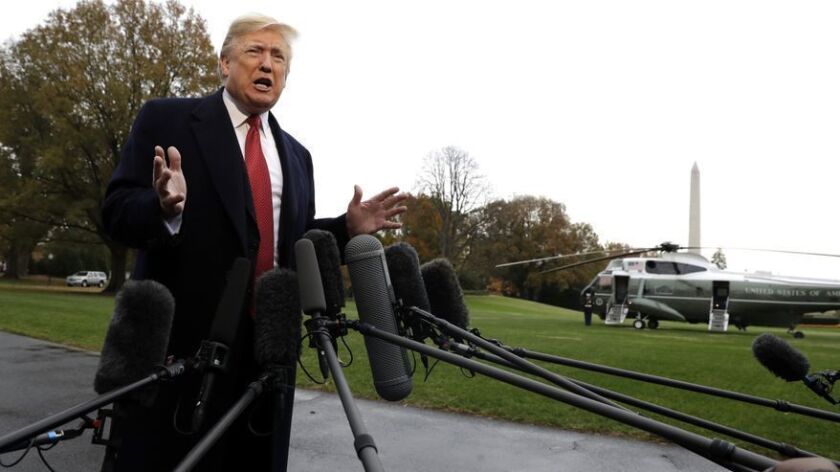 Reporting from Washington —
President Trump described the ex-Marine in the Thousand Oaks massacre as a "very sick guy" on Friday, and suggested without evidence not only that he had post-traumatic stress disorder but that combat veterans generally return with mental health issues.
"He was a war veteran. He was a Marine. He was in the war. He served time," Trump said of Ian David Long, who killed 12 people at the Borderline Bar and Grill on Wednesday night. "He saw some pretty bad things. And a lot of people say he had the PTSD. And that's a tough deal."
The president, speaking to reporters at the White House as he departed for a weekend trip to France, then went further, reinforcing a stereotype long challenged by advocacy groups: that all combat veterans come home from war suffering from mental health issues.
"People come back. That's why it's a horrible thing," Trump said. "They come back, and they're never the same."
Long, a 28-year-old from Newbury Park who opened fire in the crowded bar before possibly turning the gun on himself, was deployed for seven months to Afghanistan in 2010 and discharged in 2013. The U.S. Department of Veterans Affairs has said that Long had never enrolled in its healthcare system, and no evidence has emerged that he sought treatment for or suffered from PTSD.
However, acquaintances have said that Long seemed to struggle with mental health issues after his return from military service. In April, a mental health specialist met with Long after authorities responded to a disturbance at the home where he lived with his mother, but found no grounds to commit him involuntarily.
Trump combined his speculation that Long suffered from PTSD to boast of his administration's work on that issue. "I've given tremendous funding to the vets for the PTSD and for general health for PTSD," he said. "It's a big problem."
Veterans advocates and mental health professionals were left shaking their heads at Trump's comments.
"Comments like this one from our commander in chief are extremely unhelpful," Paul Rieckhoff, co-founder of Iraq and Afghanistan Veterans of America, wrote in an email. "They perpetuate a false and damaging narrative that veterans are broken and dangerous. Most people who suffer from PTSD, when able to access effective treatment, are able to live healthy, happy, meaningful lives."
According to the VA, between 11% and 20% of veterans of Afghanistan and Iraq, and 31% of Vietnam veterans, suffer from PTSD, which can lead to depression and suicide.
"When veterans with mental health injuries do hurt someone, it's mostly likely themselves, not someone else," Rieckhoff said, noting that 20 veterans and service members die by suicide every day.
Some former military officials took to Twitter to criticize Trump as well.
"Those who think they know about combat, please hear this: All soldiers who go to war experience some degree of post-traumatic stress. War is inhumane & traumatic. Innocence is lost. PTSD ("disorder") is different. Professionals address that ... the uninformed shouldn't," Mark Hertling, a retired three-star general, tweeted.
Trump made the comments during a freewheeling 23-minute exchange with reporters. He also claimed not to know Matthew Whitaker, whom he just appointed as acting attorney general, despite past statements to the contrary, and asserted that Democrats were trying to steal the elections for governor and senator in Florida.
And he snapped back when asked about former First Lady Michelle Obama's contention in her forthcoming book that she would "never forgive" him for endangering her children by promoting his "birther conspiracy" that President Obama wasn't born in the United States.
"I'll give you a little controversy back: I'll never forgive him for what he did to our United States military by not funding it properly," he said. "It was depleted. Everything was old and tired. And I came in, and I had to fix it."
---
For reporting and exclusive analysis from bureau chief John Myers, get our California Politics newsletter.
You may occasionally receive promotional content from the Los Angeles Times.