Donald Trump shakes up campaign by hiring executive from conservative Breitbart News to top post
Reporting from Washington —
Staff shake-ups late in presidential campaigns can signal an effort to correct problems perceived by consultants and pollsters. But along with every other political axiom, Donald Trump has turned that one on its head.
The Republican nominee's latest staff reshuffling, his second since June, makes clear that Trump, win or lose, will remain Trump.
Trump essentially demoted Paul Manafort, the controversial but seasoned veteran who tried to curb Trump's improvisational style, even as Manafort kept his title of campaign chairman.
In Manafort's place at the top of the hierarchy is a provocative brawler in the mode of Trump: Stephen K. Bannon, the head of Breitbart News, a conservative website that is one of Trump's earliest and most loyal media allies. He and Manafort will be joined in the inner circle by Kellyanne Conway, a veteran pollster who once headed a group of super PACs supporting Texas Sen. Ted Cruz.
The moves follow weeks of falling poll numbers and months of infighting in Trump's campaign, as the nominee has struggled to overcome controversies that have sidetracked him from his core economic, security and immigration enforcement messages.
The structure of Trump's new leadership team is likely to leave the nominee where he has long been – in charge – as those around him compete for influence. The hires also suggest that Trump will continue to push an aggressive campaign against Democratic rival Hillary Clinton that dovetails closely with the lines of attack trumpeted by conservative media.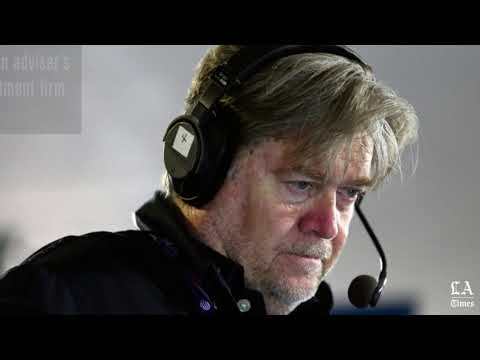 On Wednesday, Donald Trump announced that Breitbart News executive Stephen Bannon would run his campaign.
"I am committed to doing whatever it takes to win this election, and ultimately become president because our country cannot afford four more years of the failed Obama-Clinton policies which have endangered our financial and physical security," Trump said in a statement announcing the hires. "We're adding some of the best talents in politics."
Bannon will temporarily step down from Breitbart News to assume the title of chief executive officer, "a new position designed to bolster the businesslike approach of Mr. Trump's campaign," according to the statement from Trump.
Bannon, a former Goldman Sachs banker, is known to share Trump's confrontational style and knack for clashing with the establishment.
A reporter and editor from the site resigned in March, citing a lack of support from Bannon after the reporter alleged that she was assaulted by Corey Lewandowski, Trump's former campaign manager. Florida prosecutors later dropped the charge.
The statement announcing Bannon's hire boasts that he was "once recognized by Bloomberg Politics as the 'most dangerous political operative in America.'" Bannon produced and co-wrote a film version of the book "Clinton Cash," which has served as a blueprint for some of the harshest attacks on Clinton.
Breitbart News, whose founder, Andrew Breitbart, died in 2012, has also been credited with fueling the tea party movement and helping to drive out former Republican House Speaker John A. Boehner, exacerbating tension among warring conservative factions that continues under Boehner's replacement, Paul D. Ryan, whose own embrace of Trump has been fraught. The Southern Poverty Law Center, which has been critical of Trump's campaign, accused Breitbart News in April of shifting to embrace positions on the "extremist fringe of the conservative right," including racist, anti-Muslim and anti-immigrant ideas.
Conway, who led Cruz's last-gasp efforts to defeat Trump in the primaries but later signed on as a top advisor to Trump, will become his campaign manager.
"He is still his own best messenger because people see him as very authentic," Conway said on Fox News on Wednesday.
Conway pointed to polling showing that Clinton remains distrusted by many independent, white and middle-aged voters, giving Trump room to grow his support. But she seemed to concede his recent controversies have hampered that effort, while diminishing Trump's support among Republicans.
"This is like a tennis match," she said. "You don't pick a fight with the ref. You don't boo the crowd."
Trump needed a chief aide he can trust and perceives as valuable, said Barry Bennett, a former Trump senior advisor who still supports the nominee, who said Trump seemed to be avoiding Manafort's advice as he stumbled into recent controversies. Trump did not appear to have been briefed, for example, when he received a veteran's Purple Heart and awkwardly showed it off during a rally without seeming to understand why it was given, Bennett said.
"He's kind of been on an island all by himself as far as message construction goes," Bennett said of Trump.
Manafort had served as Trump's de facto manager since June, after winning a power struggle that led to the ouster of Lewandowski. This week, as he was apparently losing Trump's confidence, he faced renewed questions about his political work for a pro-Russian party in Ukraine.
But many of the problems that plagued Trump have continued. He lags behind Clinton in fundraising and organizing, with few operators in key battleground states to help organize volunteers and churn out the vote. The campaign says it will place its first major television ads on the air this week, about two months after Clinton began airing general-election ads.
Many Republicans remain skeptical that Trump's newest confidants can impose discipline on the candidate, who remains eager to show the public that he will not change.
Trump's organizational dysfunction cannot be fixed "by adding titles or giving people new roles," Eric Fehrnstrom, a strategist for Mitt Romney's presidential campaigns, wrote in an email.
"The campaign has many problems. It lacks resources. The candidate can't seem to stay on track. The day-to-day strategy is either misunderstood or unknown to people inside and outside the campaign," he said. "I don't think those things are fixable in the short time that remains."
Election 2016 | Live coverage on Trail Guide | Sign up for the newsletter »
The Clinton campaign said it was now expecting more ugly, conspiracy theory-driven attacks.
"Donald Trump has shown us who he is," Clinton said at a campaign event in Cleveland. "He can hire and fire anyone he wants from his campaign; they can make him read new words from a teleprompter. But he is still the same man who insults Gold Star families, demeans women, mocks people with disabilities, and thinks he knows more about [Islamic State] than our generals."
Bennett insisted Trump has time to recover and that his brash style may yet work — with some refinements.
"People aren't looking for a diplomat," he said. "They're looking for a bulldozer operator. And if we can get the media to talk about the target instead of the bulldozer operator, he's going to win."
Times staff writer Michael A. Memoli contributed to this report.
ALSO
As a young Donald Trump began his real estate career, he fought hard against allegations of racial bias
Donald Trump reaches out to African Americans, says Democrats take black vote for granted
What Donald Trump means when he proposes 'extreme vetting' for would-be immigrants
---
UPDATES:
2:50 p.m.: This story was updated with reaction and comment from Hillary Clinton.
11:35 a.m.: This story was updated with comment from the Clinton campaign.
9:40 a.m.: This story was updated with more reaction and details.
7:35 a.m.: This story was updated with reaction from a former aide to Mitt Romney.
6:50 a.m.: This story was updated with staff reporting.
This story was originally published at 12:50 a.m.
Get our Essential Politics newsletter
The latest news, analysis and insights from our politics team.
You may occasionally receive promotional content from the Los Angeles Times.