Trump expected to pick hard-liner Ken Cuccinelli for new post of 'immigration czar'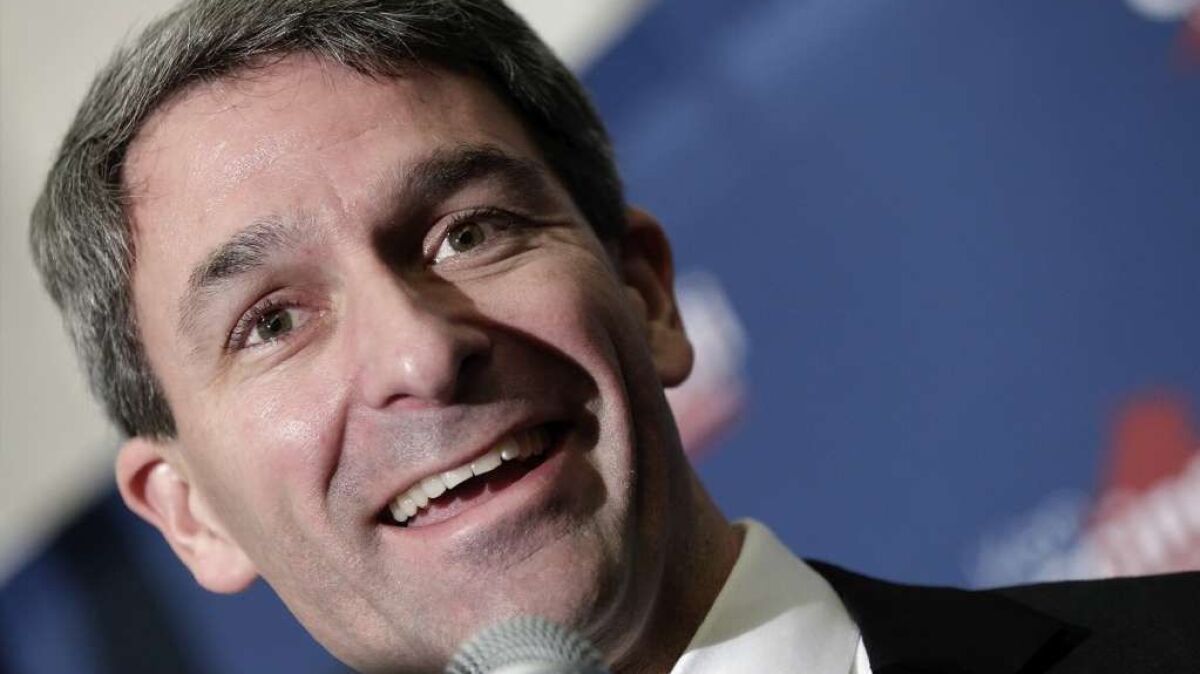 Reporting from Washington —
President Trump is expected to appoint Ken Cuccinelli II, an immigration hard-liner who is one of the president's strongest cheerleaders on cable news, to oversee administration efforts to crack down on both legal and illegal immigration, a White House official said Wednesday.
Cuccinelli, who enjoys a reputation as a right-wing firebrand, has no immigration experience and would take responsibility for a politically explosive issue that crosses multiple federal departments and is probably key to the president's 2020 reelection chances.
He is a controversial figure among Republicans, however. Cuccinelli led an intraparty revolt during the 2016 presidential race when he tried to strip Trump of delegates at the party's national convention, even throwing his ID badge on the floor to protest Trump's nomination.
He also has few friends in Congress after leading a far-right group that backed insurgent candidates against Republican incumbents. Senate Majority Leader Mitch McConnell (R-Ky.) has vowed to block him from any post requiring Senate confirmation.
But Cuccinelli, 50, has offered staunch support for Trump on immigration and other priority issues. The two met Monday at the White House and a formal announcement could come this week, said the official, who spoke on condition of anonymity because the president had not made the final decision.
Cuccinelli served four years as Virginia's attorney general and lost a 2013 run for governor to Democrat Terry McAuliffe.
Trump recently pushed out the leaders at the Department of Homeland Security, which is responsible for most immigration policy and enforcement, in a sign of frustration at their inability to stem a dramatic surge of Central American families to the southern border.
More than 100,000 migrants arrived last month, the highest level in more than a decade, creating a crisis for overstretched Border Patrol officers and other officials.
Cuccinelli likely would report to Kevin McAleenan, the acting secretary of Homeland Security, but give regular briefings to Trump. His expected appointment was first reported by the New York Times.
As a state lawmaker in Virginia before he was elected attorney general in 2010, Cuccinelli sponsored bills to force employees to speak English in the workplace and tried to repeal birthright citizenship, foreshadowing Trump's own support for that proposed policy.
Like Trump, he also publicly speculated that President Obama was not born in the United States, although both later backed down from that claim.
A self-declared warrior for traditional Christian values, he has declared that homosexuality "brings nothing but self-destruction, not only physically but of their soul."
For months, Trump has considered appointing an "immigration czar" to take the lead on issues central to the president's political identity and his reelection bid — the migrant surge to the border, the abandoned effort to separate families for detention, multiple deaths in U.S. custody and the so far unsuccessful effort to vastly expand existing border barriers.
Blocked by Congress in his attempts to get money to build the wall and frustrated by other legal limits in confronting the border crisis, Trump is eager to demonstrate success on his signature policy issue as he heads into the 2020 race.
He threatened to shut down all U.S. border crossings in March but was forced to back down from that threat amid a backlash from Capitol Hill.
It wasn't clear how Cuccinelli would work with White House advisors Stephen Miller, an immigration hawk, and Jared Kushner, the president's son-in-law, who recently helped unveil a more moderate merit-based immigration reform proposal.
Miller, for example, has pushed Trump to consider busing migrants from detention centers on the border and releasing them in so-called "sanctuary cities" around the country, as well as House districts held by Democratic lawmakers, an idea the president himself has floated but not pursued.
The administration also has reportedly considered a policy dubbed "binary choice" that would give migrant parents detained at the border the option of being separated from their children or bringing their families into long-term detention with them. Immigration advocates have slammed that proposal as inhumane.
The secretary of Homeland Security has numerous other responsibilities, from counter-terrorism to hurricane relief, so Cuccinelli's job could be as a point person on immigration for the president.
At least on paper, he could coordinate policy and operations across the major departments involved in immigration — Homeland Security, State, Defense, Justice, and Health and Human Services — and manage personalities jockeying to influence the president.
That could prove a heavy lift in a White House long beset by turf battles and infighting under a president known to act impulsively and unilaterally.
---
Life is stressful. Our weekly mental wellness newsletter can help.
You may occasionally receive promotional content from the Los Angeles Times.