With two pardons, Trump wins goodwill in the ranching world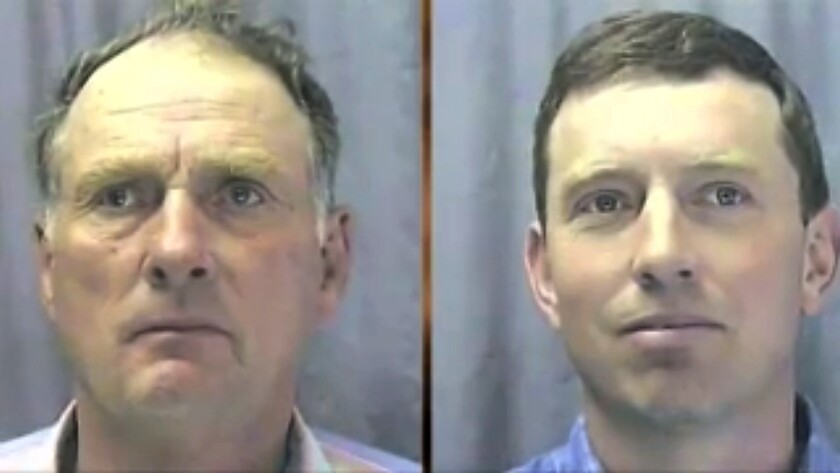 President Trump has intervened in one of the most sensitive political battles in the American West, pardoning two Oregon ranchers whose imprisonment inflamed a protest movement against the government's management of federal land.
Dwight Hammond, 76, and his son Steven Hammond, 49, who ran a ranch in remote eastern Oregon, were serving five-year prison sentences for arson for setting federal land on fire.
The length of their sentences inspired a 2016 armed occupation at the nearby Malheur National Wildlife Refuge, where ranchers and right-wing anti-government activists faced down federal agents in defense of a fringe theory that federal ownership of wild lands is unconstitutional.
But the Hammonds also received solidarity from more mainstream ranching groups outraged by their punishment — and more generally by how the government manages federal lands, which are located primarily in the West and make up more than quarter of the U.S.
The Trump administration has already rolled back certain protections on federal lands, and on Tuesday the White House intervened in the Hammonds' criminal case with a pardon likely to please the administration's supporters in the ranching world.
"The Hammonds are devoted family men, respected contributors to their local community, and have widespread support from their neighbors, local law enforcement, and farmers and ranchers across the West," the White House said in a statement announcing the pardons and declaring that "justice is overdue for Dwight and Steven Hammond."
Susie Hammond, Dwight's wife and Steven's mother, told the Oregonian: "We've been waiting a long time. I think it's wonderful.''
Trump seems to be growing more confident in his willingness to grant pardons for high-profile criminal convictions. He has pardoned the late Jack Johnson, a black boxer who was convicted more than a century ago of kidnapping a white woman; I. Lewis "Scooter" Libby, a Bush administration aide convicted of lying to investigators; and Dinesh D'Souza, a conservative commentator convicted of campaign finance fraud.
Trump also erased the criminal contempt-of-court conviction of former Maricopa County Sheriff Joe Arpaio, the self-styled "America's toughest sheriff" who repeatedly ignored federal court orders to stop racially profiling Latinos in his campaign against illegal immigration.
The Hammonds were convicted in 2012 after a two-week trial in which federal prosecutors said the pair had intentionally set a 2001 fire to cover up their illegal hunting of deer on federal land.
"One witness testified that he barely escaped the eight- to ten-foot high flames caused by the arson," the U.S. attorney's office said in a statement after sentencing. "Dwight and Steven Hammond told one of their relatives to keep his mouth shut and that nobody needed to know about the fire."
The Hammonds denied this and said they set the fire to ward off an invasive plant species.
Prosecutors also said Steven Hammond had intentionally set wildfires in 2006 on their own land — while a burn ban was in effect — as "back fires" to prevent lightning-sparked wildfires from coming on their property.
The convictions called for a mandatory minimum sentence of five years in prison, but a judge initially declined to administer the punishment, calling it "a sentence which would shock the conscience."
Federal prosecutors appealed, and in 2015 the pair were ordered to serve five years in prison.
Fellow ranchers were appalled and seized on the case as a symbol of what they saw as the overzealousness of federal prosecutors and the too-strict management of public lands by the government.
"These were normal management techniques that the Hammonds used," said Barry Bushue, president of the Oregon Farm Bureau, adding that the government sometimes sets its own backfires that burn private land. "To us, to our members, that sent a message to us that no one is safe."
He said his organization, a advocacy group representing farmers and ranchers, collected tens of thousands of signatures on a petition to protest the Hammonds' sentences.
Jerome Rosa, the executive director of the Oregon Cattlemen's Assn., who lobbied Interior Secretary Ryan Zinke to raise awareness in the administration about the case, accused the federal government of contributing to the West's brush fire problems by allowing wild lands to become overgrown.
Outraged by the Hammonds' sentences, an armed group, led by members of a ranching clan from Nevada, the Bundy family, took over the Malheur refuge. The 41-day standoff ended with a law enforcement siege and a car chase and shooting that left one occupier dead.
More than two dozen occupiers were arrested and charged, but federal prosecutors have struggled to secure convictions. Ryan Bundy, who was tried and acquitted of charges related to the takeover, has launched an independent bid to run for governor of Nevada.
"The Hammonds never were guilty of any crime, and never should have been accused or prosecuted or convicted," Bundy said Tuesday. "Justice should have been had at lower levels. We shouldn't have had to go to the king, so to speak" — Trump — "to beg for mercy."
Bundy added that the prosecution wouldn't have happened in the first place if the government didn't own federal wild lands.
Trump's decision angered conservationist and public-access groups that support federal protection of wild lands.
"I think it's enabling and empowering people who do not respect the law and do not respect public land that belongs to all Americans," said Land Tawney, president and chief executive of Backcountry Hunters & Anglers, a sporting advocacy nonprofit.
Kieran Suckling, executive director of the Center for Biological Diversity, an environmental advocacy nonprofit, issued a statement calling the Hammonds "dangerous people" and charging that "Trump's pardon abandons human decency and will encourage more violence and extremism among his base."
Former U.S. Atty. Amanda Marshall, whose office prosecuted the Hammonds, called the pardons "a slap in the face" to the 12 jurors from eastern Oregon who found them guilty.
"They almost killed firefighters who had to be [air]lifted out of there," Marshall said, accusing Trump of catering to right-wing activists.
"There's no place for favoritism in law enforcement, but that's exactly what this comes down to in the Trump administration," Marshall said.
matt.pearce@latimes.com | Twitter: @mattdpearce
---
UPDATES:
8:25 p.m.: This article was updated throughout with staff reporting.
This article was originally published at 7:55 a.m.
---
Get our Essential Politics newsletter
The latest news, analysis and insights from our politics teams from Sacramento to D.C.
You may occasionally receive promotional content from the Los Angeles Times.