Trump visits Texas, hailing officials' Harvey response and promising 'costly' federal aid
Reporting from Corpus Christi, Texas —
President Trump on Tuesday assured Texans slammed by Tropical Storm Harvey that "we are here to take care of you" and promised a "better than ever before" relief effort, as he visited the state while rescuers continued to pull people from submerged homes.
During visits first to Corpus Christi on the Gulf Coast, southwest of the worst-hit areas of Houston and its environs, and then to the state capital of Austin, Trump repeatedly praised federal, state and local officials. But he said little about victims who had lost their homes and loved ones to the historic storm.
"The world is watching and the world is very impressed with what you are doing," Trump told officials at the Texas Department of Public Safety operations center in Austin who were coordinating rescue and shelter operations as rain continued to fall and water continued to swell in flood zones.
Perhaps more welcome than praise was the president's promise of unspecified federal aid. "We are working with Congress on helping out the state of Texas; it's going to be a costly proposition," Trump said, nodding at Texas' two U.S. senators and several House members, all Republicans, who joined him.
"Probably there's never been anything so expensive in our country's history," he added.
Though aid is all but certain, getting significant relief through Congress will be complicated. Lawmakers not only have a packed and troublesome legislative agenda in September, but also members of both parties harbor resentments that Texas Republicans opposed past bills for disaster aid, notably after Hurricane Sandy tore up the East Coast five years ago.
Earlier in the day, the president anticipated success in the response effort even as rain and overflowing dams fed floodwaters to the east: "We won't say congratulations. We don't want to do that," he said from a fire department in Annaville, near Corpus Christi, where he met with Texas Gov. Greg Abbott and other officials.
"We'll congratulate each other when it's all finished," he said.
Trump seemed mindful of not repeating the famous mistake of President George W. Bush, who enthused, "Brownie, you're doing a heckuva job" to his Federal Emergency Management Agency director during Hurricane Katrina. Michael D. Brown led the botched response to that devastating storm that hit exactly 12 years ago.
Still, Trump, clad in a "USA" ball cap and a windbreaker with a presidential seal, did not shy from raising expectations for the response effort.
"We want to do it better than ever before," he said. "We want to be looked at in five years, in 10 years from now, as this is the way to do it."
Although Trump was careful to remain outside the worst of the state's flooding areas, the short ride from the airport in Corpus Christi to the firehouse along Interstate 37 gave him a glimpse of what the state is up against.
He passed broken trees, downed signs and fences that had been hurled about. Still, hundreds of residents made their way outside to greet the president, some hoisting Trump-Pence campaign signs and others protest placards.
Abbott, a Republican, praised Trump and his Cabinet members, several of whom accompanied him, saying the president and his advisors began preparing for the storm days before its arrival.
"They all had one thing to say," Abbott said. "Texas, what do you need? How can we help?"
Trump spoke about the work of officials and the recovery efforts, leaving it to others to discuss the storm's continuing risks and the loss of life — including the drowning death of veteran Houston Police Sgt. Steve Perez, who was to turn 61 this week.
When he left the firehouse, Trump mounted a ladder between two fire trucks to address the crowd outside.
"We love you, you are special; we are here to take care of you," he said. "It's going well."
"What a crowd, what a turnout," he said, as if speaking at a political rally. "It's historic, its epic, but I tell you, it happened in Texas, and Texas can handle anything."
The crowd cheered as Trump waved a Texas flag. But not everyone came to cheer.
"This is a blatant politicization of the hurricane efforts and everything that just happened to this community," said Ben Falcon, 17, of Corpus Christi, holding an orange poster board reading "Love Trumps Hate."
Others welcomed the president. Phillip Gonzalez sat in the open back of his black Humvee, an American flag propped on its roof, snapping pictures and watching Trump's arrival through binoculars.
"This is pretty special to have the president fly in and show his support for the people who are hurting across Texas," said Gonzalez, a retired oil industry employee who wore a camouflage hat with a neon orange "USA" on the front and "Trump" on the back. The sight of the president's plane, he added, "sends chills down my spine."
Congress has not outlined a plan to tackle the needs of Texas and Louisiana, the two states taking the brunt of Harvey, a hurricane downgraded to a tropical storm but dropping rain greater than any time recorded in the continental United States.
State and local officials are still responding to the immediate safety threat and have not begun to fully assess the long-term costs of the epic, still-unfolding storm, which has turned large parts of Houston, the nation's fourth-largest city, into a lake.
Although Trump avoided the hardest-hit areas, his visit ran the risk of stretching already stressed resources, given the logistical and security requirements of a presidential visit. In Corpus Christi and Austin, dozens of officials were on hand to meet with him.
Sensitive to that risk, White House Press Secretary Sarah Huckabee Sanders said during the flight from Washington, "The president wants to be very cautious about making sure that any activity doesn't disrupt any of the recovery efforts that are still ongoing."
Abbott has mobilized the Texas National Guard to help with rescue and relief efforts.
All but one of the Texas Republican lawmakers serving at the time, led by Sen. Ted Cruz, opposed a federal aid package in early 2013, months after Sandy hit New Jersey and other Northeastern states. But some Northeastern lawmakers have said they will not resist helping Texans in their time of need.
Congress has failed to gather majorities on some major issues this year. It is under deadline pressure to act on several must-pass bills next month, including action to keep the government running and separate legislation to prevent the country from defaulting on its debts.
Guiding lawmakers to accomplish those goals, while approving aid to Texas and starting work on the more ambitious legislation on Trump's agenda, will require focus from the president.
Trump had intended to devote this week to pitching a complicated federal tax overhaul proposal that his administration has yet to draft.
He has a speech planned Wednesday in Missouri to begin that effort and has said he is likely to return to Texas and possibly Louisiana later in the week to provide more attention to Harvey recovery.
Sanders said the White House began focusing on Harvey early last week. Several Cabinet secretaries joined Trump on the trip to Texas, including Tom Price of Health and Human Services, Ben Carson of Housing and Urban Development and Elaine Duke, the acting Homeland Security secretary. Linda McMahon, chief of the Small Business Administration, and James Rivera, who manages its disaster assistance unit, also joined Trump on the trip.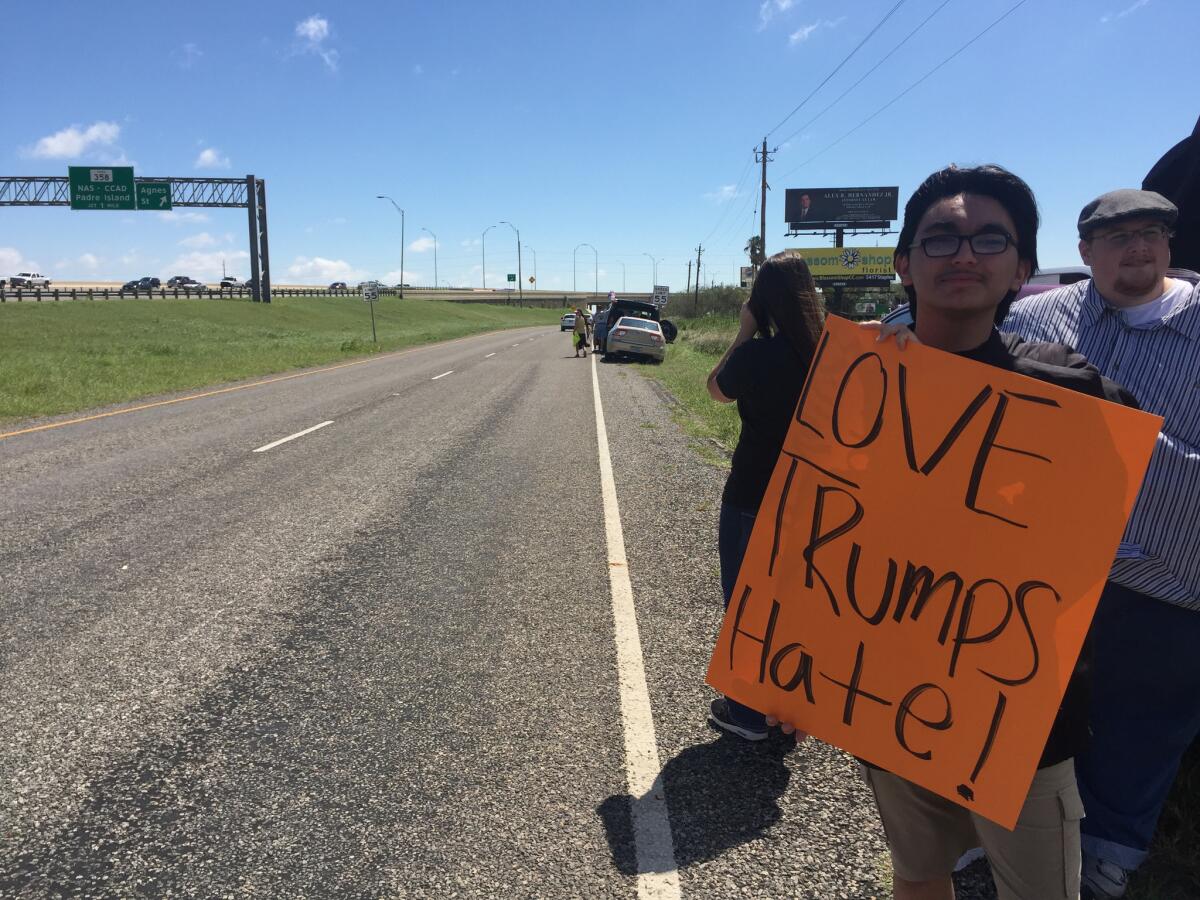 Abbott and William "Brock" Long, director of the Federal Emergency Management Agency, greeted Air Force One as Trump arrived. The president did not meet with Houston Mayor Sylvester Turner, a Democrat who was dealing with the brunt of the storm.
Even as Trump contends with those domestic issues, he faced another provocation from North Korea, which launched a ballistic missile over Japan on Tuesday morning.
Trump repeated his threat that "all options are on the table" in a statement Tuesday. He had a lengthy call with Japanese Prime Minister Shinzo Abe and spoke with Prime Minister Lee Hsien Loong of Singapore by telephone during the flight to Corpus Christi, the White House said.
Trump tweeted about the storm early Tuesday, including a retweet of a National Weather Service warning: "Historic flooding is still ongoing across the area. If evacuated, please DO NOT return home until authorities indicate it is safe!"
In addition, Trump sent out praise of himself, including a tweet from a Fox News host: "Trump just won on law & order and now he's delivering the goods."
Branson-Potts reported from Corpus Christi. Bierman and Brian Bennett reported from Washington.
ALSO
Engineers warned about Houston flood risks for years. Why didn't anyone act?
Ordered not to evacuate, many families are now trapped in their homes
Armed with a boat, a dump truck and a school bus, this volunteer crew rescued 14 flood victims
---
UPDATES:
4:25 p.m.: The story was updated with Trump's activities and statements in Austin.
12 p.m.: The story was updated with Trump's activities and comments near Corpus Christi.
9:43 a.m.: The story was updated with Trump's arrival and comments by White House Press Secretary Sarah Huckabee Sanders.
The story was originally published at 6:35 a.m.
Get our Essential Politics newsletter
The latest news, analysis and insights from our politics team.
You may occasionally receive promotional content from the Los Angeles Times.