Trump apologizes to Kavanaugh 'on behalf of our nation,' asserting he was 'proven innocent'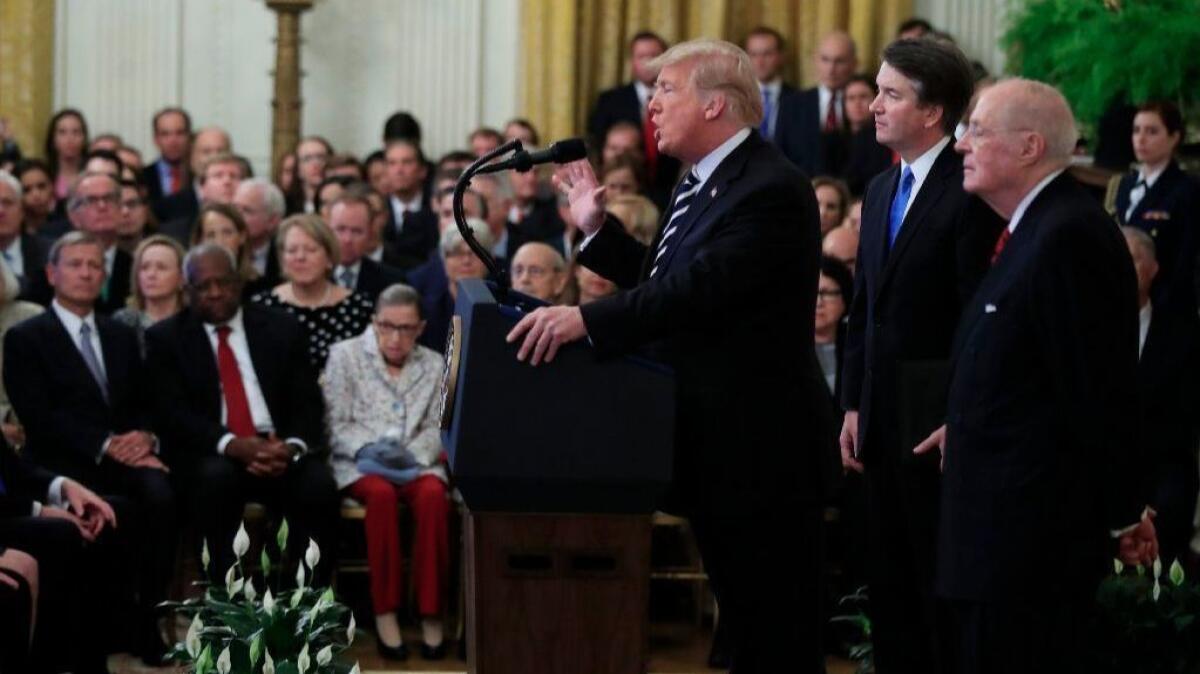 Reporting from Washington —
President Trump injected a sharp political edge to Justice Brett Kavanaugh's ceremonial swearing-in on Monday, undermining the new Supreme Court member's attempts to assert his independence from the bitter partisanship that marred his confirmation process.
At a White House ceremony in the gilded East Room packed with conservative activists, legal officials and White House aides, Trump apologized "on behalf of our nation" to Kavanaugh and his family "for the terrible pain and suffering you have been forced to endure."
"Those who step forward to serve our country deserve a fair and dignified evaluation, not a campaign of political and personal destruction based on lies and deception," Trump said.
"You, sir, under historic scrutiny, were proven innocent," Trump added, reading from teleprompters.
There was no formal judgment rendered by the FBI after it investigated allegations against Kavanaugh of sexual assault and misconduct during his time as a high school and college student. Trump made no mention of the accusers or the larger wounds that the nomination fight exposed.
The remarks were delivered in front of the eight other justices, who normally take great pains to distance themselves from overt signs of politics, as well as a large crowd of supporters, including one woman wearing a black "Women for Kavanaugh" T-shirt.
Justices typically try to assert independence immediately upon taking the bench. Kavanaugh, however, thanked Trump for his "steadfast and unwavering support." He also thanked several Republican senators, including Majority Leader Mitch McConnell of Kentucky and Susan Collins of Maine, who cast what was considered the deciding vote in his favor. He also thanked the only Democrat who voted for him, Sen. Joe Manchin III of West Virginia. He did not mention any other Democratic senators.
Kavanaugh has drawn criticism from legal experts for the partisan tone he adopted in defending himself during the confirmation process. At the hearing at which senators heard testimony about the sexual misconduct allegations, he called the charges a "calculated and orchestrated political hit," blaming Democrats and Bill and Hillary Clinton.
But Kavanaugh also promised to put the bitter confirmation process behind him, declaring himself a "team player on the team of nine" justices, full of "gratitude and no bitterness" and no longer a part of the political process.
"My goal is to be a great justice for all Americans and for all of America," he said, promising to keep an impartial and open mind.
In a nod to the anger felt by many women over the process, Kavanaugh repeated that he had named women to all four of the clerkships under him — a prestigious position that often serves as a launching point for legal careers. He will be the first justice to have four female clerks.
The White House event was purely ceremonial. Kavanaugh was officially sworn in at the Supreme Court on Saturday, shortly after the Senate confirmed him on a 50-48 vote.
Chief Justice John G. Roberts Jr. administered the constitutional oath, while retired Justice Anthony M. Kennedy administered the separate judicial oath. Justices Clarence Thomas, Ruth Bader Ginsburg, Elena Kagan and Samuel A. Alito Jr. attended that private ceremony.
For years, there has been a lingering controversy over whether it is appropriate for a newly confirmed Supreme Court justice to return to the White House to take the oath standing next to the president.
Long before he retired, Justice John Paul Stevens questioned this practice, saying it conveyed the impression the new justice was going to the court as the president's appointee, rather like a Cabinet secretary, instead of as an independent jurist in a separate branch of government.
But most of the justices have gone to the White House after being confirmed. Last year, Trump stood next to Justice Neil M. Gorsuch as he took one of the oaths in a ceremony televised from the Rose Garden.
Follow the latest news of the Trump administration on Essential Washington »
noah.bierman@latimes.com | Twitter: @noahbierman
Get our Essential Politics newsletter
The latest news, analysis and insights from our politics team.
You may occasionally receive promotional content from the Los Angeles Times.