Kentucky becomes first state to require Medicaid patients to work under new Trump administration policy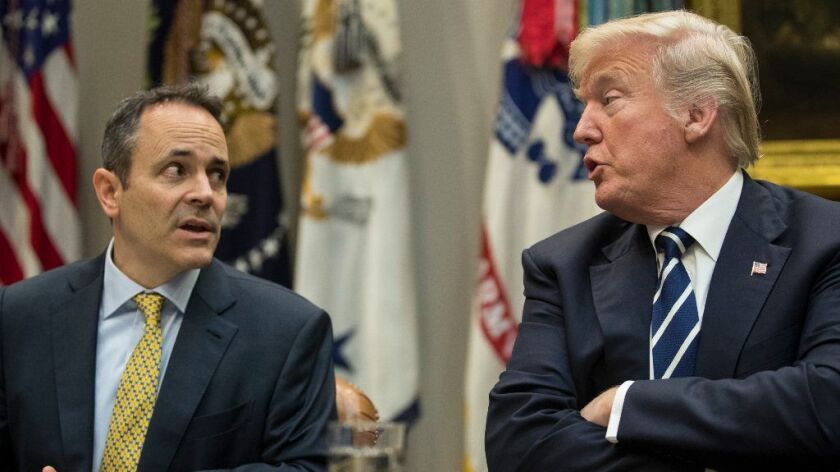 Reporting from Washington —
The Trump administration gave Kentucky permission Friday to impose work requirements on its Medicaid recipients, making the state the first in the nation to implement the administration's new policy of allowing states to make Medicaid coverage contingent on work.
The move — which came just a day after administration officials announced the new guidance — is widely expected to pave the way for several other states, almost all with with Republican governments, to incorporate work mandates into their Medicaid plans.
And it is likely to make Kentucky, once a trailblazer in implementing the Affordable Care Act, into a legal battleground over the conservative efforts to reshape the half-century-old Medicaid safety net program.
Kentucky will require working-age adults who are not disabled or acutely ill to work a minimum number of hours each week or participate in other "community engagement" activities, such as seeking work, going to school or volunteering.
Those who don't meet the requirements or don't provide adequate documentation will lose coverage.
The state projects significant cost reductions, largely because growing numbers of poor Kentuckians will be caught up in the complex reporting requirements and paperwork, causing them to lose coverage.
Federal officials said in approving Kentucky's proposal that the change would "promote Medicaid's objective of improving beneficiary health" and "provide incentives for responsible decision-making."
The state will also be able to charge Medicaid recipients premiums for their coverage, joining several other states that have begun imposing more costs on poor patients.
Kentucky has seen some of the biggest gains in coverage since full implementation of the healthcare law, often called Obamacare, began in 2014. The state's uninsured rate fell by more than half, making it a poster child for the the law under the Obama administration.
The coverage gains have also driven major increases in the share of poor state residents getting recommended medical care and a decline in the number who are putting off care because of cost.
But the state's current governor, who inherited the expansion from his Democratic predecessor, has been a fierce critic of the health law, arguing it is unaffordable and pledging during his gubernatorial campaign to scrap the Medicaid expansion entirely.
Instead, Gov. Matt Bevin put together a plan to place new restrictions on Kentuckians who receive Medicaid.
Bevin celebrated federal approval Friday, calling it "a significant milestone on our journey to lead the nation in transforming Medicaid in a fiscally responsible way."
Critics, however, said the state plan would simply take healthcare away from poor Kentuckians.
"Their governor and the Trump administration are maliciously threatening healthcare coverage for a large percentage of Kentucky's own citizens," Eliot Fishman, senior director of health policy at Families USA, said Friday.
"These attacks take the form of an array of cynical paperwork requirements designed to take coverage away from people: new work documentation requirements and unprecedented new 'lockouts' from coverage for people who do not submit reports on income changes or annual eligibility redetermination forms."
Many consumer groups, patient advocates and physicians around the country have decried the Trump administration's moves to put the new requirements on Medicaid recipients, arguing the mandates are inconsistent with the program's core mission to provide health coverage.
Obamacare 101: A primer on key issues in the debate over repealing and replacing the Affordable Care Act. »
---
Get our Essential Politics newsletter
The latest news, analysis and insights from our politics teams from Sacramento to D.C.
You may occasionally receive promotional content from the Los Angeles Times.