Trump emphasizes tough law enforcement in comments on opioid epidemic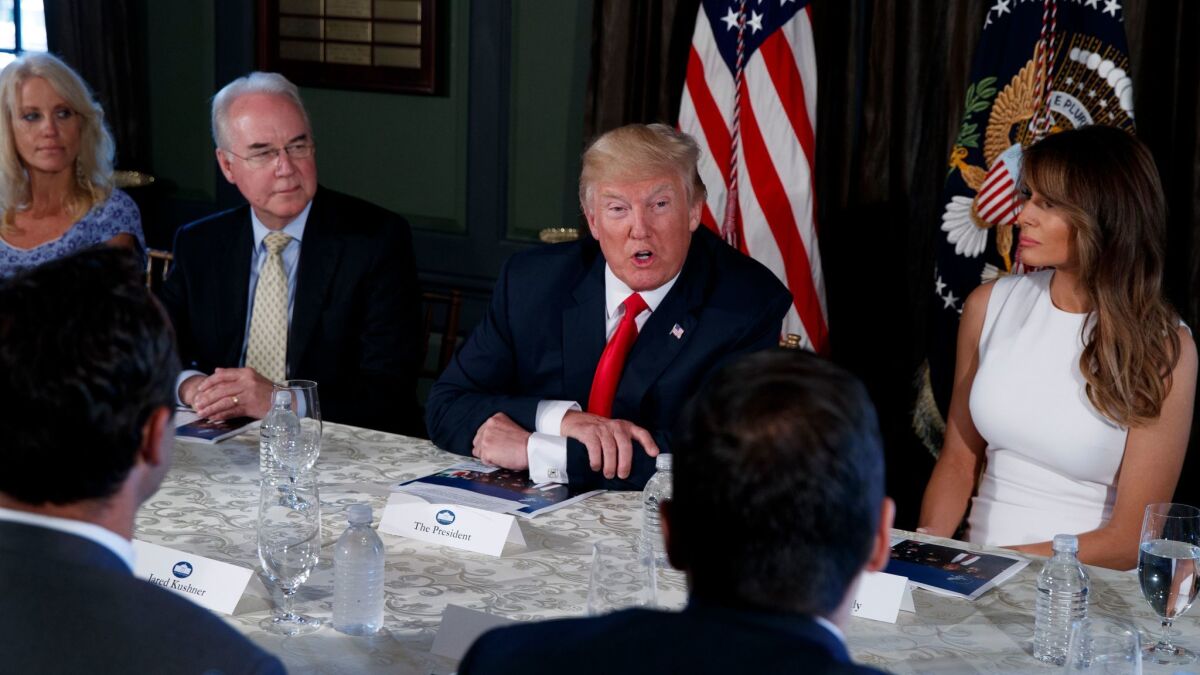 Reporting from Bridgewater, N.J. —
President Trump emphasized the need for stepped-up law enforcement to combat the nation's opioid problem Tuesday, an approach that is at odds with a report released last week by the special commission he appointed to address abuse.
"Strong law enforcement is absolutely vital to having a drug-free society," Trump told reporters from the clubhouse of his golf club here.
"I have had the opportunity to hear from many on the front lines of the opioid epidemic, and I'm confidant that by working with our healthcare and law enforcement experts we will fight this deadly epidemic and the United States will win."
He also sought to cast blame on the previous administration for the worsening of the opioid problem.
"At the end of 2016, there were 23% fewer federal prosecutions than in 2011, so they looked at this surge and they let it go by," he said. "We're not letting it go by."
Eager to convey a sense that he is working during his two-week stay in New Jersey, the president and First Lady Melania Trump met with Health and Human Services Secretary Tom Price and other top aides to discuss the opioid crisis.
Trump spoke often on the campaign trail about the devastation that opioid addiction has caused in communities, particularly rural, lower-income and working-class areas. Trump tended to do well in the regions hit hardest, a reflection of the issue's importance to many voters.
The commission Trump appointed to study the epidemic, headed by New Jersey Gov. Chris Christie, recommended last week that Trump declare a national emergency, but its report emphasized medical solutions, not law enforcement.
"We must act boldly to stop it," the commission wrote. "The opioid epidemic we are facing is unparalleled."
The interim report, which the authors said would be updated in the fall, included several recommendations to lift restrictions on the use of federal funds. Current rules limit states' use of Medicaid money for residential addiction treatment.
In a sign that Christie's commission favored a treatment over an enforcement role for police, the report recommended equipping law enforcement officials around the country with naloxone, a drug designed to reverse drug overdoses.
The authors lamented that "an impediment to naloxone usage and people seeking help in the event of an overdose is the perceived threat of law enforcement involvement" and that "overly restrictive or punitive laws may prevent the uptake of naloxone or the seeking of aid in an emergency."
Trump declined the report's recommendation about a national emergency. Price, briefing reporters at a hotel about 15 minutes away from Trump's golf course, said many of the report's recommendations for increased funding and attention can be accomplished without such a declaration, which is normally reserved for a natural disaster such as a hurricane or for a more focused public health problem such as an infectious disease outbreak. But he added that "all things are on the table for the president."
Price said the administration, among other efforts, may seek to relax some medical privacy laws to allow for more family members to be notified of overdoses. He also pointed to research efforts, including a potential vaccine for addiction.
"The president certainly believes that it is, that we will treat it as an emergency — and it is an emergency," Price said. "When you have the capacity of Yankee Stadium or Dodger Stadium dying every single year in this nation, that's a crisis that has to be given incredible attention, and the president is giving it that attention."
Though concern over the addiction crisis resonates strongly with Trump's core supporters, it could be a rare opportunity for bipartisan cooperation, given its widespread impact.
"No state has been spared, and no demographic group has gone untouched," said Kellyanne Conway, a White House counselor who had been active in the opioid effort and joined Price in briefing reporters and the president. "It really has affected all of our communities in varying degrees."
Despite repeated promises from the president to take on the opioid crisis, the Trump administration has taken steps that are likely to undermine efforts to control the epidemic, according to many physicians and other healthcare leaders.
Trump has pushed for deep cuts in federal aid to states for their Medicaid programs even as Medicaid has emerged as one of the most important tools in combating the crisis.
Medicaid, which now insures some 70 million low-income Americans, historically covered primarily poor children, pregnant mothers and the low-income elderly. But in recent years, funding made available through the Affordable Care Act has allowed states on the front lines of the epidemic, including Ohio, West Virginia and Kentucky, to open Medicaid to poor, working-age adults, a population traditionally not eligible for coverage but among the most likely to face substance abuse issues.
In Ohio, for example, more than a third of the approximately 700,000 people who enrolled in Medicaid after the expansion began in 2014 reported some drug or alcohol dependence, according to a recent study by the state. The vast majority did not previously have health insurance.
Bierman reported from Bridgewater and Levey from Washington.
Twitter: @noahbierman
ALSO
Pence's sensitivity to talk of 2020 speaks to White House insecurity
Sessions says Justice Department will boost investigations of leaks, may pursue reporters
'Death by a thousand cuts': Empty State Department offices sap morale, some staffers say
---
Life is stressful. Our weekly mental wellness newsletter can help.
You may occasionally receive promotional content from the Los Angeles Times.