Trump orders Justice Department to declassify some records related to adversaries in Russia investigation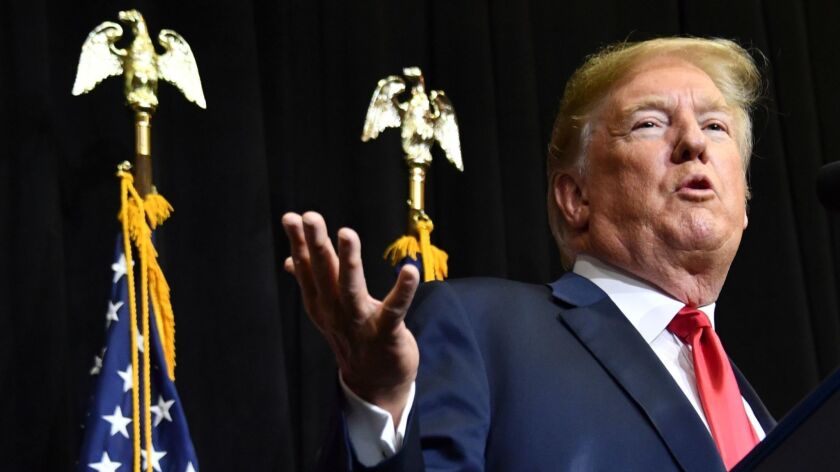 Reporting from Washington —
Moving to undermine the Russia investigation that has overshadowed the White House, President Trump on Monday ordered the declassification of a raft of sensitive FBI and other records involving several high-profile adversaries, including former FBI Director James B. Comey and his former deputy, Andrew McCabe.
Trump's allies in Congress and elsewhere long have pressed for the release of classified documents that they say will show the investigation led by special counsel Robert S. Mueller III into Russian interference in the 2016 election was launched from an improper foundation and should be ended or curtailed.
In a statement, the White House said Trump had directed the immediate declassification of about 20 pages of a June 2017 application to conduct secret surveillance of Carter Page, a former Trump campaign foreign policy advisor who the FBI suspected might be a Russian spy. A heavily censored version of the counterintelligence warrant was made public in July.
Trump also ordered the release of all FBI reports of interviews with Justice Department official Bruce Ohr that were "prepared in connection with the Russia investigation" and all FBI reports of interviews prepared in connection with the surveillance warrant for Page.
He also directed the Justice Department to release all text messages relating to the Russia investigation of five individuals who the White House alleges played a significant role in driving the Russia inquiry, which Trump calls a "witch hunt."
In addition to Ohr, they include Comey, whom Trump fired in May 2017; McCabe, a former deputy director of the FBI who was fired in March, just 26 hours before his scheduled retirement; Peter Strozok, a former senior FBI official who was fired in August; and Lisa Page, an FBI lawyer who had exchanged texts with Strozok critical of Trump.
A Justice Department spokesman said Trump's order would trigger a declassification review process that is conducted by agencies in the intelligence community together with the White House counsel "to seek to ensure" the safety of national security. The statement said the FBI and Justice Department were "already working" with the director of national intelligence to comply with the president's order.
The president's order comes days after Paul Manafort, a former chairman of Trump's presidential campaign, pleaded guilty to conspiracy and agreed to cooperate with Mueller's investigation. Manafort's testimony could pose a risk to the White House since he has direct knowledge of several incidents during the 2016 race that are in Mueller's crosshairs.
By focusing on others in the investigation, the White House is supplying a counter-narrative that, at least politically, potentially undermines Mueller's legal success so far — including guilty pleas from four former Trump aides or associates, as well as a related guilty plea from his lawyer in New York.
Ohr met with Christopher Steele, a former British intelligence officer paid by Democrats during the presidential campaign to research Trump's connections to Russia. Ohr's wife worked for Fusion GPS, the research firm that hired Steele.
Steele's findings were compiled in an infamous dossier of allegations involving Trump and Russia, and law enforcement officials cited his research in their application to the Foreign Intelligence Surveillance Court for the eavesdropping warrant on Page. Page has never been charged with a crime and has denied any wrongdoing.
The decision to declassify the Page and Ohr documents is the latest example of Trump using his authority over the national security bureaucracy to target his critics and the Russia investigation.
In August, Trump revoked the security clearance of former CIA Director John Brennan, who has frequently condemned the president in TV appearances. And in February, he helped Rep. Devin Nunes (R-Tulare), chairman of the House Intelligence Committee, release a controversial memo alleging the Justice Department had inappropriately obtained the warrant for Page, sparking pushback from the FBI.
Trump is "misusing those levers of power for very naked political reasons," said Steve Hall, a former CIA officer who was the agency's liaison to congressional committees in 2012. "It's never a good thing. It compromises national security in the long run."
A cadre of conservative House Republicans publicly called on Trump to declassify the documents at a Capitol Hill news conference on Sept. 6. Rep. Matt Gaetz (R-Fla.) said the material would reveal the "rotten basis for the investigations that continue, solely to delegitimize the duly elected president of the United States."
But Trump already was pushing others to release the records, berating Atty. Gen. Jeff Sessions about the Justice Department's reluctance to break its long-standing practice of keeping secret information involving an ongoing criminal investigation.
"Open up the papers & documents without redaction?" Trump tweeted on Aug. 24. "Come on Jeff, you can do it, the country is waiting!"
The Russia investigation began in mid-2016 as an FBI inquiry of Moscow's efforts to disrupt the U.S. presidential election through the theft and release of Democratic Party emails and by spreading disinformation on social media. U.S. intelligence agencies say the clandestine Kremlin-backed operation later shifted its aim to supporting Trump in his bid to defeat Hillary Clinton.
After Trump fired Comey in May 2017, the Justice Department named Mueller as special counsel in an effort to ensure the investigation's independence from outside interference. Mueller is seeking to determine whether Trump's campaign conspired with the Russian operation, or if the president obstructed justice by trying to interfere with the investigation.
The Justice Department first applied for a Foreign Intelligence Surveillance Act warrant on Page in October 2016, after the energy consultant had left the Trump campaign and just weeks before the election. The classified warrant was approved by a federal judge and then renewed three times, each time by a different judge.
Critics say the warrant is flawed because the application included information provided by Steele, who had been hired by an opposition research firm working on behalf of Democrats. Steele previously was considered a trustworthy FBI source and the application disclosed that his research was politically motivated, but Republicans have repeatedly argued that was inadequate.
Once their criticism was released as part of Nunes' memo in February, Democrats wrote their own document rebutting his conclusions.
Ohr, who has investigated Russian organized crime networks operating in the United States, was a point of contact for Steele at the Justice Department.
Trump has frequently targeted Ohr, calling him a "disgrace" and threatening to revoke his security clearance. Ohr remains at the Justice Department, but late last year, he was removed from his post as an associate deputy attorney general.
Twitter: @chrismegerian
---
UPDATES:
5:05 p.m.: The story was updated with a Justice Department statement and other details.
The story was originally posted at 2:50 p.m.
---
Get our Essential Politics newsletter
The latest news, analysis and insights from our politics teams from Sacramento to D.C.
You may occasionally receive promotional content from the Los Angeles Times.