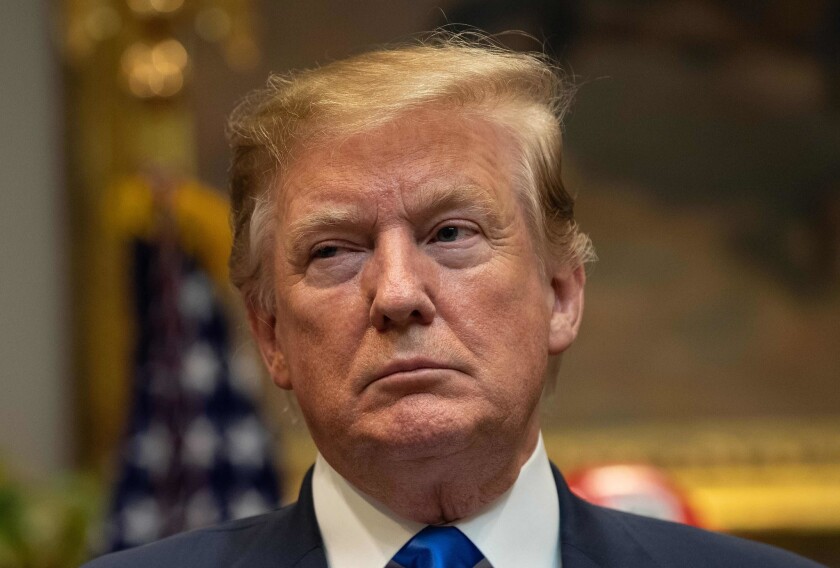 President Trump's stated willingness to accept information on an election rival from foreign governments drew a strong reaction from Democratic presidential candidates, with some saying he was threatening national security and others calling for his impeachment.
"After seeking and receiving the help of our adversaries to to get elected in 2016, Donald Trump is now essentially calling for an open season on our 2020 elections," former Housing and Urban Development Secretary Julian Castro wrote on Twitter. "Once again, he's putting his interests above our nation's, and risking and the integrity of our elections."
Trump, in an interview with ABC News on Wednesday, was asked whether his son Donald Trump Jr. should have contacted the FBI after receiving an email promising information on Trump's 2016 rival, Hillary Clinton.
"This is somebody that said, 'We have information on your opponent.' Oh, let me call the FBI. Give me a break. Life doesn't work that way," Trump said.
When interviewer George Stephanopoulos noted that FBI Director Christopher Wray said candidates or politicians in such a situation should call his agency, Trump responded: "The FBI director is wrong."
"I think I'd want to hear it," Trump said, adding, "There's nothing wrong with listening."
He continued by claiming members of Congress accept that sort of information all the time.
This is inexcusable. The President of the United States just effectively gave permission to foreign agents to interfere in our elections. We need my Secure Elections Act and Honest Ads Act passed immediately. The 2020 elections are not secure. Disgraceful. https://t.co/Ht8GwBA0Aj

— Amy Klobuchar (@amyklobuchar) June 13, 2019
President Trump is once again welcoming foreign interference in our elections. This isn't about politics. It is a threat to our national security. An American President should not seek their aid and abet those who seek to undermine democracy.

— Joe Biden (@JoeBiden) June 13, 2019
The response from other Democratic presidential candidates was also swift. Rep. Tim Ryan of Ohio wrote, "This is sad and cynical. To think every politician would accept research from a sworn enemy shows how demented and amoral this President is. Think Washington or Jefferson or Eisenhower or Reagan would say this. Shameful."
Some candidates linked to the video of Trump and called for impeachment. Sen. Bernie Sanders (I-Vt.) tweeted: "We have a president who thinks he is above the law. The House should immediately begin impeachment inquiries."
Sen. Kirsten Gillibrand (D-N.Y.), former Texas Rep. Beto O'Rourke, Massachusetts Sen. Elizabeth Warren and Rep. Eric Swalwell of California also called for impeachment.
The #MuellerReport made it clear: A foreign government attacked our 2016 elections to support Trump, Trump welcomed that help, and Trump obstructed the investigation. Now, he said he'd do it all over again. It's time to impeach Donald Trump. https://t.co/yk25iGYpmC

— Elizabeth Warren (@ewarren) June 12, 2019
China is listening.
Russia is listening.
North Korea is listening.

Let's speak the truth: this president is a national security threat. https://t.co/wsPYTzq0u0

— Kamala Harris (@KamalaHarris) June 13, 2019
Swalwell, of Dublin, who sits on the House Judiciary Committee, called the president's admission "lawless."
"His relentless attacks on our rule of law and numerous efforts to obstruct justice and Congress have reached such a point to require extraordinary action," Swalwell said in a statement. "It's time for Congress to open an impeachment inquiry into President Donald Trump."
Swalwell conveyed a similar message on Twitter.
Congress has no choice: we must begin an impeachment inquiry against @realDonaldTrump. He has invited the Russians to again sabotage our elections. And he has obstructed (& obstructs) justice. Time to be held accountable. Our democracy is worth saving.

— Rep. Eric Swalwell (@RepSwalwell) June 13, 2019
Washington Gov. Jay Inslee tweeted: "Let's be clear: Donald Trump is talking about conspiring with a foreign government to win an election — again. This is dangerous and un-American."
Rep. Seth Moulton of Massachusetts was concise: "The definition of collusion from the man guilty of obstruction."
The President has openly stated he'd accept the aid of a foreign nation to assist him in the 2020 election. He is suppose to defend and protect this nation not to undermine the very fabric of our sovereignty. He's willing to commit a crime (again) to win.

— Wayne Messam (@WayneMessam) June 13, 2019
When the President of the United States openly welcomes foreign help to win an election, he threatens the very core of our democracy. If we are to secure justice and ensure this never happens again, we must impeach him.

— Beto O'Rourke (@BetoORourke) June 13, 2019
Montana Gov. Steve Bullock wrote "1-800-CALL-FBI," then three hours later, tweeted again with a link to donate to his campaign. "If he's telling foreign countries to dig up dirt on political opponents, it's no wonder he also made it easier to pour dark and foreign money into our elections. In MT, we banned foreign spending altogether. Together we can take that nationwide. Join us:"
It's not "oppo research" — it's foreign interference in US elections.

That you would say this is disgraceful. That you would do it from the Oval Office (yet again) proves you're unfit for the office you hold. https://t.co/7YQn07yRbm

— Cory Booker (@CoryBooker) June 13, 2019
Former Massachusetts Gov. William Weld, a Republican who has said he will challenge Trump for the GOP nomination, also took aim in a series of tweets after the president's comments. "I have previously called for Donald Trump to resign for the good of the country," Weld wrote. "This latest statement again proves we have a president with no respect for the rule of law and lacking a basic sense of right and wrong."
This is another clear indication that Donald Trump is dangerous and unfit for the Presidency. 1/4

— Gov. Bill Weld (@GovBillWeld) June 13, 2019
---