Trump says Pelosi is behaving 'irrationally' in shutdown impasse as Russia questions swirl around him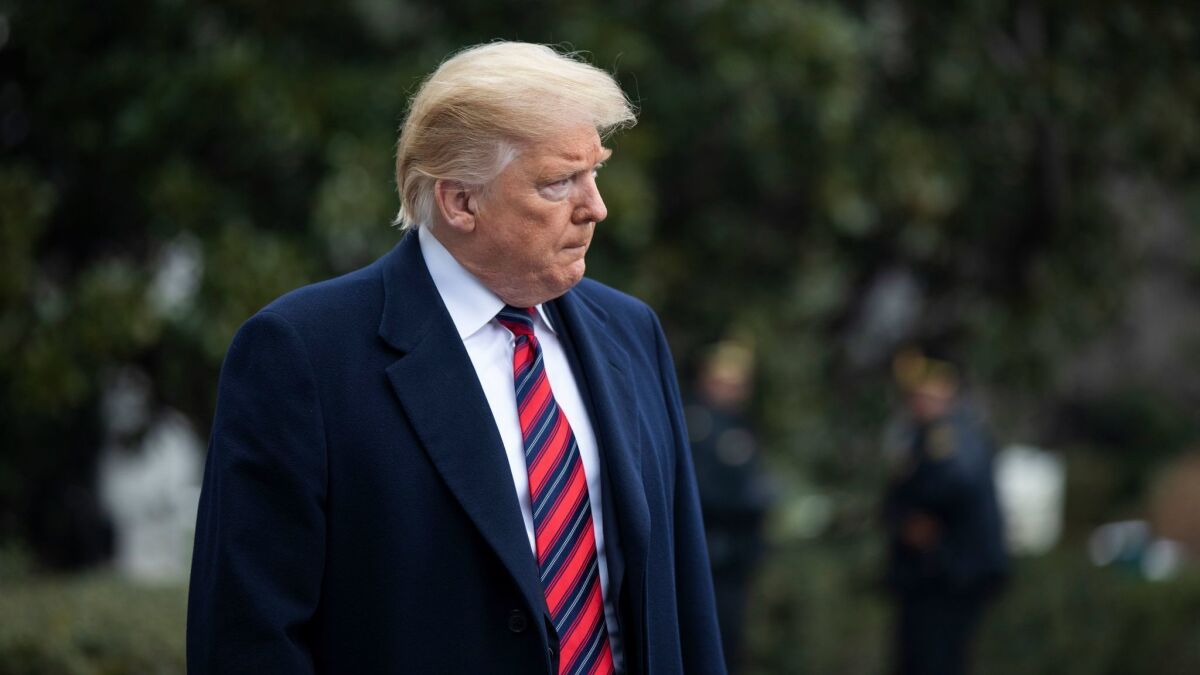 Reporting from Washington —
As a damaging partial government shutdown hit the 30-day mark on Sunday, President Trump sought to allay criticism from conservative critics who fear he is softening his hard line on immigration, while unleashing strident new attacks against House Speaker Nancy Pelosi.
In a series of tweets, Trump lambasted the San Francisco Democrat, who has emerged as his chief antagonist in the standoff, for behaving "irrationally" in rejecting his offer Saturday of temporary legal protection for some immigrants and refugees in exchange for the funding he wants for a barrier along the border with Mexico.
Yet the president's suggested compromise was dismissed as well by his usual allies on the anti-immigration right, many of whom last month encouraged him to provoke the shutdown, by refusing to sign funding for a quarter of the government unless he got the $5.7-billion installment he wanted for a border wall.
The shutdown impasse since then comes amid intensifying questions over Trump's efforts to build a tower named for himself in Moscow while he was running for president, an element in wider investigations of the president and his campaign's relationship with the Kremlin.
The president's lawyer, Rudolph W. Giuliani, confirmed Sunday that talks about the prospective Moscow project continued up to the 2016 election, months longer than acknowledged. He also said he was certain that Trump did not urge his former fixer Michael Cohen to lie to Congress about the timeline, while also admitting he wasn't sure whether Trump and Cohen spoke about it.
But Giuliani — whose pronouncements on Trump's legal problems tend to raise more questions than they quell — told CNN's "State of the Union" that if the president did communicate with Cohen about his testimony beforehand, it would have been "perfectly normal."
"So what if he talked to him about it?" Giuliani said.
Senior Democrats who appeared on Sunday's news talk shows vowed to scrutinize both the timing of Trump Tower talks with Russian officials and questions surrounding Cohen's congressional testimony — even as a BuzzFeed report last week that Trump had instructed Cohen to lie was disputed by the office of Robert S. Mueller III, the special counsel in the Russia probe.
Sen. Mark R. Warner of Virginia, the top Democrat on the Senate Intelligence Committee, which is conducting its own Russia probe, said it was "big news" that Trump was "actively trying to do business in Moscow" as the campaign was in its home stretch.
"If those negotiations were ongoing up until the election, I think that's a relevant fact for voters to know, and I think it's remarkable we are two years after the fact and just discovering it today," Warner said on NBC's "Meet the Press."
Cohen, who has pleaded guilty to lying to Congress, is due to appear before the House Oversight and Reform Committee next month before reporting to prison.
Giuliani, also appearing on "Meet the Press," said that conversations about the Trump Tower project "went on throughout 2016," adding, "Probably could be up to as far as October, November." He provided a similar timeline to CNN in December, which contradicted previous public assertions that the project faded away much earlier.
Initially Cohen had testified under oath that talks had ended by January 2016, then acknowledged in his guilty plea that they lapsed in June, just before Trump accepted the Republican nomination. If negotiations with Moscow continued through the year, they took place while Trump, as a presidential nominee, was entitled to see classified intelligence.
Rep. Adam B. Schiff of Burbank, who heads the House Intelligence Committee now that Democrats are the majority in the lower chamber, reaffirmed that his panel will be looking closely at the president's Russia ties, including the Trump Tower talks and Cohen's previous testimony.
"We have to get to the bottom of this," he said.
Separately, Schiff joined other senior Democrats in accusing Trump of failing to make any serious effort to end the partial government shutdown, which is leaving some 800,000 federal workers without pay and crimping a broad range of services to the public, including airport security and payment of farm subsidies.
Pelosi, on Twitter, again urged Trump to "re-open the government, let workers get their paychecks and then we can discuss how we can come together to protect the border."
The president and his allies slapped back, hitting Democrats for refusing to entertain Trump's proposal for three years of protection against deportation for about 1 million immigrants, including some so-called Dreamers brought illegally to the United States as children as well as refugees who've long been eligible for U.S. residency because of disasters or conflicts in their own countries.
In effect, Trump has offered to provide relief to the groups after he acted to end the programs protecting them; federal courts have intervened to limit his actions.
The president aimed most of his wrath at Pelosi, tweeting that she "is so petrified of the 'lefties' in her party that she has lost control." He also took a swipe at her district, adding: "And by the way, clean up the streets in San Francisco, they are disgusting!"
Trump, who has proved highly sensitive to criticism from right-wing media outlets about any softening of his immigration stance, insisted that his offer on Saturday did not amount to an "amnesty" — a notion that is anathema to his conservative base.
That distancing was underscored by Vice President Mike Pence, appearing on "Fox News Sunday." Pence said the proposal did not amount to an amnesty because "there's no pathway to citizenship."
Yet in his tweets, Trump tipped his hand about the administration's longer-term strategy to extract concessions from the Democrats — one that would undoubtedly rile his hardest-line supporters.
"Amnesty will be used only on a much bigger deal, whether on immigration or something else," the president wrote.
Trump included a thinly veiled threat of a large-scale roundup of immigrants here illegally, many of whom have been in the country for many years: "There will be no big push to remove the 11,000,000 plus people who are here illegally — but be careful Nancy!"
In a separate appearance on CBS' "Face the Nation," Pence suggested some rank-and-file Democrats were ready to break with Pelosi and other Democratic leaders and seek a deal to end the shutdown, though he refused to name them.
Appearing on "Fox News Sunday," the No. 3 House Democrat, Rep. James E. Clyburn of South Carolina, suggested that Trump's plan could at least serve as the basis for talks.
He said Democrats sought a "permanent fix" both for the Dreamers — participants in the Obama-era Deferred Action for Childhood Arrivals program, or DACA — as well as for the refugees, many of them from Central America, whose temporary protected status is in jeopardy.
"Let's go back and forth on this and see where we can find common ground," Clyburn said. "We are all for negotiations."
But, echoing other Democratic leaders, Clyburn said that prior to any such talks, Trump should first agree to fund and reopen the government.
---
Life is stressful. Our weekly mental wellness newsletter can help.
You may occasionally receive promotional content from the Los Angeles Times.