How @RealDonaldTrump turned a stream-of-consciousness Twitter feed into a political campaign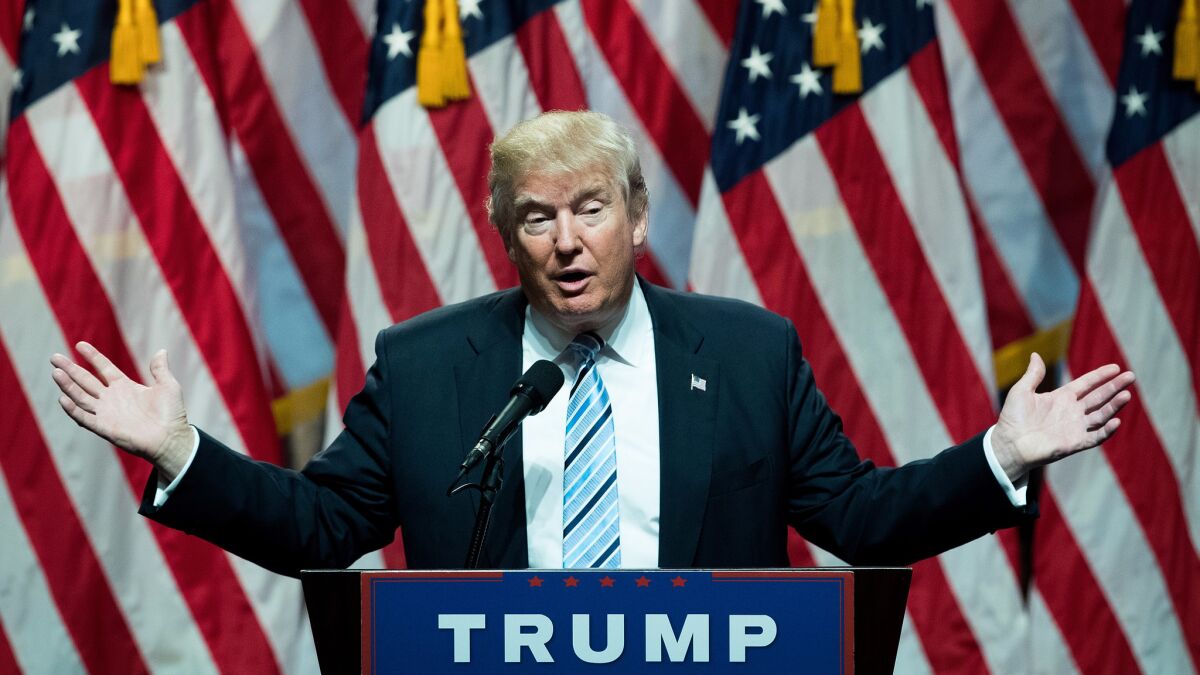 On Aug. 6, 2012, the Twitter account @realDonaldTrump posted an important public announcement:
"An 'extremely credible source' has called my office and told me that @BarackObama's birth certificate is a fraud."
Who was the source? (Why was "extremely credible source" in quotation marks?) Donald Trump didn't say. Nor did he offer evidence to back up his claim. But out it went to his millions of Twitter followers — and you can still retweet it from Trump's account, as Democratic presidential candidate Hillary Clinton's official Twitter account did last weekend.
"Four years ago today," Clinton's account tweeted of Trump's birther tweet, earning more than 11,000 retweets herself. The same day, Trump tweeted that Clinton was "crooked" and "dangerous" and asked followers to look up the definition of "BRAINWASHED." That won him more than 14,000 retweets.
As the real estate mogul wages his unconventional bid for president, a key element of that campaign remains his one-of-a-kind, often incendiary Twitter persona, which baffles political veterans, enthralls supporters and entices Democratic adversaries to use Trump's wildest tweets — new and old — as opportunities to inflict damage.
Twitter seems suited to the Trump persona — unfiltered and fast. Tweeting in 140 characters is not that different from the way he riffs at rallies, moving from subject to subject, often in the span of just a few sentences or words.
Social media is growing more important in presidential campaigns as services gain popularity and traditional media's power wanes. A Pew Research Center study earlier this year found that more Americans learned about the presidential campaign via social media than from newspapers. A quarter of adults surveyed in July said they turned to social media posts by the Clinton or Trump campaigns.
One of those Americans is Trump supporter Zoran Nikolic, 36, of Cleveland, who occasionally retweets Trump. Nikolic says it seems like other politicians have "specialists" managing their social-media accounts, and "they'll tell you what you want to hear, and not the actual truth."
Election 2016 | Live coverage on Trail Guide | Sign up for the newsletter
But not Trump. "The things he tweets … I think what he says is what a lot of people think, but are afraid to say," Nikolic said. "Whatever's on his mind, he says it, and I like that."
Trump was popular on Twitter before he sought the Republican presidential nomination, and was known for critical political outbursts, endless battles with "haters and losers," and barbed humor. Among his most popular tweets in recent years: "As everybody knows, but the haters & losers refuse to acknowledge, I do not wear a 'wig.' My hair may not be perfect but it's mine."
Trump has 10.9 million Twitter followers compared to Clinton's 8.3 million, though as is common with many popular Twitter accounts, not all those followers are real people. More than a third of both candidates' followers are probably fake accounts, according to the analysis service TwitterAudit, meaning many followers might be automated bots or spam accounts.
For Trump, Twitter provides a free way of directly communicating with the public without interference from "biased," "disgusting" media outlets (as Trump has called them in some tweets).
But at last month's Democratic National Convention, Clinton made clear that she sees Trump's unpredictable social media persona as a sign of weakness. "A man you can bait with a tweet is not a man we can trust with nuclear weapons," she said.
Risk-averse politicians tend to produce fairly boring Twitter feeds, but Trump often lobs tweets to attack perceived enemies large and small.
Over the last week alone, Trump's Twitter account bashed Michael Morell — former acting director of the Central Intelligence Agency who recently announced his endorsement of Clinton — as a "total Clinton flunky" who made "serious bad calls."
Trump also slammed "these poor, pathetic people (pundits) on television working so hard and so seriously to try and figure me out," including "ratings challenged" CNN and "low ratings" MSNBC host Joe Scarborough.
While many politicians' tweets are written by their staff — Clinton's account says that tweets sent by Clinton herself are signed "-H" — Trump has said he writes many of his tweets himself, or at least dictates them to his staff.
"During the day, when I'm in the office, I just shout it out to one of the young ladies, who are tremendous," Trump said at a CNN town hall in April. "During the evenings, after 7 or so, I will always do it by myself."
"Melania, do you ever want to say to him, 'Put the mobile device down'?" CNN host Anderson Cooper asked Trump's wife. "That, like, 'It's 2 a.m., and you're still tweeting.' "
"Anderson, if he would only listen," Melania Trump said. "I did many times. And I just say, OK, do whatever you want. He's an adult. He knows the consequences."
Trump has gotten in trouble several times for retweeting images linked to white supremacists. But Trump's addition of veteran communications advisor Jason Miller to his campaign in June has corresponded with a somewhat calmer-seeming social media presence. This has led outsiders to scour Trump's tweets to figure out which are sent by his staff and which are fired off by Trump himself.
One of those digital gumshoes was data scientist David Robinson of New York, who admits he's not much of a political observer. But Robinson got curious about the seeming professionalization of Trump's Twitter feed, which he thought increasingly resembled that of "a normal politician."
"A lot of Americans are fascinated with the raw Donald Trump, not the image the campaign puts forward," said Robinson, who decided to embark on a project to "sort it back out."
Compiling data from Trump's tweets, Robinson published a deep analysis this week that showed Trump tweets originating from difference devices — both iPhone and Android — and which showed that Android Trump is quite a bit more belligerent than iPhone Trump.
Which is Trump? The money's on the Android.
"When Trump wishes the Olympic team good luck, he's tweeting from his iPhone. When he's insulting a rival, he's usually tweeting from an Android," Robinson wrote. "The Android and iPhone tweets are clearly from different people, posting during different times of day and using hashtags, links, and retweets in distinct ways."
Operating on a similar theory, the irreverent news site Gawker — which once baited Trump into retweeting a quote by Italian fascist dictator Benito Mussolini — created its own Twitter account called "@RealRealDonaldTrump."
It's a bot that only tweets Trump tweets sent by an Android. Missing are the polite thanks to rally attendees in Ft. Lauderdale, Fla., or the thanks to the New York Police Department for apprehending a man who used suction cups to climb Trump Tower.
Remaining are the attacks on "crooked Hillary" and "dumb as a rock" CNN host Don Lemon.
"We may not know who's writing Melania's speeches, but at least we can know when Donald Trump gets tweetin'," Gawker's Ashley Feinberg wrote.
The Trump campaign did not respond to a request for comment on the authorship of Trump's tweets. But maybe you'll be able to read a response on his Twitter account.
Twitter: @mattdpearce
ALSO
Here's how to tell if Donald Trump is doing his own tweeting
As Hillary Clinton goes after Donald Trump, her own email troubles undermine her attacks
Donald Trump claims the election might be 'rigged.' Here's how voting really works
Paul Manafort has guided dictators and strongmen, but can he manage Donald Trump?
---
Life is stressful. Our weekly mental wellness newsletter can help.
You may occasionally receive promotional content from the Los Angeles Times.