Trump waives millions in claims against Stormy Daniels in new fallout from illegal payoff
President Trump has agreed to give up his right to pursue millions of dollars in damages against Stormy Daniels in a move to kill litigation over an illegal payoff to the adult-film star.
The maneuver marks a sharp reversal for Trump. His legal team sought earlier to pull Daniels into an arbitration that could have forced her to pay the president more than $20 million for breaking a nondisclosure agreement over her claim of a sexual liaison with Trump in 2006. Trump has denied the affair.
The switch in tactics, disclosed late Saturday by a Trump attorney, highlights the legal trouble faced by the president and his private business, the Trump Organization, as federal prosecutors continue to investigate the $130,000 in hush money that Daniels received 12 days before the November 2016 election.
Michael Cohen, who was executive vice president of the Trump Organization when he orchestrated the deal, told a federal judge last month that Trump directed him to make the payoff in an attempt to influence the election. Cohen also agreed Friday to give up any right to damages against Daniels under the nondisclosure agreement.
Daniels, whose real name is Stephanie Clifford, is suing Trump and Cohen to void the nondisclosure pact, saying it's invalid because Trump never signed it.
"Mr. Trump hereby stipulates that he does not, and will not, contest Ms. Clifford's assertion that the Settlement Agreement was never formed, or in the alternative, should be rescinded," the president's lawyer, Charles Harder, told Daniels' attorney Michael Avenatti in a letter Saturday.
As a result, Trump's lawyer argued, Daniels should drop her lawsuit. Lawyers for Trump, Cohen and Daniels are set to gather Sept. 24 for a hearing on the case before District Judge S. James Otero in Los Angeles federal court.
Avenatti, who is exploring a run for the Democratic presidential nomination, said Trump's relinquishing of his rights under the confidentiality deal — and Cohen's similar move – would not put a stop to her lawsuit.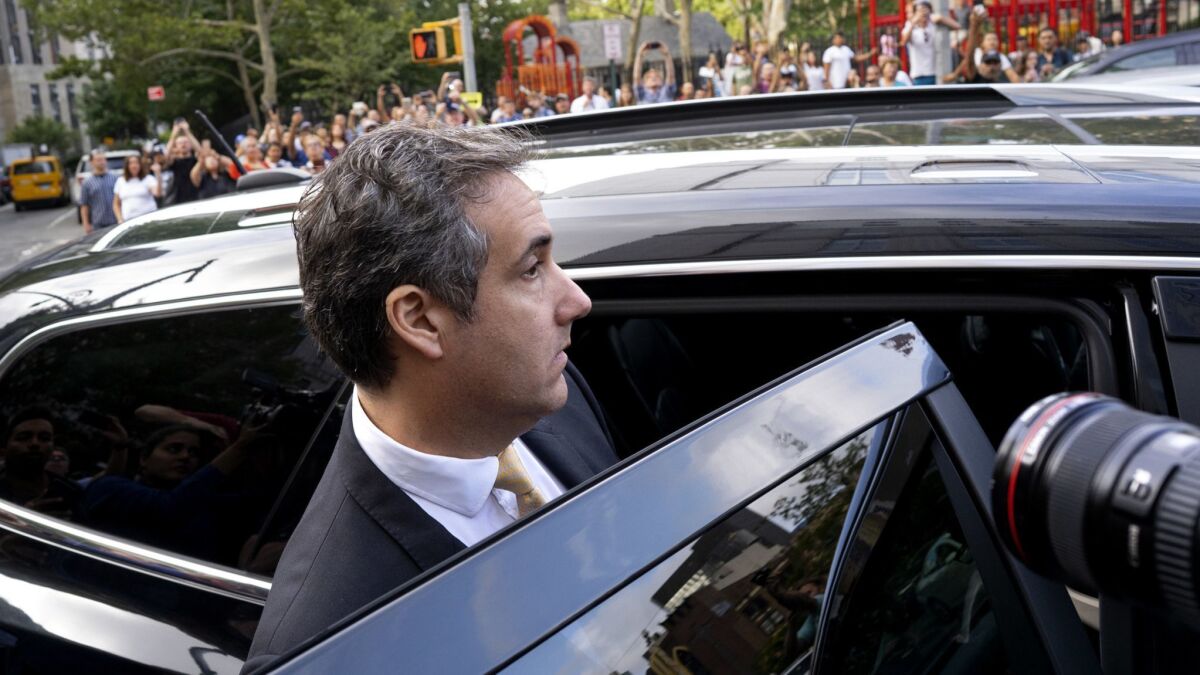 "In light of the criminal charges, Trump is doing everything he can to avoid a deposition by me," Avenatti said by email.
Cohen, Trump's former longtime fixer and personal attorney, pleaded guilty last month to eight felonies, including one for paying off Daniels "at the request and suggestion" of an unnamed person in the Trump campaign.
Cohen's admission that he broke the law by paying Daniels through a shell company he set up just before the election mirrors allegations made in January by the nonpartisan ethics group Common Cause in a complaint to the Justice Department after the Wall Street Journal broke the story of the hush money.
Cohen's guilty plea effectively "obliterates any claim by Donald Trump to damages" from Daniels, said Paul S. Ryan, vice president of policy and litigation at Common Cause.
One of Daniels' arguments in her lawsuit is that the nondisclosure pact is void because its purpose was illegal.
Common Cause has also accused the Trump Organization of wrongdoing in its handling of the payoff to Daniels.
"All the information, as it's trickled out, has only further confirmed our suspicion that the Trump Organization violated campaign finance laws, and maybe other laws too," Ryan said.
To reimburse Cohen for the $130,000 payoff, two Trump Organization executives approved invoices that disguised the money as legal fees, prosecutors disclosed in charging documents.
It was a Trump Organization lawyer, Jill A. Martin, who initiated a Los Angeles arbitration proceeding against Daniels in February on behalf of Cohen's shell company, Essential Consultants.
Martin, based at Trump National Golf Club in Rancho Palos Verdes, accused Daniels of breaking her nondisclosure agreement and won a secret restraining order from an arbitrator to muzzle Daniels.
The porn actress filed her lawsuit days later. Soon after that, she shared details of her alleged sexual encounter with Trump in an interview on CBS' "60 Minutes."
The Trump Organization did not immediately respond to emails seeking comment.
On Friday, Cohen asked Daniels to give back the $130,000. His lawyer, Brent Blakely, declined to comment on whether Cohen's shell company would return any money from Daniels to the Trump Organization.
Twitter: @finneganLAT
Get our Essential Politics newsletter
The latest news, analysis and insights from our politics team.
You may occasionally receive promotional content from the Los Angeles Times.