A promise Trump can't keep? His window to 'build the wall' is closing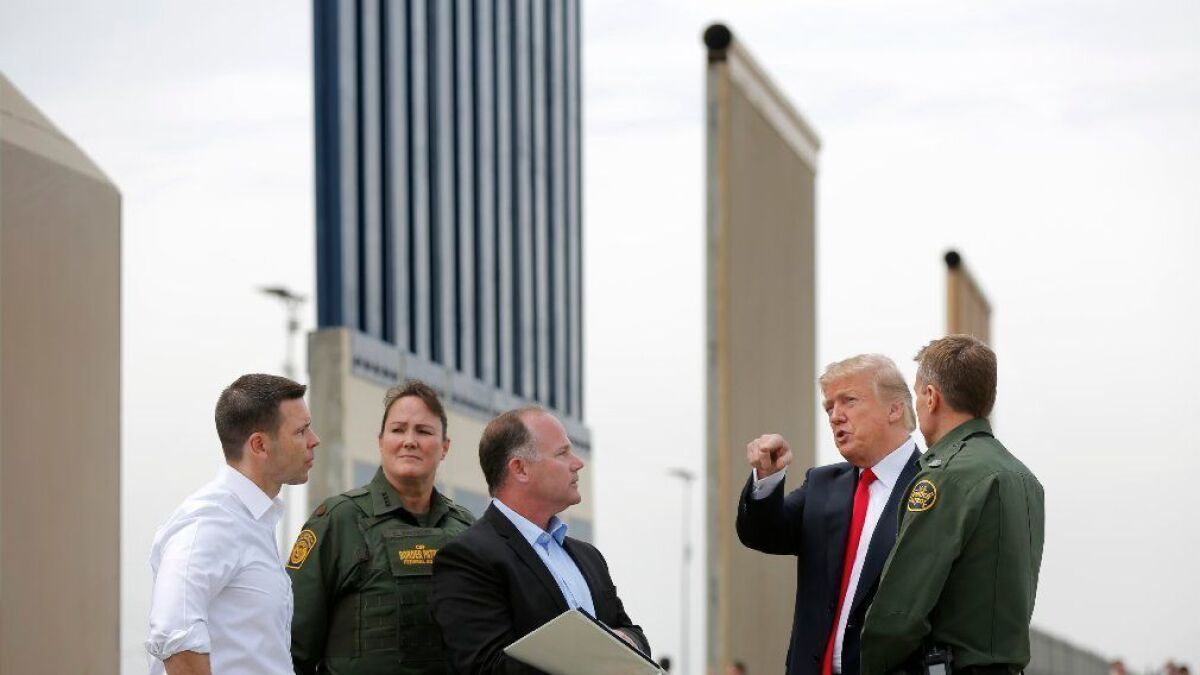 Reporting from Washington —
President Trump's "big beautiful wall" along the nearly 2,000-mile southern border — the defining promise of his campaign and now his presidency — took a quiet yet potentially fatal hit Friday when he signed a government funding bill with a small fraction of the $25 billion he has asked for.
The bill keeps the government operating through Dec. 7, avoiding a politically damaging shutdown that Republican lawmakers had feared just weeks before the November congressional elections. Because Trump had repeatedly threatened to shutter the government if he didn't get his wall money, only his signature finally put Republican leaders' fears to rest.
Yet for a second year, he has received but a small installment from a Republican-controlled Congress. And if Democrats win control of the House in November, as they are favored to do, Trump would see his leverage decline substantially.
Whatever the outcome, even administration officials say it will be difficult to force Congress' hand on the issue in December during a so-called lame duck session, a post-election period usually reserved only for essential law-making.
"The wall is dead. Not gonna happen. Not on the table," said Frank Sharry, the executive director of America's Voice, a group that advocates for immigration.
"Here's the dirty little secret," he added. "There's no funding for the border wall because there's not enough support among Republicans, much less Democrats."
Allies say Trump was in an unwinnable situation in recent weeks as he wavered over whether to make a final stand. Mexico was never going to pay for it, as candidate Trump promised. Yet neither most voters nor, by extension, many members of Congress support paying for a wall. Even more, both oppose closing the government.
"The president is damned if he does and damned if he doesn't," said Michael Caputo, a former campaign advisor, speaking just before Trump signed the spending bill. "If he shuts down the government, as he probably should, the Republicans will lose the House and he will not get his wall."
Although Trump seems likely to lose his chance to build the monument-style edifice stretching up to 2,000 miles that he's conjured by his rally rhetoric, he can point to limited successes.
In some places with existing structures, he has succeeded in speeding up the targeted replacement of dilapidated fences with high steel bollard barriers. Even that is changing lifestyles and economies in border communities, taking private land, interrupting wildlife migration and testing his claim that barriers along the border will curb illegal border crossings.
Congress has given the administration about $1.7 billion for barrier construction since last year, enough for more than 100 miles of projects in places such as San Diego and El Paso. Trump and his officials at the Department of Homeland Security like to refer to them as walls while Democrats pointedly call them fences. The structures actually are something in between, given that they are made of thick steel and range as high as 30 feet, but are not solid — more like closely spaced poles.
Immigration advocates who oppose Trump's talk of imposing walls say these barriers should not be underestimated. They complain that the new structures endanger migrants and disrupt communities where residents on each side of the border have long crossed back and forth. Homeland Security officials say they are working at reducing illegal entries.
The structures look nothing like the imposing prototypes the president inspected during a March trip to San Diego, the type of solid construction Trump often touted during the campaign. Although the president insists to supporters in rallies that he has begun building the wall — evoking the familiar chants of "Build the wall!" — he also concedes the limited bollard sections fall short of what he really wants.
After signing the government funding bill, which provides money for border construction at the same rate he is getting this fiscal year, Trump railed against "radical Democrats" who "refuse to support border security and want drugs and crime to pour into our country."
Yet in a tweet last week, he seemed to cast as much blame on Republicans as Democrats.
"I want to know, where is the money for Border Security and the WALL in this ridiculous Spending Bill, and where will it come from after the Midterms?" he wrote. "Dems are obstructing Law Enforcement and Border Security. REPUBLICANS MUST FINALLY GET TOUGH!"
Though Trump has been consumed by any number of issues since taking office, a border wall remains an essential piece of his political brand, a crowd-pleaser at every rally and a key promise for a president who loves talking about them.
The majority of likely voters — 56% to 40% — oppose a wall, according to a recent USC Dornsife/Los Angeles Times poll. But among likely voters who cast ballots for Trump in 2016, 84% support the wall, including 59% who "strongly support" one.
Though Democrats are loath to give Trump a victory, they have voted for some wall funding in the past.
Rep. Zoe Lofgren, a San Jose Democrat who helped lead a failed attempt at overhauling federal immigration law in 2013, said in an interview that "there are places where it makes sense," calling it "a myth the Democrats are opposed to all physical barriers."
But she said it was Republicans, as much as Democrats, who saw Trump's plan as more of a bumper sticker issue, a symbol of being tough on illegal immigration, than an actual plan.
Republicans "are the majority" in the House and Senate, she noted. "They didn't do this, right?"
Marc Short, who served as Trump's legislative affairs director until July, insisted Republican leaders have not abandoned the fight. They just don't want it now, ahead of the elections.
"Republican leadership understands their voters want a wall and that Trump voters want a wall," he said. "It's been stalled because Democrats know that that's what the Trump voters want most."
Trump rejected a bipartisan compromise proposal earlier this year that would have included more wall funding in exchange for continued protection from deportation for so-called Dreamers who came to the country illegally as children. Short blamed Democrats for "moving the goalposts" during negotiations; immigration rights advocates say hard-liners on Trump's team scuttled the deal.
In truth, many of the groups on Trump's side of the debate pressing for limited immigration also don't care much for a wall.
"Our focus has always been that outlaw businesses are the main cause of illegal immigration and the focus ought to be on them," said Roy Beck, president of the restrictionist group NumbersUSA.
Building a wall doesn't make it into his group's list of top 10 priorities. "It's a symbol for the president and it's a symbol for the Democrats," he said.
The Trump administration does not believe the issue is dead, even if Democrats win the House. A senior administration official said Democrats would have to return to the negotiating table if the Supreme Court sides with Trump in ending current, court-ordered protections for Dreamers, which could happen next year.
But liberal immigration groups are skeptical that Democrats will make Trump another offer that includes significant spending for a wall.
"He's just not going to be able to do it while he's president," said Kerri Talbot, director of federal advocacy for Immigration Hub, an organization that works with immigration agencies. "He's just not going to be able to keep that promise."
Follow the latest news of the Trump administration on Essential Washington »
noah.bierman@latimes.com | Twitter: @noahbierman
Get our Essential Politics newsletter
The latest news, analysis and insights from our politics team.
You may occasionally receive promotional content from the Los Angeles Times.