Restless and ambitious, Matthew Whitaker repeatedly shifted course to advance his career. Now he heads the Justice Department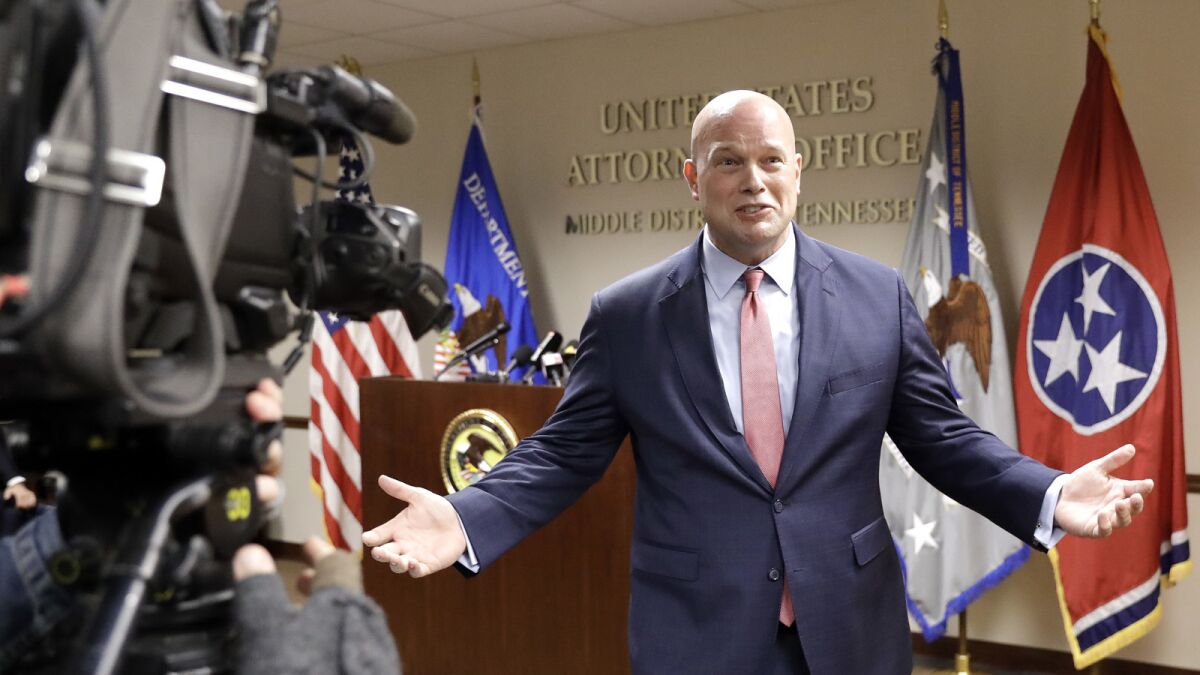 Reporting from Washington —
Iowa attorney Matthew Whitaker had an audacious plan to land a plum federal job in 2017 — appearing regularly as a conservative pundit on cable TV shows that President Trump was known to devour.
The pitch paid off when he was named chief of staff to then-Atty. Gen. Jeff Sessions. And when Sessions was ousted on Nov. 7, Trump picked Whitaker as acting attorney general — putting him atop the Justice Department, with more than 100,000 employees and direct oversight of the special counsel investigation that has threatened the White House.
Whitaker's "fantasy was to be appointed to be a federal judge in Iowa," said John Q. Barrett, a law professor at St. John's University who spoke to Whitaker about his ambitions before a CNN appearance in June 2017.
"In his wildest dreams, I don't think he imagined becoming the acting attorney general," Barrett added. "He certainly succeeded in getting noticed."
Whitaker's unorthodox rise was similar to much of his career as a lawyer in Des Moines, a U.S. attorney in Iowa and an unsuccessful candidate for state treasurer, state Supreme Court and the U.S. Senate, friends and associates said. Ambitious and driven, they said, Whitaker has focused on getting ahead and shifting course, when necessary, to get there.
Robert Rigg, a law professor at Drake University who knows Whitaker, said he was surprised when Whitaker became the nation's top lawman, given his thin legal resume. But Rigg said Whitaker shouldn't be underestimated.
"He is politically sensitive and he is opportunistic," Rigg said. "He can be a bit of a chameleon. He is a politician to the core and is as tough as nails."
Those skills may prove critical in an administration that has seen constant high-level churn, with the president seemingly more focused on personal loyalty than conservative ideology. Whitaker, 49, already has taken flak from congressional Democrats and others who view him as a Trump loyalist who may seek to subvert justice, not enforce it.
At issue is whether Whitaker will undermine special counsel Robert S. Mueller III, who is leading the Russia investigation.
In 2017, Whitaker mused on radio and TV that cutting Mueller's budget or his authority could effectively choke or limit the probe. He called Mueller's appointment "fishy" and "ridiculous." And he argued in a CNN op-ed that allowing Mueller to examine Trump family finances raised "serious concerns that the special counsel's investigation was a mere witch hunt."
Congressional Democrats have called on Whitaker to recuse himself from supervising Mueller, given his harsh TV critiques, a demand he has rejected.
"This is someone who I'm sure was picked for the position because he auditioned for it by criticizing Bob Mueller," said Rep. Adam B. Schiff (D-Burbank), who is on track to be chairman of the House Intelligence Committee.
Whitaker has already agreed to testify on Capitol Hill next month when the next congressional session begins and Democrats assume control of the House of Representatives. Conservatives who know Whitaker expect him to dig in his heels rather than step aside from the special counsel case, or make any other concessions to Trump's opponents.
"He's not going to bow down and be intimidated by these thugs on the left," said Steve Scheffler, a member of the Republican National Committee and founder of the Iowa Christian Alliance.
So far Whitaker has taken no steps, at least publicly, to undercut the Mueller probe. He has met with law enforcement groups and given public speeches, most recently on Wednesday in Tennessee on the opioid crisis, acting much like any previous head of the Justice Department.
Under the law, Whitaker can only serve as acting attorney general for 210 days, although he could stay longer if a permanent attorney general has been nominated but not yet confirmed by the Senate. Whitaker cannot be nominated for the job while he is acting attorney general.
Senate Majority Leader Mitch McConnell (R-Ky.) has said he expects Whitaker to serve on a "very interim" basis. But Trump has yet to nominate a permanent replacement for Sessions and appears in no hurry to do so. He has said he is extremely pleased with the job Whitaker is doing.
Bald-headed and barrel-chested — his Twitter profile shows him lifting large weights — Whitaker grew up just north of Des Moines and excelled in athletics. He won a football scholarship to the University of Iowa, where he earned fame as a scrapping tight end.
He still wears a ring marking his team's 1991 game in the Rose Bowl and frequently cites his glory days on the gridiron in speeches and conversations. One of his campaign advertisements, when he sought the Republican nomination for Senate in 2014, included old clips of him scoring a touchdown.
While in college, Whitaker considered a career in Hollywood but ultimately earned a master's degree in business and a law degree. After a few years practicing law in Minnesota, he returned to Iowa and ran for state treasurer in 2002.
"He earned a lot of street cred as he campaigned around Iowa," recalled Bob Vander Plaats, who was making an unsuccessful bid for governor of Iowa at the time and now heads the Family Leader, a conservative Christian nonprofit group based in Iowa. "People still saw him as a guy of high character with the capacity to do the job."
Steve Deace, a conservative radio host in Iowa, said Whitaker has always been driven. "If it's sports we'd say competitive. In politics we'd say ambitious," Deace said. "What it means is he likes to win."
Whitaker caught the eye of Sen. Charles E. Grassley (R-Iowa), who played a key role in picking candidates for federal jobs in the state. In 2004, President George W. Bush nominated Whitaker as U.S. attorney for the Southern District of Iowa, a post that put him in charge of about 20 prosecutors and lawyers after he was confirmed by the Senate.
Whitaker, who had no prior prosecutorial experience, personally handled some cases, including for firearms violations, court records show. His office also prosecuted gang members, child sexual abusers and drug dealers.
He came under heavy criticism after an openly gay Democratic state senator charged with corruption was acquitted after arguing at trial that the prosecution was politically motivated.
Federal prosecutors alleged that Matt McCoy, a rising Democratic star, had used his office to extort about $2,000 from a local company that installed motion sensors. But the jury sided with McCoy, who said that he was a consultant to the firm and that he was targeted for political reasons.
Whitaker, a lifelong Republican, did not resign as U.S. attorney when President Obama, a Democrat, won the 2008 election. He served another year before an Obama nominee was confirmed by the Senate.
Former colleagues recall Whitaker as a competent and decent boss.
"I found him fair and reasonable," said John Beamer, a former assistant U.S. attorney. "He was impartial, not politically motivated, from what I could observe."
Like other federal prosecutors in the Bush era, Whitaker pushed his attorneys to seek tough sentences and to overturn those that he believed were too lenient.
Robert W. Pratt, a senior federal judge for the Southern District of Iowa who oversaw a number of cases brought by Whitaker's office, said "it was a time of harshness."
When Pratt didn't come down hard enough on defendants, Whitaker often appealed. "He was very successful at having my sentences reversed," Pratt said.
After returning to private law practice, Whitaker sought an appointment to the state Supreme Court in 2011.
Iowa voters, angry over a ruling legalizing gay marriage, had tossed out three justices in a bitter recall election. Whitaker said he yearned to be a unbiased justice who would "faithfully interpret the law."
During a public interview by a judicial selection commission, Whitaker cited his office's prosecution of an antiabortion activist who drove a vehicle into a family planning clinic. He said the case showed his personal views did not affect his decisions. Whitaker is staunchly antiabortion.
"That's one clear example where my personal beliefs may be inconsistent but I had no problem following the law and enforcing the law," he said.
The commission did not select him as a finalist for the court, however. Three years later he ran for the Republican nomination for Senate, one of several candidates seeking the seat.
Tacking far to the right, he refashioned himself as an evangelical who believed religious beliefs should influence the law. If elected, he said, he would only support Christian judges who held a "biblical view" of justice.
"As long as they have that worldview, they'll be a good judge," he said during a debate. "And if they have a secular worldview, where this is all we have here on Earth, then I'm going to be very concerned about that judge."
He also told an Iowa blog that he disagreed with Marbury vs. Madison, a landmark U.S. Supreme Court decision considered a cornerstone of constitutional law. The 1803 ruling established the doctrine of judicial review, or the Supreme Court's ability to overturn federal laws it deemed unconstitutional.
He lost the Senate nomination to Joni Ernst, who went on to win the general election.
Whitaker returned to his law practice and owned several small businesses, including a day-care center and a trailer manufacturer in Iowa.
He also served on the board of World Patent Marketing, an invention promotion company that was shut down in March 2017 by federal regulators who accused it of engaging in deceptive marketing practices and scamming consumers out of $26 million.
The FBI is now investigating the company, according to the Wall Street Journal. Whitaker has denied any wrongdoing.
He generated most of his income as executive director of the Foundation for Accountability and Civic Trust, which styles itself as a Washington-based nonpartisan government watchdog, although it mostly calls for investigations of Democrats. The group, which does not disclose its donors, paid Whitaker more than $1.2 million from 2014 through 2017, records show.
Times researchers Cary Schneider and Scott Wilson contributed to this report.
Follow the latest news of the Trump administration on Essential Washington »
Twitter: @chrismegerian
---
UPDATES:
1:30 p.m.: This article was updated with Whitaker's agreement to testify to Congress in January.
This article was originally published at 6 a.m.
---
Life is stressful. Our weekly mental wellness newsletter can help.
You may occasionally receive promotional content from the Los Angeles Times.