Tens of thousands have left California's American Independent Party in the last month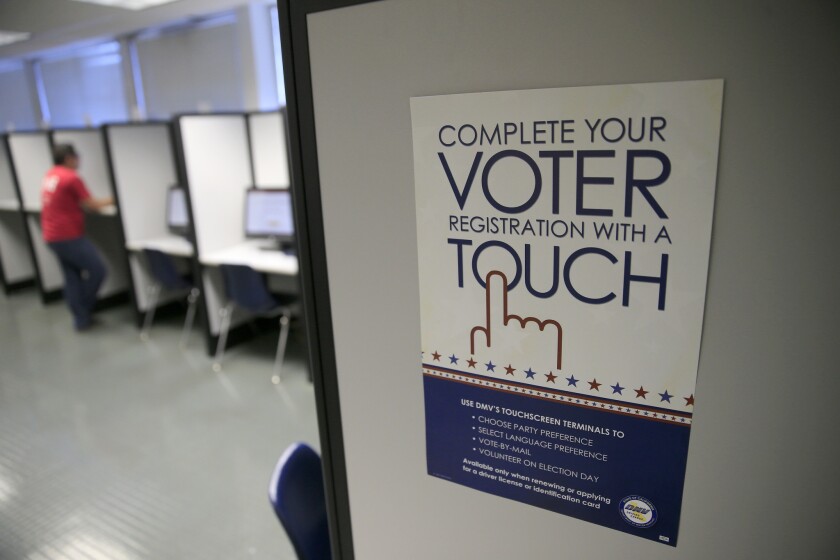 Reporting From Sacramento —
A new analysis finds nearly 32,000 voters in California's American Independent Party changed their official registration and left the party in the two weeks after a Los Angeles Times investigation identified widespread confusion among the party's members.
The change comes after a series of stories last month about voters who had intended to be politically independent, what's known in California as having "no party preference." A poll conducted for The Times found 73% of American Independent Party members did not know they had registered with an actual political party.
Voters who may believe they are independent may be registered with the American Independent Party instead. latimes.com/AIPvoters  
Paul Mitchell, a political data specialist whose firm sells exclusive analyses of voter data to California political campaigns, worked with The Times on the stories. He conducted the new analysis for The Times on a pro-bono basis.
Using voter data from each of California's 58 counties, Mitchell found that 31,772 AIP voters left the party in the two weeks prior to May 1. The first story was published in The Times on April 17.
The party gained 10,744 new members during the same two-week period — thus resulting in a net registration loss of 21,028 voters.
See the most-read stories this hour >>
The exodus equates to about 6.7% of the AIP's total registration as of mid-April, which was 473,481 voters.
By comparison, the ranks of Democratic and Republican voters in that same time frame each shrank by a fraction — less than three-tenths of 1%.
Mitchell, who has led an informal but vocal campaign for several years warning voters to not confuse being "independent" with joining the American Independent Party, said it's unusual to see such a large number of voters revising their official status.
"A voter changing registration is extremely rare," he said. "Seeing this, in a very short period of time, it's a really big and significant number."
Elections officials in counties across California have recounted several years of voters being confused by the party's use of the word "independent" in its name — a name that dates back to the founding of the AIP during the 1968 presidential campaign of former Alabama Gov. George Wallace.
See more of our top stories on Facebook >>
After the initial stories were published, a number of readers contacted The Times to say they, too, didn't realize their mistake until they used the newspaper's online database to check their registration.
"We don't make it easy for people to check," said Kim Alexander, president of the nonpartisan California Voter Foundation. Not all counties have an online tool for verifying registration. An official statewide searchable database is planned but not yet in place.
Even then, said Alexander, voter confusion could be a reflection of state voters' historically weak loyalty to political parties.
"We don't have a strong partisan tradition in California," she said of voters. "Often, they can't recall what party they're registered with."
Leaders of the American Independent Party said they believe AIP voters may simply be re-registering "temporarily" so they can cast votes in the Democratic or Republican presidential primary on June 7.
"It could be a very transitory phenomenon," said Markham Robinson, chairman of the AIP executive committee. He said he doubted the recent drop was a reflection of voters realizing that they had made a mistake.
A definitive answer on where all of the defecting AIP voters went may still be several weeks away. That's because some county elections offices assign a re-registering voter a new internal identification number, thus making the person harder to track.
Mitchell was able to find the new registration of 14,827 former AIP voters — a little less than half of those who left in the final two weeks of April. Of those, 36.5% re-registered as Republican and 32.5% opted to become Democrats. Thirty percent became unaffiliated, "no party preference" voters.
More than half of the Californians who abandoned the AIP in late April — 53% — were younger than 55.
The original story identified several prominent Californians who had mistakenly picked the American Independent Party when registering. In a Times review on Thursday of the latest voter registration records, only some of them had changed their affiliation.
Actress Emma Stone and former boxing champion Sugar Ray Leonard, former AIP members, both re-registered as Democrats.
But actress Demi Moore remains an American Independent Party member. So, too, does Patrick Schwarzenegger, son of former Gov. Arnold Schwarzenegger.
AIP leaders said they plan to do their own voter awareness campaign over the coming weeks in the wake of the Times investigation.
"It certainly aroused a longtime concern of ours to get everybody appropriately registered," Robinson said.
Californians who wish to change their voter registration status before the June 7 primary have only a few days left, until May 23.
"I encourage any Californian who is unsure of their voter registration to verify their status with their county elections office," Secretary of State Alex Padilla said in an emailed statement.
ALSO
Are you an independent voter? You aren't if you checked this box
How top celebrities accidentally became members of an ultraconservative political party
Californians who signed up for the wrong party by mistake
Updates on California politics
Follow @johnmyers on Twitter, sign up for our daily Essential Politics newsletter and listen to the weekly California Politics Podcast.
---
UPDATES:
8:34 a.m.: This article was updated to include the number of American Independent Party registrants as of mid-April.
This article was originally published at 12:04 a.m.
---
For reporting and exclusive analysis from bureau chief John Myers, get our California Politics newsletter.
You may occasionally receive promotional content from the Los Angeles Times.