Rep. Ami Bera's father sentenced to prison for funneling money to his son's campaigns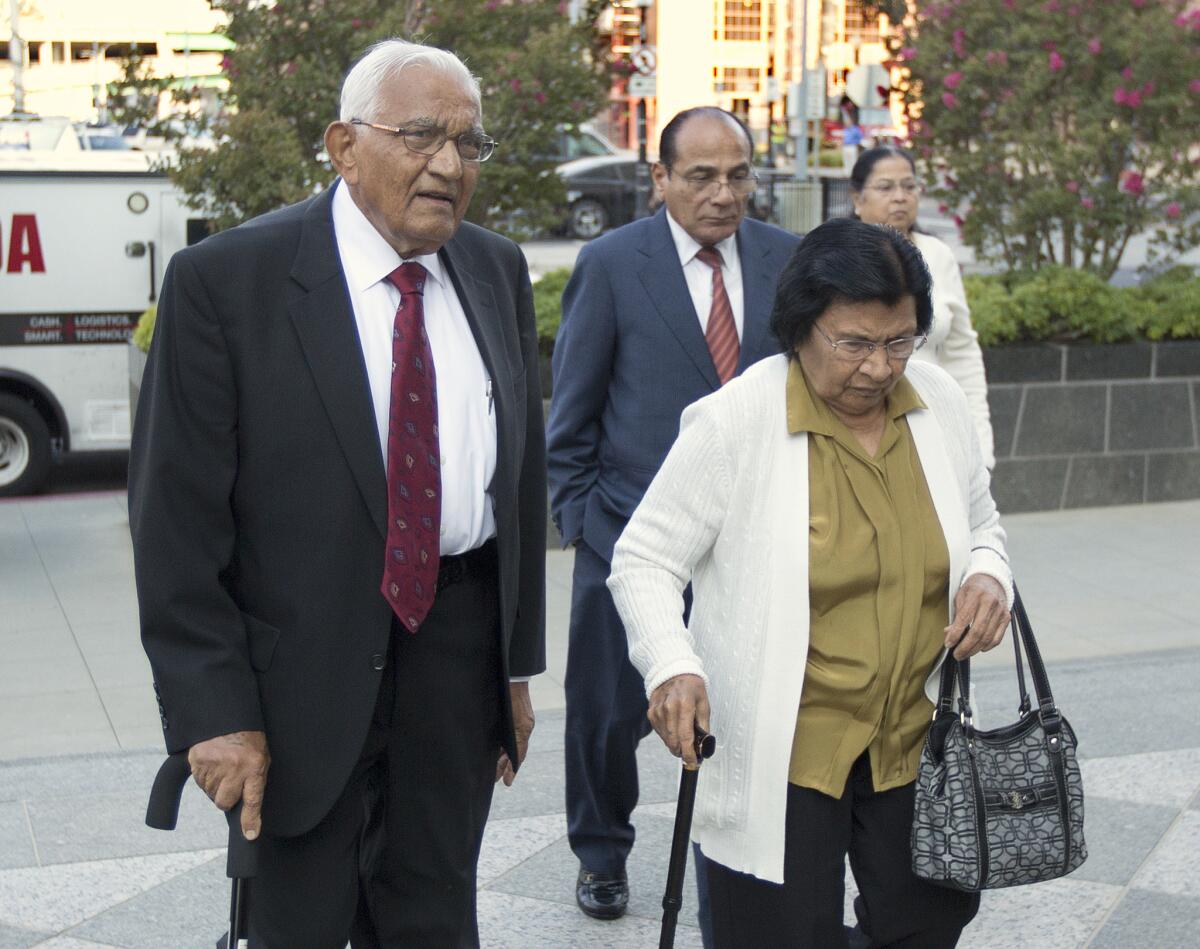 Reporting from Sacramento —
Babulal Bera, a retired chemical engineer who emigrated from India and watched his oldest son win election to the U.S. House of Representatives, was sentenced Thursday to one year and one day in federal prison for organizing a money-laundering scheme that helped fund two of his son's campaigns.
It was a sentence that defense attorneys for Bera, 83, argued was too severe, but one U.S. District Judge Troy L. Nunley said was appropriate.
"The defendant's efforts were calculated," Nunley said during the sentencing hearing in Sacramento. "This is more than just a naive person who doesn't know how elections work."
Rep. Ami Bera (D-Elk Grove) was not in the courtroom to see his father convicted of the two counts of federal campaign finance violations. The two-term Democrat has denied knowing anything about the secret donations and has expressed disappointment in his father's actions.
"This is one of the most difficult moments my family has ever experienced," the congressman said in a written statement. "Of course I'm absolutely devastated and heartbroken for how today's decision will impact our entire family. But my father's accepted what he did was wrong, he's taken responsibility and I love him more than words can express."
Babulal Bera did not speak to reporters as he left the courtroom in downtown Sacramento. Although he used an interpreter in previous court appearances, on Thursday Bera addressed the judge in English.
His voice shook as he asked to be allowed to remain with his wife, Kanta. "No one else knows my wife like I do. She means everything to me," he said. "I cannot live without her, and she cannot live without me."
His sentence, which was lighter than federal guidelines that call for up to three years in prison, included a fine of $100,200. He could be released after 10 months and must surrender to federal authorities within 90 days.
Defense attorneys had asked the judge to take into account the ages of Bera and his wife, describing the marriage of the La Palma residents as "a deeply intertwined dependency between a married couple in their twilight years."
Nunley acknowledged Bera's age would make a prison term more difficult for him than for a younger man, but said the sentence addressed the severity of his actions and was sufficiently serious to deter others from committing similar crimes.
Sign up for our daily Essential Politics newsletter »
Prosecutors said Bera conducted an elaborate operation of soliciting donations from friends and family for his son's first two congressional campaigns in 2010 and 2012. Each of those individual donations was within the legal maximum of primary and general election donations, a total of $5,000 in 2012. But the elder Bera either quietly gave those donors the money to make their donations or ultimately repaid them after the contributions were made.
In all, prosecutors said they were able to track at least $260,000 in illegal contributions funneled through donors but secretly paid by the elder Bera through multiple bank accounts used to further cover his tracks.
The 2010 incidents of money laundering did not end up helping Ami Bera win, as the Sacramento County physician lost a close race to former U.S. Rep. Dan Lungren (R-Gold River). But in the 2012 rematch, the second election cycle in which money was illegally funneled into Bera's campaign, the Democrat defeated Lungren by about 9,000 votes.
Bera has remained a target of Republicans in one of California's swing districts, having narrowly won reelection in 2014. His challenger in November, Sacramento County Sheriff Scott Jones, is seeking to link the congressman to his father's money laundering conviction. On Tuesday, Jones proposed tightening federal campaign finance laws to make it harder for money to be funneled from one donor to another.
"More has to be done to root corruption out of politics and expose conflicts," Jones said in a statement.
But Jessica Levinson, who teaches federal campaign finance law at Loyola Law School in Los Angeles, said schemes of this kind are far less prevalent than other efforts to skirt campaign finance laws.
"This type of blatant violation just doesn't happen that often," she said.
The issue of Babulal Bera's guilt was hardly ever in doubt, as the congressman's father quickly pleaded guilty to the crimes in May, telling the judge through an interpreter: "I have, in fact, done the crime."
Instead, the focus of debate this summer was whether the elder Bera should go to prison. Prosecutors insisted in a court filing last week that a one-year sentence was appropriate because of the seriousness of the crimes. They rejected defense arguments that the case was merely one of a father getting caught up in the excitement of helping his son achieve a longtime dream.
"He carried on these acts month after month, year after year, and over the course of two campaigns," wrote prosecutors in court documents. "He cannot explain away his actions as the result of runaway emotions."
Levinson said prosecutors likely wanted Bera to serve time behind bars "to tell people we take this seriously" when it comes to enforcing campaign finance laws. Still, she said, probation likely wouldn't have sent any message of leniency to others who might consider breaking the law.
"If you're just looking at the facts of this case, I think you could make a straight face argument for no jail time," Levinson said.
Bera, who walks with a cane, rested his folded hands on the lectern as he listened to the judge read his sentence. In his statement to the court, he apologized for his actions.
"This blessed country has given me ... so much," he said. "I felt my son would repay this beautiful nation by serving in the United States Congress."
Follow @johnmyers and @SophiaBollag on Twitter, sign up for our daily Essential Politics newsletter and listen to the weekly California Politics Podcast
ALSO:
Rep. Ami Bera's father admits illegal campaign contributions
Bera's father should get probation, not prison, say his attorneys
Updates on California politics
---
UPDATES:
2:10 p.m. This article was updated with additional details and a statement from the congressman.
This article was originally published at noon.
Get our Essential Politics newsletter
The latest news, analysis and insights from our politics team.
You may occasionally receive promotional content from the Los Angeles Times.