Assembly hopefuls asking for Los Angeles votes on Tuesday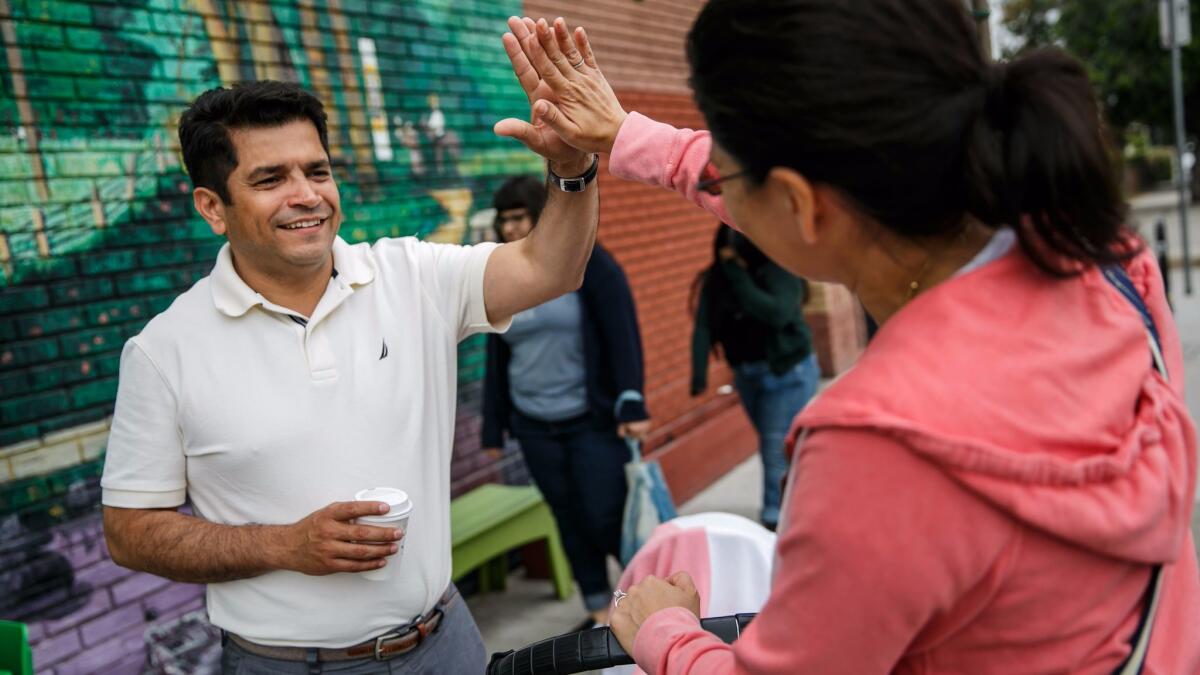 A flood of candidates are seeking to fill the Assembly seat once held by Jimmy Gomez, who left the California Legislature to serve in Congress earlier this year, and Los Angeles voters have a chance to start sorting through them in Tuesday's primary.
The race for Assembly District 51 features 13 contenders -- 10 Democrats and no Republicans. The district includes several Los Angeles neighborhoods, such as Echo Park, Silver Lake, Chinatown and Lincoln Heights, and it stretches into the unincorporated areas of City Terrace and East Los Angeles.
The special election is the final domino to fall in a chain reaction that began two years ago when Barbara Boxer announced her retirement from the U.S. Senate.
Kamala Harris successfully campaigned to replace her, vacating her position as California attorney general. Gov. Jerry Brown appointed Xavier Becerra to the post, leaving his seat open in the U.S. House of Representatives.
When Gomez won a competitive special election to replace Becerra in Congress, his victory freed up the Assembly seat on Tuesday's ballot.
If a candidate receives more than half of the votes cast in Tuesday's primary, he or she wins the campaign outright. But that's unlikely, given the crowded field. There's a much stronger chance the two candidates with the most votes will advance to a runoff election scheduled for Dec. 5.
It's been a low-wattage and relatively low-dollar race so far, with roughly $1.6 million spent by all the candidates combined as of Sept. 16, according to the California Target Book, which tracks state campaigns.
By comparison, Assemblyman Joaquin Arambula (D-Fresno) raised $1 million before his primary in a special election last year. He defeated two other candidates to avoid a runoff.
"It doesn't seem like anyone has really broken out of the pack," said Parke Skelton, a political consultant who lives in the Los Angeles district and isn't working for any of the Assembly candidates.
Special elections often have dismal turnout, and the Los Angeles area already is notorious for political apathy. Only 14.3% of eligible voters cast ballots in the congressional race won by Gomez.
Voters looking for cues from powerful political organizations on how to cast their ballots will be disappointed. The California Democratic Party has not endorsed a candidate, and neither has the Los Angeles County Federation of Labor. Gomez also has not anointed a preferred successor.
In a district that was only 11% white in the 2010 census, many of the candidates are stressing immigrant roots and progressive credentials. Here's a look at who's running.
Ron Birnbaum is the son of Argentine immigrants who served in the Navy as a medical officer before moving to Los Angeles. He's spent close to $350,000 on his campaign, the most of any candidate, and has embraced the push for single-payer healthcare in California.
Wendy Carrillo arrived in the U.S. illegally with her parents from El Salvador, later becoming a citizen. A former local radio host and communications manager for a Service Employees International Union affiliate, she ran for Becerra's congressional seat and did not make it past the primary after getting 5.2% of the vote.
Carrillo is the only candidate to have a sizable independent expenditure campaign on her behalf, with the SEIU spending more than $314,000 for mailers and canvassing.
Alex De Ocampo is the son of Filipino immigrants and the former president of the California Young Democrats. He manages the Saban Family Foundation, founded by Hollywood billionaire and Democratic donor Haim Saban.
Mike Fong is a member of the Los Angeles Community College District Board. He previously worked as a City Hall liaison for East L.A. neighborhoods, and he's spent more than $300,000 on his campaign, the second most after Birnbaum.
Luis Lopez first ran for this Assembly seat in 2012, when he lost to Gomez. He's a board member at Planned Parenthood, which has endorsed his candidacy, and previously served as president of the East Area Planning Commission.
Mario Olmos describes himself as a "job developer" who has worked with foster children.
Gabriel Sandoval served as a lawyer in President Obama's U.S. Department of Education's Office for Civil Rights. He also worked on legal issues in former Los Angeles Mayor Antonio Villaraigosa's administration.
Barbara Torres describes herself as a union member advocate.
Mark Vargas serves on the California Coastal Commission. He's worked for a number of politicians and served on various boards, including CicLAvia, which organizes street events.
David Vela is a former member of the Montebello Unified School District Board of Education who now works as a senior vice president at Lee Andrews Group, a public affairs firm. He's also taught at East Los Angeles College.
With just over 9% of the district's voters registered as Republicans, no one from that party is trying to win the seat. But there is one libertarian candidate, Andrew Aguero, a construction worker and student.
John Prysner, a musician and warehouse worker from the Peace and Freedom Party, and Patrick Koppula, who is not running for any particular party, also are on the ballot.
Twitter: @chrismegerian
ALSO
President Obama appears in an Assembly race mailer in California — but read it closely
This is what the first month in Congress was like for Rep. Jimmy Gomez of L.A.
Get our Essential Politics newsletter
The latest news, analysis and insights from our politics team.
You may occasionally receive promotional content from the Los Angeles Times.