Proposal to radically overhaul California's bail system advances in Legislature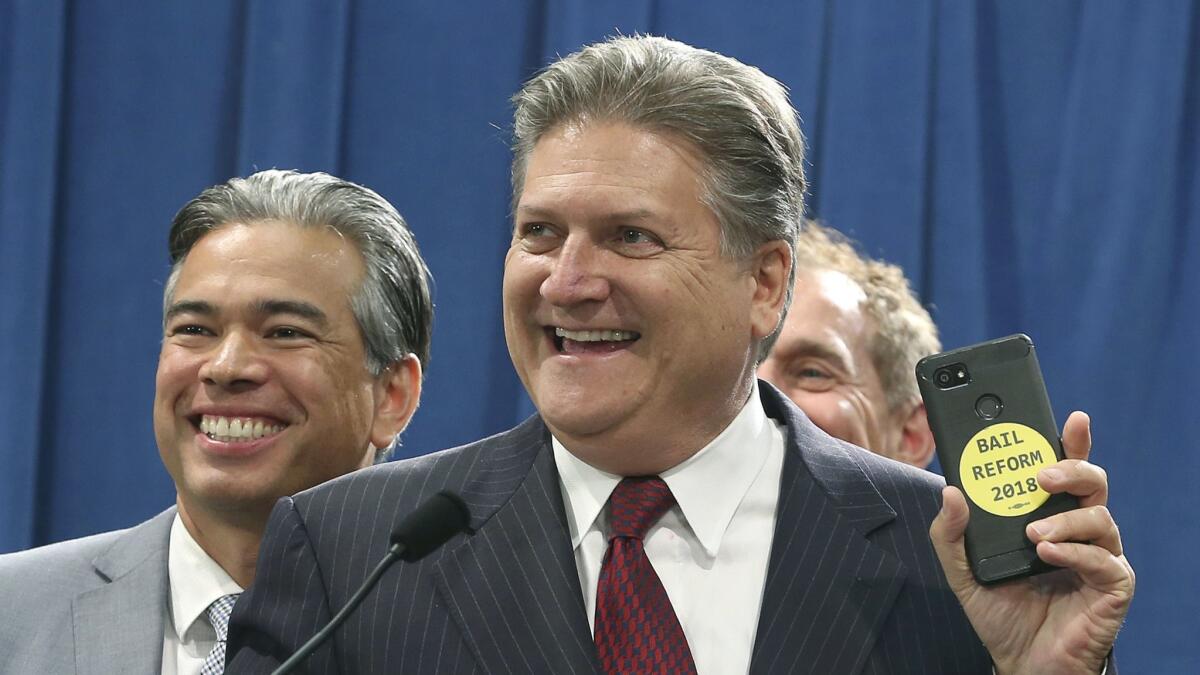 Reporting from Sacramento —
California could soon end money bail, but some of the criminal justice groups who worked toward that goal aren't celebrating.
A closely-watched bill to overhaul the state's bail system advanced out of a key fiscal committee on Thursday with broad changes that would virtually eliminate the payment of money as a condition for release from jail.
That should have been a roaring victory for legislators and supporters who have long decried a system that they say unfairly punishes the poor. But the amendments also hand over more control to local courts and probation offices to decide who should remain incarcerated, a move former sponsors of the legislation contend could lead to indefinite detention.
State Sen. Bob Hertzberg (D-Van Nuys), co-author of Senate Bill 10, hailed the bill at a press conference on Thursday, calling it a success years in the making. He pointed to support from Gov. Jerry Brown, state Supreme Court Chief Justice Tani Cantil-Sakauye and Democratic front-runner for governor Gavin Newsom, the state's lieutenant governor.
"I have worked on a lot of issues over the decades and I don't remember one taking more time than this," he said. "It has been really challenging making this fundamental sea change in the criminal justice system in California."
Hertzberg later pushed back against criticism of the bill, saying it would dramatically transform a pretrial system that hurts poor defendants.
"We have a form of pretrial detention now, it is called bail," Hertzberg said. "And guess what pretrial detention is? If you don't have any money, you don't get out."
Some bail reform advocates have continued to support the bill, hoping to play a major role in implementation.
"The momentum behind SB 10 is strong, and we can't miss the chance to move justice forward this year while continuing to press for further reforms," said Laphonza Butler, president of the Service Employees International Union Local 2015.
But some sponsors dropped their support amid negotiations in recent weeks, and others are working to the kill the legislation. The American Civil Liberties Union, which has been working on the issue for years, moved on its position to neutral on Thursday.
The new version of the bill would "eliminate the exploitative and abusive commercial bail industry that preys on low-income people, including a disproportionate number of black and brown people," said Natasha Minsker, director for the ACLU of California Center for Advocacy and Policy. "On the other hand, SB 10 needs to go further to be the model for pretrial justice and racial equity that we are working towards."
John Raphling, a senior researcher with Human Rights Watch, said the reason organizations were opposing SB 10 is that "it replaces money bail with a system that is likely to incarcerate more people and uses racially biased risk assessments and gives judges nearly unlimited discretion to lock people up."
Meanwhile, bail agents and lobbyists are gearing up to launch massive opposition of their own, saying the revised changes would decimate the industry.
Hertzberg and Assemblyman Rob Bonta (D-Oakland) combined efforts in late 2016 to unveil a pair of identical bills that would eliminate the use of bail fee systems and require counties to establish their own pretrial services agencies. Those agencies were to develop a "risk-assessment tool," a type of analysis to evaluate people booked into jail to determine whether and under what conditions they should be released.
Only Hertzberg's bill has made it through the legislative process. Under the new version of his bill, pretrial services agencies would be overseen by county probation departments. Only people charged with certain low-level, nonviolent misdemeanors would be eligible for automatic release within 12 hours of being booked into jail, a list of charges that can be further narrowed by county.
All other people arrested would have to undergo risk analysis, which would sort offenders based on criminal history and other criteria into low-, medium- or high-risk categories. Courts would be required to release low-level defendants without assigning bail, pending a hearing. Pretrial-services offices would decide whether to hold or release medium-risk offenders.
Judges would have greater discretion over all prisoners in a practice known as "preventive detention," allowing them to decide which people are a danger to the community and should be held without the possibility of release.
If a judge chooses to impose pretrial supervision requirements, such as ankle monitors, the Hertzberg bill would require they be covered free of charge to defendants.
On Thursday, Bonta said the new system would protect the poor and the public.
"It will replace a flawed, unsafe, money-based system with a fairer, safer system," he said.
But the proposal is not yet in the clear, and it carries a hefty cost for counties.
Assemblyman Jim Cooper (D-Elk Grove) opposed a budget trailer bill in a hearing Tuesday that included $15 million for bail reform, noting that there is no guarantee the legislation would pass, and saying it was "putting the cart before the horse."
"This is B.S, flat out B.S. Why this is in here?" he said.
Gina Clayton, founder and director of the Essie Justice Center, which provides leadership training and services to women with incarcerated loved ones, argued that Hertzberg's bill would inflate budgets for law enforcement, probation and corrections.
"If the 'War on Drugs' has taught us anything at all, it is that we need more access to services," Clayton said. "This is another bill that again makes a lot of the same mistakes."
Times reporter Patrick McGreevy contributed to this report.
More stories from Jazmine Ulloa »
---
UPDATES:
6:50 p.m.: This article was updated with a comment from Human Rights Watch senior researcher John Raphling.
This article was originally published at 6:30 p.m.
Get our Essential Politics newsletter
The latest news, analysis and insights from our politics team.
You may occasionally receive promotional content from the Los Angeles Times.