California and 14 other states take legal action to preserve Obamacare cost-sharing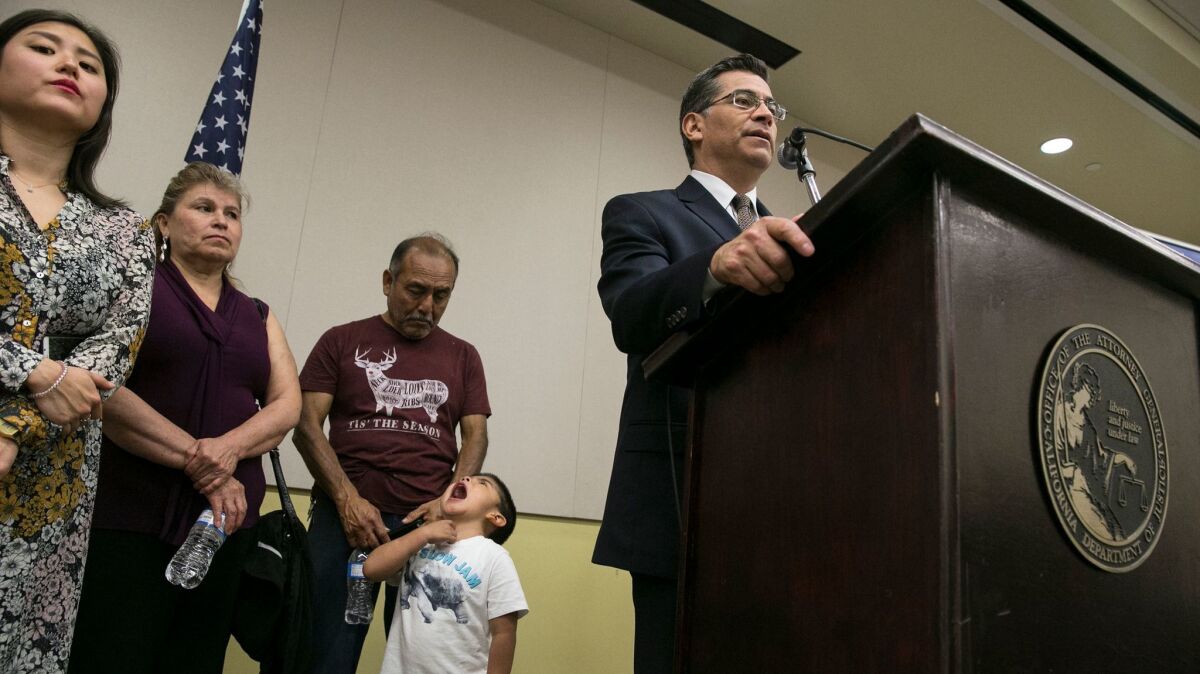 California and 14 other states took legal action Thursday to try to preserve Affordable Care Act funds that insurance companies receive to lower insurance costs for some Americans.
Roughly 5 million Californians gained health insurance through the national law, also known as Obamacare, California Atty. Gen. Xavier Becerra said at a news conference in South L.A. on Thursday.
"We're not looking for anyone to take that away from you," Becerra told a crowd gathered at St. John's Well Child and Family Center, a community clinic that primarily serves low-income Angelenos. "We will stand up for your rights. If your child gets sick, if you find out you have cancer, if you need that medicine, you'll be able to go get it."
In 2014, House Republicans sued the Obama administration alleging the former president broke the law in providing billions of dollars to insurers through the Affordable Care Act to bring down insurance costs, such as deductibles, for low-income Americans. House Republicans prevailed in court last year, and the Obama administration filed an appeal.
See how California's lawmakers voted on the Affordable Care Act repeal »
When Obama left office, the Trump administration became defendants in the lawsuit, known as House vs. Price — formerly House vs. Burwell, when Sylvia Mathews Burwell was Health and Human Services secretary.
Becerra said he fears President Trump would drop the appeal, which could end the payments that insurance companies rely on and destabilize the entire insurance market.
"You know that saying, 'With friends like these, who needs enemies?' " he said. "Well, with defenders like this, who needs enemies? We need somebody in the lawsuit who's going to defend us, not talk about exploding what we have."
Becerra and his colleagues filed a motion to intervene Thursday, in the hopes of being able to directly defend the law. They also asked to lift a stay on the case that U.S. House Republicans sought after Trump was elected.
"We want certainty," Becerra said. "We want to give the health insurance companies that have plans through the marketplace … predictability. It's hard to have predictability when you have this lawsuit hanging over the heads of everybody."
The states that filed the lawsuit are California, New York, Connecticut, Delaware, Hawaii, Illinois, Iowa, Kentucky, Maryland, Massachusetts, Minnesota, New Mexico, Pennsylvania, Vermont and Washington, as well as Washington, D.C.
soumya.karlamangla@latimes.com
Twitter: @skarlamangla
Health insurers and state officials say Trump is undermining Obamacare, pushing up rates
The life-and-death stakes of an Affordable Care Act repeal in one of L.A. County's poorest, sickest regions
The amputation rate for diabetics in poor areas is high. This Boyle Heights clinic is trying to change that
---
Life is stressful. Our weekly mental wellness newsletter can help.
You may occasionally receive promotional content from the Los Angeles Times.