California attorney general sued over release of records of police shootings and misconduct probes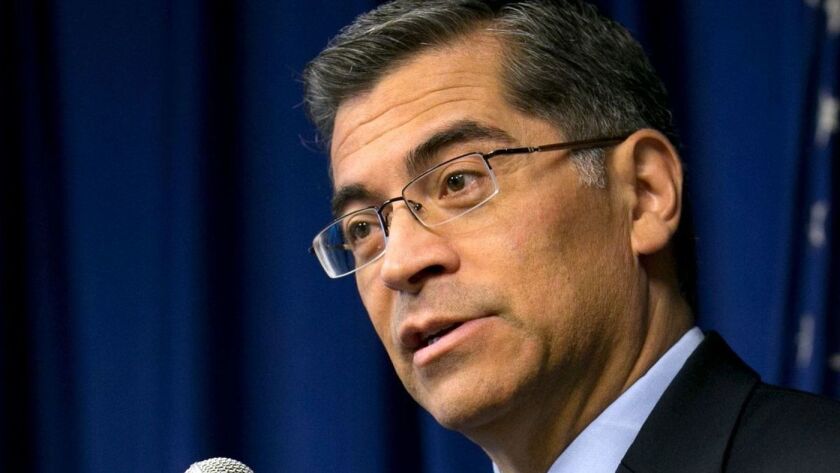 Reporting from Sacramento —
A free speech organization is suing California Atty. Gen. Xavier Becerra over his office's failure to release internal police records.
The San Rafael-based First Amendment Coalition sued Becerra's office in San Francisco Superior Court on Thursday after the attorney general did not turn over records related to investigations of shootings or confirmed cases of sexual assault by officers. A law passed last year opened such records to the public following decades of secrecy surrounding internal law enforcement investigations.
But numerous police unions around the state have sued in local courts, arguing that the new law should not unseal records of incidents that occurred prior to its taking effect on Jan. 1. Becerra cited those ongoing cases in declining to turn over the records, saying that the public interest in protecting officer privacy outweighs transparency until the courts decide the issue.
The law's author, Sen. Nancy Skinner (D-Berkeley), has said that the Legislature intended to make public all qualifying records in a department's possession, no matter when an incident occurred.
Dave Snyder, the First Amendment Coalition's executive director, said Becerra's refusal to turn over the information reflects poorly on his office.
"As the highest law enforcement officer in the state, the attorney general has an obligation to not only comply with the California Public Records Act, but to send the right message about transparency to police departments across the state," Snyder said in a statement. "Unfortunately, the attorney general has done neither. By denying public access to these crucial files, he has given a green light to other departments to disregard the new law."
The Times is one of multiple media organizations around the state that have filed legal briefs urging courts to rule against the unions' lawsuits. A Contra Costa County Superior Court judge ruled last week that departments must release older records. But this week, a judge in Ventura County granted a preliminary injunction blocking the release of such records in a separate case.
In a statement, Becerra said it was prudent to wait until courts had provided more clarity over the status of the records given that the state has historically provided strong privacy protections to police personnel information.
"When it comes to disclosing a person's private information, you don't get a second chance to get it right," Becerra said.
California police unions are preparing to battle new transparency law in the courtroom »
---
Get our Essential Politics newsletter
The latest news, analysis and insights from our bureau chiefs in Sacramento and D.C.
You may occasionally receive promotional content from the Los Angeles Times.