Free tampons in schools and expanded family leave for small businesses are coming to California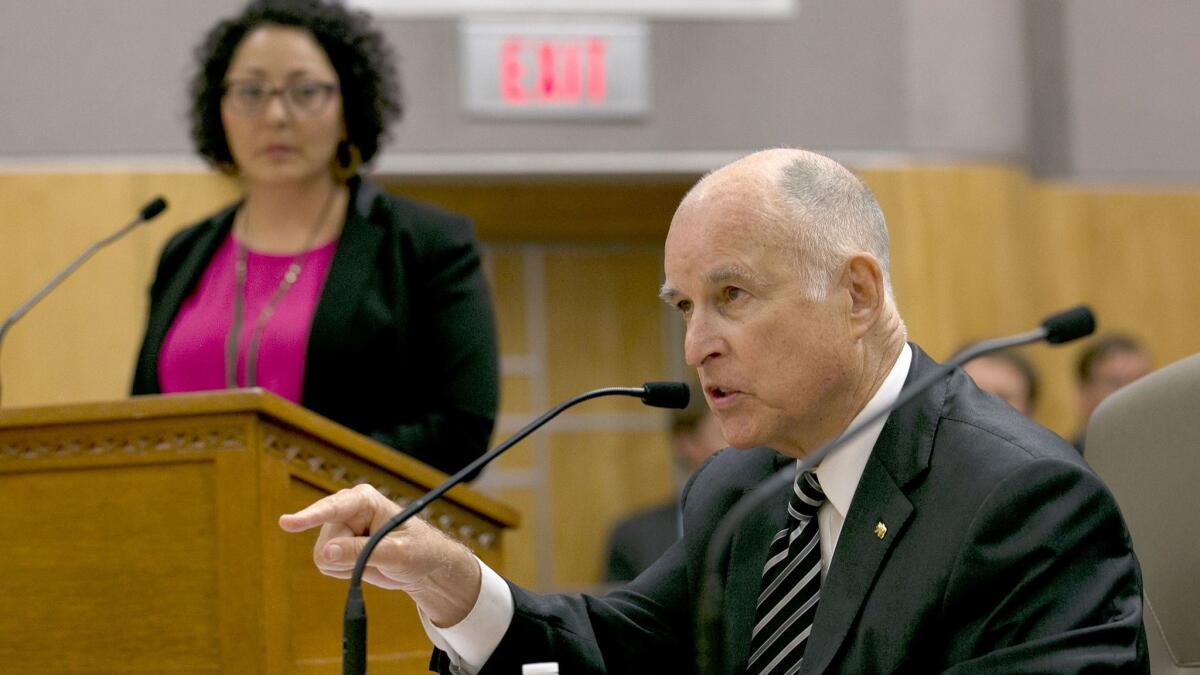 Reporting from Sacramento —
Gov. Jerry Brown on Thursday signed a package of bills meant to address women's and family issues, including expanding unpaid family leave and helping parents on welfare afford diapers.
At a public signing ceremony at a Sacramento nonprofit aimed at helping homeless women, Brown touted the new laws as "California showing the way — on kids, on families, on women and husbands as well."
A number of the measures previously had been vetoed by the governor, such as the family leave bill by Sen. Hannah-Beth Jackson (D-Santa Barbara).
The state currently requires companies with 50 or more employees to give their workers 12 weeks of unpaid leave to care for a newborn or newly adopted child. SB 63 will expand that protection to workers at companies with at least 20 employees.
Jackson estimated that about 2.7 million Californians will be eligible under the expanded protection.
Business groups opposed the measure, calling it an imposition on small businesses.
"This bill is about fairness," Jackson said. "It's about children. It's about mothers. It's about fathers. And it's about time."
This time was also the charm for a measure by Assemblywoman Lorena Gonzalez Fletcher (D-San Diego), whose AB 480 will help people on welfare get subsidies for diapers.
Brown also signed a measure that will require schools with low-income students to provide free tampons and pads to students in grades 6-12.
Assemblywoman Cristina Garcia (D-Bell Gardens), chair of the Legislative Women's Caucus, campaigned for her bill, AB 10, by carrying "Tampon Barbie" on the Assembly floor and posting a picture of a bloody tampon in her office window.
"It's about taking a topic that's taboo, that we're told not to talk about — and when we do talk about, we're made fun of, we're ridiculed about it," she said. "I just wanted to have a little bit of fun with it. I felt that was the way to take the rhetoric back and make it mine."
Another new law signed by Brown will bar employers from asking job applicants about their salary history.
Advocates for equal pay argue that such queries help perpetuate the wage gap, because women tend to enter the workforce with lower salaries and have difficulty catching up with male counterparts when their compensation is based on their pay history.
The measure, AB 168 by Assemblywoman Susan Eggman (D-Stockton), does not ban applicants from voluntarily supplying such information.
In all, the governor signed eight measures that were championed by the Legislative Women's Caucus. The other laws will:
Enable more parents who are taking high school equivalency courses or English as a second language to qualify for subsidized child care
Make welfare benefits immediately available to domestic violence victims
Extend the amount of time that rape kits must be retained
Require the state to provide more information about the breast cancer susceptibility gene (BRCA) in order to better guide treatment
Follow @melmason on Twitter for the latest on California politics.
Despite efforts on equal pay, the gender salary gap in California government jobs persists
There will be fewer women in California's Legislature in 2017, but number of Latina members grows
---
UPDATES:
11:30 a.m. This article was updated with additional details about the measures signed by Brown.
This article was originally published at 11:10 a.m.
Get our Essential Politics newsletter
The latest news, analysis and insights from our politics team.
You may occasionally receive promotional content from the Los Angeles Times.