California Gov. Gavin Newsom and legislators are at odds over spending to address homelessness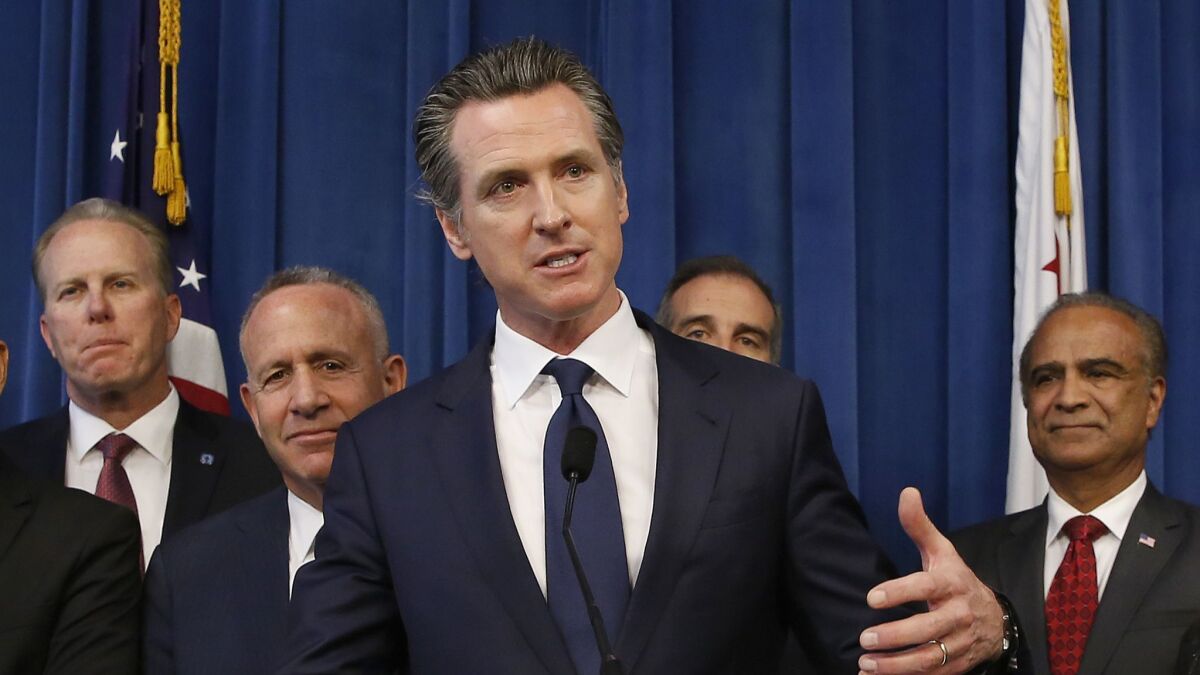 Reporting from Sacramento —
Gov. Gavin Newsom and legislative leaders have agreed to roughly $1 billion in spending to fight California's growing homelessness problem, but they haven't yet decided how to divvy up much of that money.
At issue is $650 million earmarked for local governments for the fiscal year beginning July 1, on which lawmakers are scheduled to vote ahead of a deadline Saturday. Left unresolved is who is going to get that money and what it could be spent on.
The governor wants to reserve some of the money in the budget for counties while legislators are pushing for the entire amount to go to the state's 13 largest cities or regional agencies known as "continuums of care," which coordinate services for the homeless across the state.
"We knew that's where the rubber was going to hit the road," said Christopher Martin, a legislative advocate at Housing California who is monitoring the spending debate. "They're trying to figure out who is going to get the money."
Even if California spends millions more on homelessness, here's why few will notice »
Because of the decision-making holdup, lawmakers are unlikely to vote on dividing up the dollars until next week at the earliest.
The debate over how to spend the money comes as Los Angeles and other areas across California are seeing surges in their homeless populations. Last week, Los Angeles County reported a 12% increase in homeless residents to a total of just fewer than of 59,000 people. Communities across the state have also recently reported double-digit percentage increases in the number of homeless people living in their jurisdictions.
Because Los Angeles has the state's largest homeless population, it's in line to receive the most money from the $650-million pot.
Last year, the city received $85 million in state dollars to combat homelessness, setting aside more than half that amount for a proposal to build shelters in each of its 15 City Council districts. Now Mayor Eric Garcetti and leaders of the state's 12 other largest cities are pushing for larger allocations this year.
"Cities are on the front lines of homelessness and have a proven track record of success in putting these desperately needed state resources to work getting people off the streets," Sacramento Mayor Darrell Steinberg, who is leading the mayoral coalition, said in a statement.
But county officials are arguing they should get a piece of the $650-million pie too — an approach embraced by the governor. In April, Newsom met with San Bernardino County leaders and said all governments should get state support to address homelessness.
"Cities, counties and continuums of care are all pivotal players in helping create long-term, sustained solutions to homelessness throughout this state," Newsom said at the time. "All of us need to have skin in the game, and we need to leverage every available resource — federal, state and local dollars — to fight homelessness across California."
Last year, cities earmarked the state money they received for shelters, services for the homeless and rental assistance or subsidies. Advocates want the state to restrict its allowable uses and require agencies receiving the money to provide more details on how they spend it.
"If we're going to be doing this significant amount of funding, we want it to be used for things we know are going to work," Martin said.
Martin worried that without firmer spending rules, agencies could dedicate all the money to shelters rather than programs, such as rental assistance, which could help people find permanent housing.
Although the largest pot of money to address homelessness remains in dispute, Newsom and legislative leaders have agreed on a number of other proposals that could be approved as early as Thursday, including $20 million for legal services to provide eviction protection and $95 million for supportive housing programs for those on CalWorks, the state's version of welfare assistance.
Also included is $5.6 million to augment homelessness services in the San Gabriel Valley, which saw its homeless population increase by nearly 25% this year to 4,479.
The money was added to the budget at the request of state Sen. Susan Rubio (D-Baldwin Park), who said the dollars would help bolster the area's homelessness plans, provide workforce development training for residents and educate landlords to better assist residents at risk of homelessness. Rubio said addressing homelessness was a top priority among her constituents when she was campaigning for office last year.
"One of the biggest issues that I heard was people begging for someone to do something about the homeless population," Rubio said. "They were heartbroken to see so many people on the streets."
Get our Essential Politics newsletter
The latest news, analysis and insights from our politics team.
You may occasionally receive promotional content from the Los Angeles Times.