California mayors push Newsom for more funding to address homelessness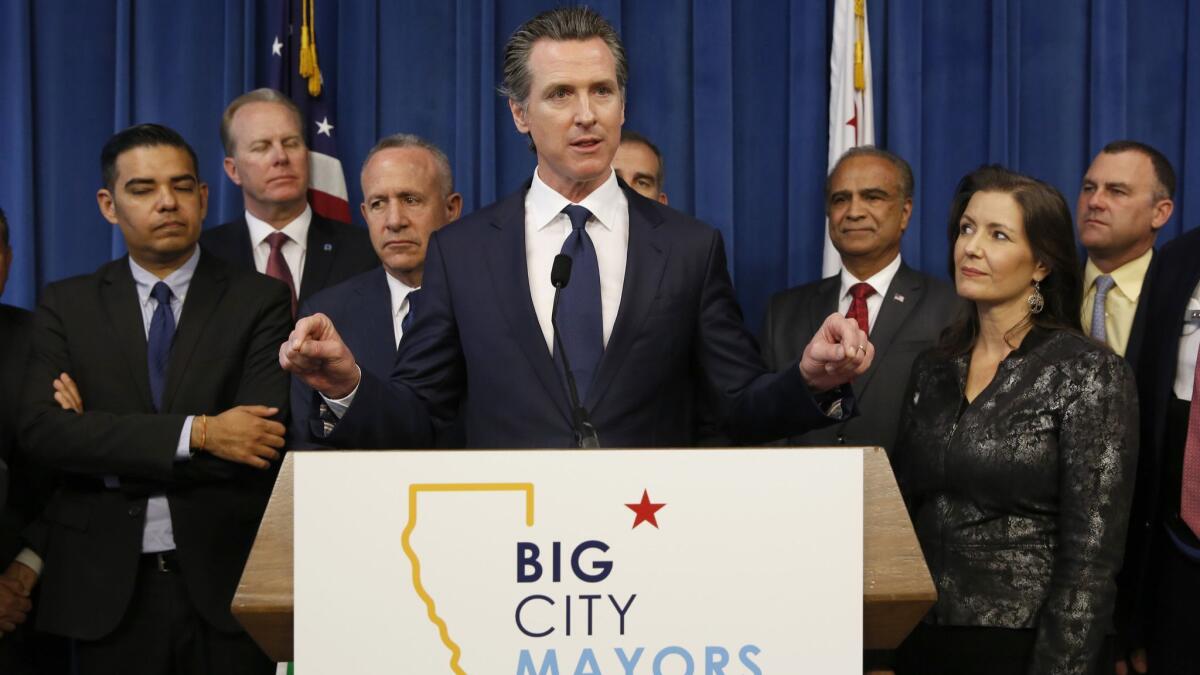 Reporting from Sacramento —
Los Angeles Mayor Eric Garcetti and mayors from 10 other large California cities lobbied Gov. Gavin Newsom on Wednesday, asking for hundreds of millions in additional funding to combat homelessness in their communities.
The request followed a successful effort last year from big-city mayors, including Garcetti, San Diego's Kevin Faulconer, San Jose's Sam Liccardo and others, to push for $500 million in state grants for homelessness prevention efforts under then-Gov. Jerry Brown.
Garcetti said that major cities have already committed three-quarters of the money allocated to them and that the spending shows cities can help additional homeless residents with more resources.
"The need is out there," Garcetti said. "It's proof that we can put this to work right away."
Gov. Gavin Newsom threatens to cut state funding from cities that don't approve enough housing »
The city of Los Angeles has set aside more than half of the $85 million it received for its proposal to build homeless shelters citywide, including one in each council district. So far the money has gone to 11 projects with a total of 849 beds once the projects are complete. The city has also put $20 million toward homelessness prevention efforts on skid row.
In his January budget announcement, Newsom set aside $500 million for regional and local homeless programs. Of that money, $200 million would go to cities and counties to use for any purpose, including those unrelated to housing, if they boost efforts to build new homeless housing projects and shelters.
"There is no way to realize our state goals unless they are realized at the local level," Newsom said at a news conference after the 45-minute meeting with the mayors. "That means our partners are the ones on the front lines that have to be supported."
The group of mayors praised Newsom for dedicating money for homelessness prevention in his initial budget; Brown, in contrast, did not agree to a full allocation of funds until he reached a final budget deal with the Legislature. But Garcetti and the other mayors hope Newsom will increase funding, with more of it going directly to cities rather than being routed through regional agencies.
Newsom seemed open to their request.
"The budget just changed," he said. "This was an important meeting. I did not just listen. I took notes and I'm taking direction."
The governor's office did not provide details on how Newsom planned to change his homeless housing plans.
Newsom will unveil a revised budget proposal in May and must reach an agreement with the Legislature on a new spending plan by mid-June.
The state's nonpartisan Legislative Analyst's Office has estimated the state would need an additional tens of billions of dollars a year to provide new housing for the neediest Californians. Though Newsom's proposed spending to address homelessness doesn't come close to that amount, state homeless funding has increased in recent years, most notably when voters approved a $2-billion bond to build housing last fall.
California's homeless population decreased slightly last year, to almost 130,000 residents, according to federal statistics.
Get our Essential Politics newsletter
The latest news, analysis and insights from our politics team.
You may occasionally receive promotional content from the Los Angeles Times.