Gov. Newsom may prohibit new death sentences, setting up possible conflict with Becerra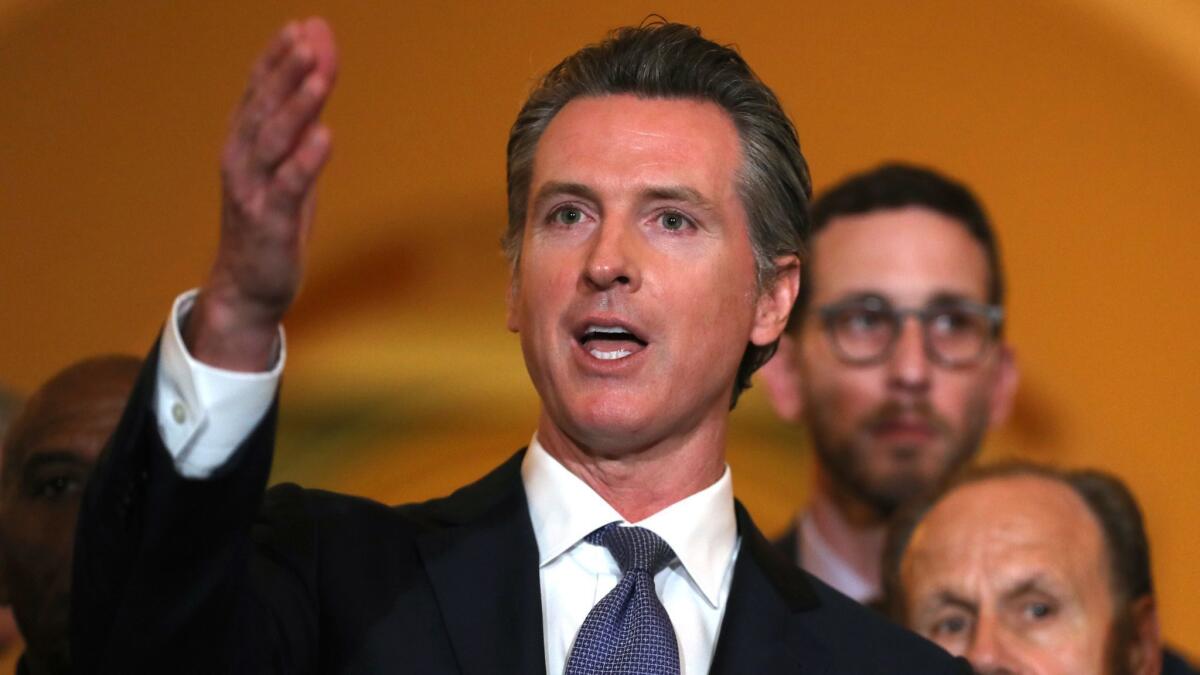 Reporting from Sacramento —
A week after issuing an executive order imposing a blanket moratorium on the execution of California death row inmates, Gov. Gavin Newsom said he is considering a plan to prohibit any new death sentences in local criminal cases.
Newsom's pronouncement could create conflict with another top Democratic leader, state Atty. Gen. Xavier Becerra, who has supported capital punishment, even though the governor said he wants to work collaboratively with the attorney general.
Newsom reiterated his desire to abolish the death penalty and said he hopes to work with Becerra and others to determine whether, as governor, he can act "on behalf of the people in this state to no longer prosecute death."
"There is a protocol of death and an administration of death in the state of California, and it consumes the court's time, it consumes the criminal justice system, it exhausts the soul and the pocketbook," Newsom said during a conference call with reporters from ethnic news outlets Tuesday. "I would ultimately like to shut down that system of death."
Though it is not entirely clear how Newsom would carry out such an order, he could either have Becerra direct local district attorneys not to seek the death penalty or order Becerra to not defend appeals. Both approaches would probably face legal challenges.
The governor's comments put Becerra in an awkward spot.
Becerra last week praised Newsom's death penalty moratorium as a "bold, new direction" for the state and has expressed reservations about whether the death penalty is justly applied, but the attorney general has said previously he supports capital punishment. In fact, Becerra in 2017 sought a death sentence for the killer responsible for the mass shooting that left eight people dead at a Seal Beach salon in 2011.
Asked whether the attorney general will stop defending death sentences on appeal or direct county prosecutors to stop seeking death sentences, a Becerra spokeswoman said he is reviewing what role his office will play.
"The Department of Justice will work with Governor Newsom and his team as he implements his executive order and will continue to hold criminals accountable," spokeswoman Bethany Lesser said.
After the Times published this story, Becerra requested an opportunity to clarify his position on the death penalty. In a telephone interview Thursday, he declined to answer if he supported or opposed capital punishment. He said only that, as attorney general, it was his duty to enforce the laws in California, the death penalty among them.
"Where I stand personally on it, I have real reservations about the death penalty. I think there is ample proof that it has not worked the way we would want when it comes to undertaking the most severe form of punishment that's not reversible," Becerra said.
Becerra did say he voted in favor of Proposition 62 in November, which would have abolished the death penalty in the state. The measure was rejected by California voters.
The U.S. 9th Circuit Court of Appeals in San Francisco on Monday asked the attorney general's Department of Justice to indicate whether the governor's moratorium will affect a death penalty case involving Martin Kipp, who was convicted in the 1983 slaying of Antaya Yvette Howard of Huntington Beach, a former basketball star at Marina High School.
"The Office of the Attorney General is in the process of determining the full effect of the Executive Order on death penalty cases," the state Department of Justice told the court in a letter.
Even if Becerra disagrees with Newsom, he might not have a choice if the governor decides to force the issue.
Because the California Constitution gives the governor "supreme executive power" over the executive branch, Newsom could order Becerra to take action that could suspend all death penalty prosecutions across the state.
"In California's executive branch, the governor has the final word," said David A. Carrillo, executive director of the California Constitution Center at Berkeley Law.
In 1981, the California Supreme Court ruled that the governor's constitutional powers give him direct authority over the attorney general.
"The constitutional pattern is crystal clear: if a conflict between the Governor and the Attorney General develops over the faithful execution of the laws of this state, the Governor retains the 'supreme executive power' to determine the public interest," the court decision stated.
That ruling came during a clash between Gov. Jerry Brown and Atty. Gen. George Deukmejian over a collective bargaining law for state workers. Deukmejian had sued the governor over the implementation of the law.
The constitution also states that the attorney general, as the state's chief law enforcement officer, has direct supervision over every county district attorney "in all matters pertaining to the duties of their respective offices" — opening up the possibility that he could order locally elected prosecutors to cease seeking the death penalty in murder trials.
Any attempt by the attorney general to dictate how a county district attorney can handle murder prosecutions would almost assuredly be unconstitutional and challenged in court, said Assemblyman Jordan Cunningham (R-Templeton), a former deputy district attorney. District attorneys serve independent of the attorney general, he said.
"There's a lot of D.A.s who I have spoken to, who I know, who aren't happy with the moratorium that we have now," Cunningham said. "We don't live in a system where one person gets elected governor and they get to do what they want by executive fiat."
California District Attorneys Assn. President Birgit Fladager said her organization's members are elected by voters and "will determine how best to pursue justice on behalf of our constituents."
While death sentences have been on the decline across California, Los Angeles and Riverside counties have sent the most people to death row since 2012 — 21 from Los Angeles County and 23 from Riverside County, according to the Death Penalty Information Center, which provides information and analysis on the death penalty but does not take a position on that form of punishment.
Both Los Angeles County Dist. Atty. Jackie Lacey and Riverside County Dist. Atty. Michael Hestrin declined to comment on the governor's remarks. In 2016, both Lacey and Hestrin supported Proposition 66, which accelerates the appeals process in capital cases. The measure was narrowly approved by California voters.
State officials in other states have intervened to take over cases in which prosecutors have refused to seek the death penalty, said Robert Dunham, executive director of the Death Penalty Information Center. Dunham said that he does not know the specific law in California but that district attorneys generally have independent powers to seek the death penalty in cases.
He added that the attorney general could always decide not to defend death sentences when they reach the appeals courts.
Newsom emphasized that he planned to collaborate with the attorney general about the possibility of ending future death sentences, and he gave no indication that he would attempt to force Becerra to take action.
"The attorney general is a close friend of mine, a political ally, meaning someone I respect, and I want to work collaboratively with the attorney general's office," Newsom said Tuesday. "That said, I've not formally requested that of the AG's office as we continue to dialogue about the consequences of doing so. I want more clarity on what that means and [what] that doesn't mean, and we are also not only working with his office, but trying to understand from the courts' perspective of what that will mean as well."
Locally elected district attorneys in California's 58 counties prosecute the vast majority of criminal cases in state, including first-degree murder cases, and also decide whether to seek the death penalty. The attorney general, however, has the legal authority to intervene in criminal cases. Those instances have traditionally been limited to cases in which the local district attorney's office has been recused or removed from a case for other reasons.
The attorney general's office in 2017, for example, took over the prosecution of Scott Dekraai, the man who confessed to slaughtering eight people in a Seal Beach salon in 2011. Becerra ordered his office to seek the death penalty against Dekraai. The judge later blocked prosecutors from pursuing the death penalty, and Dekraai eventually was sentenced to life in prison.
After being appointed California attorney general by Brown in 2017, replacing Kamala Harris, Becerra said he supported capital punishment but added that the state needs to put more reforms and resources into place to ensure it is fairly applied.
"I support the death penalty, but I hate the way it's being executed," Becerra said during his confirmation hearing in the state Senate.
Newsom last week announced he was using his constitutional powers to impose a blanket reprieve on all 737 death row inmates in California, and he vowed that no executions would take place while he served as governor. Newsom also ordered the dismantling of the death chamber at San Quentin State Prison and suspended the state's efforts to devise a method of lethal injection that would pass muster with the courts.
Newsom said he did so because studies show the death penalty discriminates against African Americans and Latinos, as well as the mentally ill and poor defendants who cannot afford high-priced lawyers. He also cited research showing that 164 condemned prisoners nationwide have been exonerated since 1973, evidence that California risked putting innocent inmates to death.
Because his reprieves are in essence temporary stays of execution and can be lifted by his successor in the governor's office, Newsom said he also is considering the prospect of permanently commuting death sentences to life sentences without the possibility of parole.
Newsom has constitutional authority to commute sentences to life in prison for condemned inmates convicted of a single felony. But the governor cannot commute the death sentence of a prisoner convicted of two separate felonies — a population that includes more than half the inmates on death row — without the concurrence of the California Supreme Court.
Get our Essential Politics newsletter
The latest news, analysis and insights from our politics team.
You may occasionally receive promotional content from the Los Angeles Times.