Newsom plans to take on Big Pharma over prescription drugs. L.A. County wants in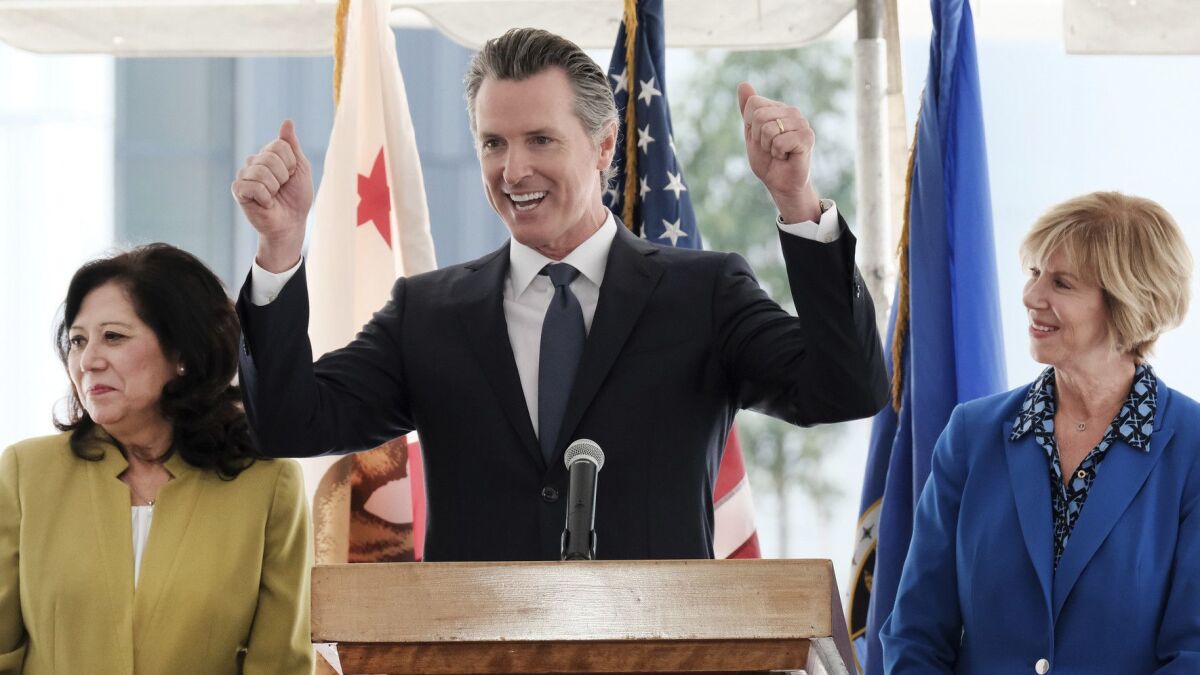 Gov. Gavin Newsom's ambitious plan to rein in prescription drug costs through a statewide purchasing system — pooling the power of California's largest public and private buyers — has a new ally: Los Angeles County.
In a tentative deal announced Wednesday, the Newsom administration and Los Angeles County said they would sit at the same bargaining table when negotiating prescription drug prices with manufacturers. Newsom said the partnership will hopefully spur other local governments to join the coalition, adding that governors in Rhode Island, Colorado and Illinois have expressed interest in a similar model or joining California's collective.
Newsom made the announcement in front of the Rancho Los Amigos National Rehabilitation Center in Downey on his 100th day in office. His call for taking on the influential pharmaceutical industry was met with cheers from medical staff and patients at the high-tech rehabilitation center.
"I don't want to overstate this, but I don't want to understate this. This is a big deal," Newsom said Wednesday.
The Newsom administration, however, has yet to release details on how the bulk buying system would work, leaving even the pharmaceutical companies he painted as opponents unable to comment substantively on the plan.
"I can assure you are going to see the fruits of this in the very near future," Newsom said, adding that the state is within "a few months of actually seeing the net direct benefits."
Tackling high prescription drug costs was one of Newsom's first initiatives, which he announced in an executive order shortly after being sworn in. His plan would consolidate drug purchases in the state to make California the nation's largest buyer. Doing so, Newsom said, would tilt the bargaining power in California's favor when negotiating prices with drug companies.
With the addition of Los Angeles County — and with it drug purchases made on behalf of inmates and county hospital patients — the coalition grew significantly.
Much of the specifics about how the plan would work have yet to be announced. While Newsom said he anticipates a major fight with pharmaceutical companies and lobbyists, so far those groups have been relatively quiet publicly as they wait for details on the plan.
Newsom said he would like to shield some aspects of the state's plans from the industry giants who will attempt to kill it.
Priscilla VanderVeer, a spokeswoman for the Pharmaceutical Research and Manufacturers of America, said that without details, the lobbying group is currently neutral on Newsom's plan.
"But much remains to be known," she said. "We would like a transparent process that protects patient access to medicine."
The nonpartisan Legislative Analyst's Office said it could not yet assess Newsom's plan to consolidate the state's purchases on high-cost drugs because there are too few details on how it will be implemented.
"The administration has yet to share what specific strategies to expand upon existing bulk purchasing efforts are under consideration other than the broad concept of encouraging participation by private entities in the state' negotiations," the analyst's office wrote this month.
In a meeting Wednesday with the Los Angeles Times Editorial Board, Newsom disputed that his plan was short on specifics.
"It is not that complex. I don't know what more information folks need," Newsom said. "The executive order laid out in detail four different actions."
However, his executive order from January includes just a broad outline with timelines for status reports that have not been made public.
His executive order also called for consolidating prescription drug purchases by January 2021 under the state's Medi-Cal program, which provides healthcare to lower-income residents. The Legislative Analyst's Office has estimated that plan could save the state hundreds of millions of dollars, but "it's highly uncertain" and comes with trade-offs, such as reduced revenue to hospitals and community clinics that receive federal rebates on their drug purchases.
The executive order does not set a timeline for Newsom's plan to create the bargaining collaborative between state agencies, local governments and the private sector. The Department of General Services was tasked with creating a list of high-cost priority drugs the state would like to focus its collective bargaining power on. The agency is in the process of developing a plan for bulk purchases on those medications.
"Obviously, there are more details to work out in how you use this bigger hammer when it comes to combined purchasing power," said Anthony Wright, executive director of Health Access, a statewide healthcare consumer advocacy organization. "But this is important."
Los Angeles County Supervisor Janice Hahn said high prescription drug prices is an issue that Americans want government to deal with and Newsom's plan to create a coalition to leverage their buying power makes sense. She said the Los Angeles County Department of Health Services alone spends $242 million a year on prescription drug purchases.
"We wanted to be the first," Hahn said. "If L.A. County, which is the largest county, joins this initiative, other counties will join in, other states may join in, and it will only help us drive prescription drug prices down. L.A. County spends a lot of money every year on prescription drugs and we think something like this could cut that cost in half."
Sign up for the Essential Politics newsletter »
Follow @MelodyGutierrez on Twitter and sign up for our daily Essential Politics newsletter
Get our Essential Politics newsletter
The latest news, analysis and insights from our politics team.
You may occasionally receive promotional content from the Los Angeles Times.