California might triple the number of marijuana shops across state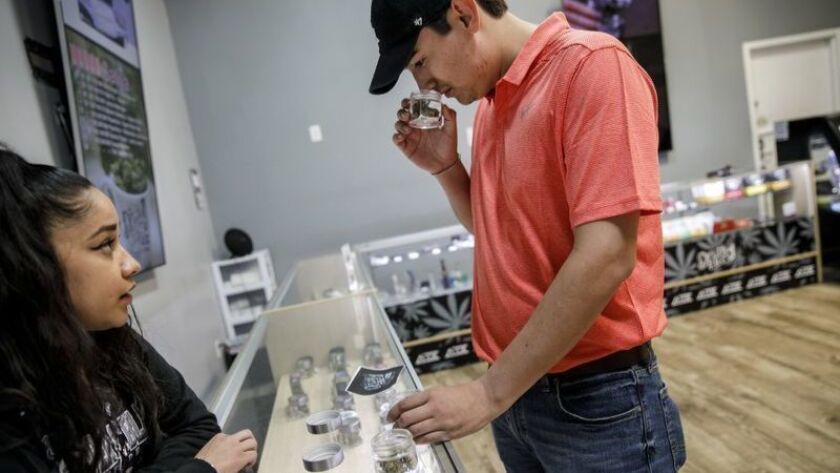 Reporting from Sacramento —
Escalating a feud with cities over marijuana, state lawmakers are pushing to require municipalities to lift bans on cannabis stores if voters there supported Proposition 64, the 2016 initiative that legalized sale of the drug for recreational use in California.
A bill moving through the Legislature would require those cities to permit at least one cannabis retailer for every four bars or restaurants with a liquor license or one for every 10,000 residents, whichever is fewer. Assembly Bill 1356 would mandate 2,200 new cannabis stores throughout the state, more than three times the 631 shops legally operating now, state officials estimate.

For the record:
3:45 p.m. May 13, 2019A previous version of article incorrectly described the type of liquor license that the legislation proposes to use to calculate how many pot shops should be allowed. The bill would base the calculation on the number of liquor licenses for on-site sales, which includes bars and restaurants, not liquor stores.
The legislation opens a second front in an ongoing battle between state officials and cities and counties over cannabis sales, a month after local governments sued the Newsom administration to challenge the legality of a rule allowing the home delivery of pot in cities that have banned marijuana shops.
Democrats behind the new proposal note that while Proposition 64 was approved by voters in 388 out of California's 540 cities and counties, two-thirds of local governments have outlawed cannabis shops.
"It's unfortunate that the cities and the counties really haven't fulfilled the will of the voters to provide legal access under Proposition 64," said Assemblyman Phil Ting (D-San Francisco), author of the measure.
The bill received a significant boost recently when 12 Democratic Assembly members voted in favor of it in a key policy committee. A panel that weighs the fiscal effect of bills is set to act on the measure on Thursday. Ting is hopeful it will get to the Assembly floor and eventually the governor's desk.
But a large coalition of cities and counties is fighting the legislation, calling it a power play by the state that tramples on the rights of local governments to determine what businesses operate in their cities.
"I think it's ridiculous and I think it's an overreach," Burbank Mayor Emily Gabel-Luddy said of the proposal. "The bill is an example of Sacramento deciding what should happen at the local level, and it's just wrong."
Burbank officials have made their city off-limits to cannabis stores, though 61% of Burbank voters supported Proposition 64.
Cities that have banned cannabis stores say they have public safety concerns about bringing businesses that sell a drug still illegal under federal law into their neighborhoods.
"One of the problems is the handling of the cash involved in cannabis sales," said Gabel-Luddy, a former L.A. city planner. "It is a concern for us when there are large amounts of cash lying around."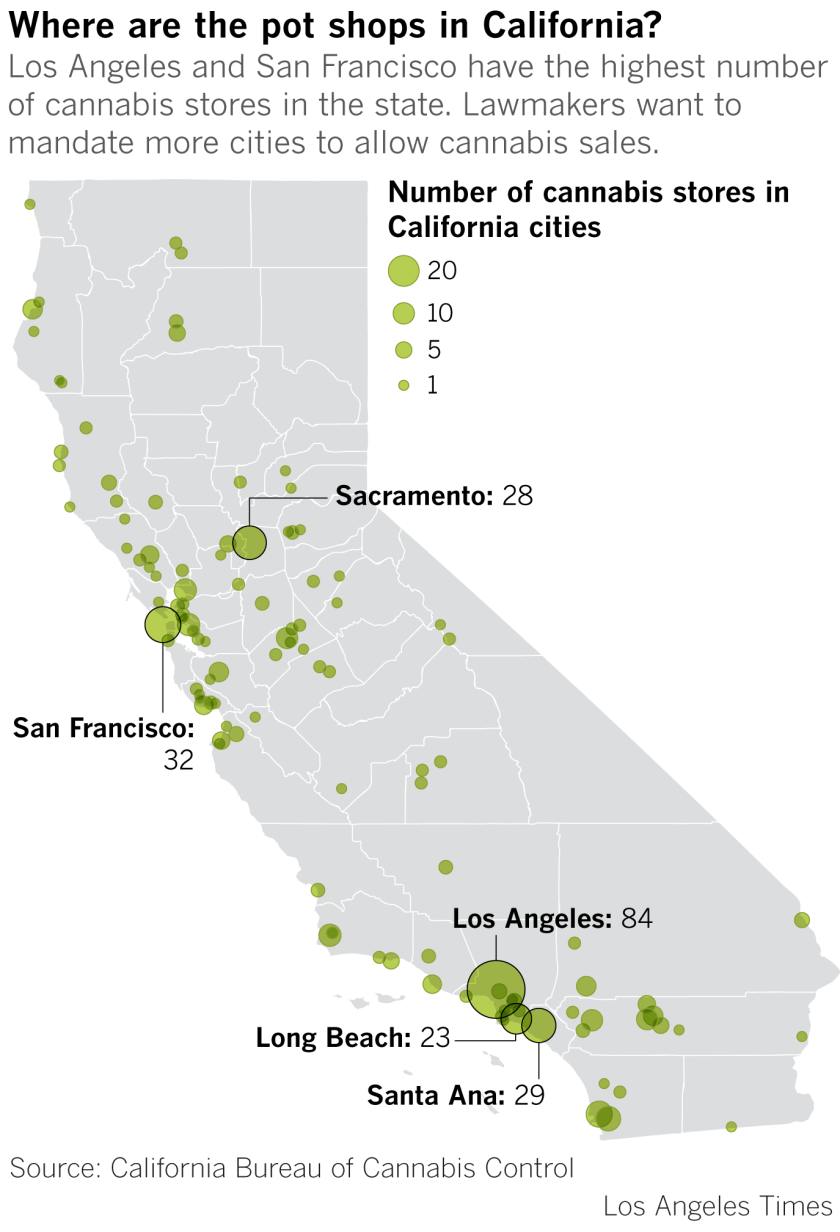 The decision of most cities and counties to ban pot shops has stunted the growth of the legal cannabis market in California.
Proposition 64, which was supported by Gov. Gavin Newsom, was approved by 57% of voters statewide and set up a system in which the state licenses pot shops, but only if a business is also given a permit by the city in which it plans to operate. The number of shops licensed so far is only about 10% of what state officials originally expected.
On Thursday, Newsom said he expects the state to bring in $359 million from cannabis taxes next year, down $156 million from earlier estimates as the newly legalized market struggles to gain footing.
The governor has not taken a public position on Ting's bill. He said Thursday that the refusal of many cities to approve pot shops was anticipated when he and other supporters of Proposition 64 agreed to give cities the final say on where pot shops are located, a concession so they would not oppose the initiative.
"Because of the commitment we had to make to cities and counties we knew they would be stubborn on providing access and providing retail locations, and that would take longer than some other states," Newsom said at a news conference on his state budget.
He said his office is working on increasing the number of cannabis retailers.
"I'm committed to getting this back on track," he said.
Ting says his proposal reflects the will of voters, who approved Proposition 64 in 342 of the state's 482 cities, and 46 of California's 58 counties.
"What this bill does is insure that the voters who voted for Proposition 64 have access to cannabis especially in jurisdictions that approved it," Ting told colleagues during a recent legislative hearing. "If you live in a jurisdiction that didn't approve it, this doesn't affect you at all."
Cannabis businesses that have been shut out of most cities are frustrated with the status quo.
Hilary Bricken, a Los Angeles attorney who represents cannabis firms, said she welcomes Ting's proposal.
"I think it's a positive undertaking because without decent access to regulated products, many cities and counties are stifling the democratic experiment that is legalization," Bricken said. Unless things change, she warned, "the black market will continue to rage on."
Supporters of the legislation say it is necessary in order to address shortcomings in the state's efforts to provide access to cannabis throughout California.
The state must ensure people who are ill, including those with cancer, have access to medical marijuana, said Florence C. Crowson, who provides in-home care for the disabled and is an activist with United Domestic Workers of America. She said there are no marijuana dispensaries to serve ill people in Placer County.
"No one should be burdened by the lack of access," she testified at the legislative hearing.
Ting's bill would also exempt cities whose voters have approved local initiatives barring cannabis stores. City councils that don't want to allow marijuana retailers could also put the question to voters, and new shops would not be required if they are rejected in an election.
And the bill makes allowances for smaller cities, requiring no more than one cannabis store for every 10,000 people, rather than one for every four on-site liquor licenses.
Assemblyman Todd Gloria (D-San Diego) said that as a result of that provision, Solana Beach with a population of some 13,400 people would have to issue a permit for only one marijuana store.
The legislation is not as far-reaching as some supporters might have hoped. To help the bill advance, Ting amended it by giving cities the option to limit new cannabis stores to selling medical marijuana, preserving local bans on recreational sales. But critics of the bill say people have been able to game the system, getting access to medical cannabis by lying about ailments.
Burbank would have to permit at least 10 cannabis stores based on its population of about 104,000, less than half the number of shops that otherwise would be required if the number was instead based on the city's 92 liquor licenses.
The proposed law would also affect Anaheim, where 51% of voters supported Proposition 64. Up to 35 cannabis shops could be required in Anaheim if the population formula is used, a lower number than if retailers were approved based on the city's 176 on-site liquor licenses.
"We certainly acknowledge the voters in our city who supported Proposition 64," said Erin W. Ryan, a spokeswoman for the city. "While we don't allow dispensaries in Anaheim, there are plenty of options all around us in our neighboring cities."
Ryan said the decision to ban dispensaries was made "in the best interest of our neighborhoods," adding that "any future decision about dispensaries in our city should rest with our council."
The fight against the legislation in Sacramento is being led by the League of California Cities, which represents the state's 482 municipalities.
"The bill is very troubling," League lobbyist Charles Harvey said during the legislative hearing. "It would completely erode the local control of cities and counties to regulate brick-and-mortar retail cannabis shops."
The legislation drew a lively debate when it was approved by the Assembly Business and Professions Committee last month. The measure was opposed by five Republicans and two Democrats on the committee, including Assemblywoman Sharon Quirk-Silva (D-Fullerton), who worried about the state usurping local control.
She noted that besides Santa Ana, cities in Orange County have not approved pot shops.
"AB 1356 eliminates local control over the locations of marijuana shops in areas where the voters were closely divided," Quirk-Silva said. "Local governments and communities should determine whether or not dispensaries should be operated in their city, and not ... the state."
Ting said having legal pot shops in only two cities in Orange County is not good for consumers.
"You can get cannabis in all the other cities — it's just on the black market," Ting said. He noted that cannabis purchased from unlicensed sources does not have to meet the state standards for toxic substances such as pesticides aimed at protecting consumer health.
Legalization advocates who backed Proposition 64 said action is needed because the initiative's promise has been thwarted by city councils throughout California.
"We remain concerned that there remain a number of large, mainly rural counties where severely ill medical patients have no legal access at all," said Dale Gieringer, director of California NORML, a pro-legalization group that supported Proposition 64. "Some patients there have to drive over 100 miles to find legal stores."
Sign up for our Essential Politics newsletter »
Twitter: @mcgreevy99
---
Life is stressful. Our weekly mental wellness newsletter can help.
You may occasionally receive promotional content from the Los Angeles Times.