Gov. Gavin Newsom wants to double spending on homelessness — to $1 billion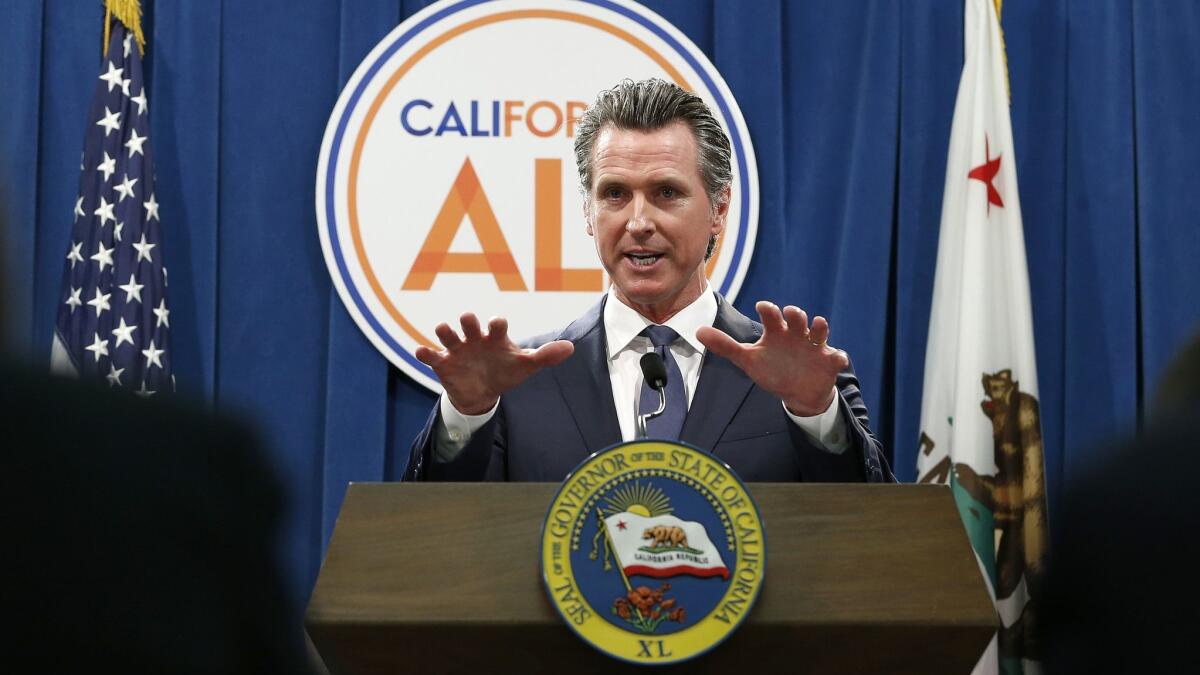 Reporting from Sacramento —
Insisting that a fiscally responsible state government can also aid those in need, Gov. Gavin Newsom sent California lawmakers a revised budget Thursday that builds on his efforts to address poverty and homelessness while forecasting the largest tax revenue windfall in state history.
That windfall, Newsom said, will trigger the first-ever payment into a special cash reserve fund for schools and community colleges — a $389-million deposit stashed away specifically for education needs during a future recession. He also proposed an increase in spending on helping the homeless, raising the total state investment in the upcoming budget year to $1 billion.
"This homeless issue is, rightfully, top of mind for people all across the state that are outraged by it," Newsom told reporters during a news conference at the state Capitol. "They're disgusted by it and they're wondering what the hell is going on in Sacramento. And they should."
The governor's overall spending plan, a $213.5-billion blueprint for the fiscal year that begins in July, offers a sprinkling of new ideas and cash to the budget he initially proposed just after taking office in January. Legislators now have until June 15 to send Newsom a final budget or forfeit their paychecks.
Those new proposals account for close to $4.5 billion in additional spending compared with Newsom's earlier budget plan. He said Thursday that those expenditures would not create unsustainable long-term commitments.
"We're structurally balanced through the forecast period," Newsom said, pointing to his projections of consistent spending levels over the next four years. "We've never been more prepared as a state."
The centerpiece of the governor's new spending, what he calls a "parents agenda" for low-income and middle-class families, was announced earlier in the week. It includes more than $130 million in new spending on child care for low-income families, funded largely by taxes on the sale of legalized marijuana.
But the Newsom administration revealed Thursday a less generous approach than expected on one high-profile part of the plan: a new sales tax exemption on the purchase of diapers and menstrual products. That exemption would last only two years, not five years as the administration originally stated two days ago. That reduces the value of the tax break to $114 million. It was not immediately clear why the information provided earlier in the week was incorrect, but the governor said he hopes to extend the program beyond the end of 2021.
Newsom faces a big political test as he shapes his first California budget »
Lawmakers earlier this year first proposed the spending commitments aimed at helping struggling families, and Newsom's embrace of them could help pave the way toward striking a quick budget deal with legislative leaders.
One promise in Newsom's January budget — a sweeping expansion of the state's paid family leave program — remains a work in progress and is more cautious than proposals now pending in the Legislature. While he has pledged to extend the current paid leave program for new parents and caregivers from six weeks to six months, the revised budget provides only enough money for an additional two weeks per parent. The governor said he remains committed to finding the money needed for a much broader expansion.
Newsom is proposing a mix of measures to help low-income Californians, but perhaps none is more ambitious than his call, reflected in the revised budget, to expand the size of the state's earned income tax credit to $1.2 billion — triple its current size and more than was proposed in January. If lawmakers approve the plan, those families with children would be eligible for a new $1,000 cash payment.
But Newsom's latest budget plan does not include a more expensive request made by prominent Democratic legislators: fully expanding Medi-Cal, the state's healthcare program for the poor, to those living in the U.S. illegally. The governor cited the total cost of that expansion — $3.4 billion — as the reason for his reluctance.
His budget would, though, expand coverage of all children without regard to immigration status until they turn 26. His proposal would take effect in January, six months later than he originally planned and thus reducing the cost.
Newsom also proposed expanding the state-funded healthcare subsidies for those who buy insurance through the Covered California exchange. Those subsidies would be paid for with fines collected from those who refuse to purchase health insurance — a requirement that existed under the Affordable Care Act, the often-debated individual mandate the federal government canceled last year.
A key component of the proposed budget would boost the state's efforts to address the growing crisis of homelessness. Newsom's revised budget calls for $650 million in grants to local governments and regional homelessness agencies for emergency shelters, rental assistance and permanent construction housing, among other uses. That plus a handful of other budget commitments would add up to $1 billion in new spending.
Mayors from California's 13 largest cities, who had pushed for more money on homeless prevention efforts, were pleased that the governor increased his proposal. "This unprecedented level of investment recognizes the moral, safety and public health emergency that California cities face because of the thousands of people living on their streets," Sacramento Mayor Darrell Steinberg, who chairs the mayors' group, said in a statement.
Overall, the state budget forecasts a historic amount of unexpected tax revenue — $21.5 billion in unrestricted windfall dollars along with an additional $3 billion to be set aside in the long-term "rainy day" reserve, bringing that tightly controlled fund to $16.5 billion. Newsom's budget advisors believe the rules for that fund, ratified by voters in 2014, will require setting aside a $389-million reserve for K-12 schools and community colleges. Budget watchers hadn't expected that law to kick in for at least another year.
Education groups are unlikely tosupport Newsom's pronouncement of a mandatory statewide school reserve fund. Districts across California have already found their operating budgets to be stretched tight. They may question why their pressing financial needs aren't getting more support — especially if the reserve money comes out of the minimum funding level promised to schools under state law, as it appears.
Not all notable items in the new spending plan came with large price tags. Less than two weeks after a gunman killed one person and injured three at a Poway synagogue, the governor proposed Thursday to triple the funding— to $27 million — for the state's Violence Intervention and Prevention Program.
"This is a major investment in the future of our state and a firm commitment to communities most affected by the tragedy of gun violence," said Assemblywoman Buffy Wicks (D-Oakland), who sought the additional funding.
Newsom, who laid out an ambitious agenda on a variety of topics upon taking office four months ago, may soon take his ideas and accomplishments on the road. On Wednesday, his campaign team announced a listening tour across California and boasted of the state's efforts on healthcare, abortion rights and climate change.
"While Trump and Republicans in Washington make a mockery of our values and our government, we will provide a different kind of leadership," Newsom said in the email to his supporters.
Times staff writers Liam Dillon, Melody Gutierrez and Patrick McGreevy contributed to this report.
Follow @johnmyers on Twitter and sign up for our daily Essential Politics newsletter.
Get our Essential Politics newsletter
The latest news, analysis and insights from our politics team.
You may occasionally receive promotional content from the Los Angeles Times.