Effort to end triple-digit interest rates on small loans in California clears major hurdle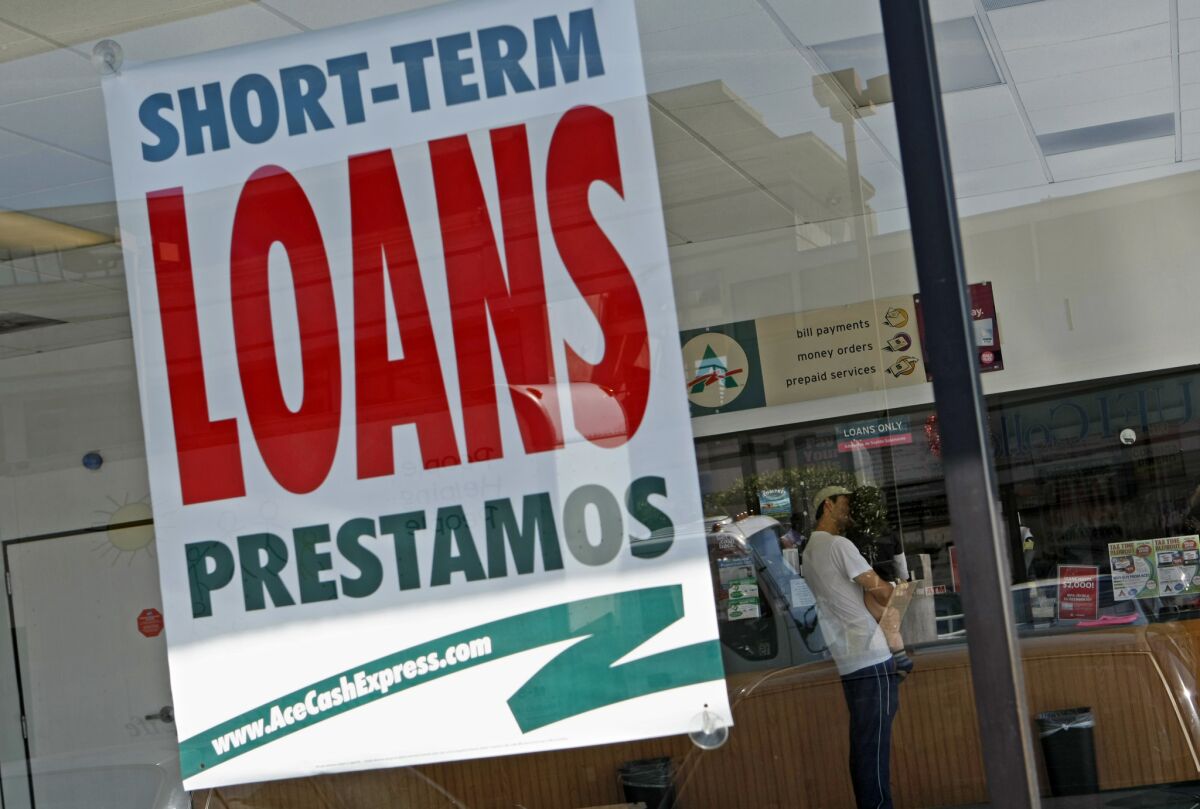 Reporting from Sacramento —
Legislation to cap interest rates on high-cost small loans in California cleared a major hurdle Wednesday in the state Senate despite strong opposition from deep-pocketed lenders.
The Senate Banking and Financial Institutions Committee approved Assembly Bill 539, which would set an annual interest rate cap of 36% plus a 2.5% federal funds rate on loans of $2,500 to $10,000, with a 6-0 bipartisan vote.
After years of failed attempts to set limits that would prevent triple-digit interest rates on small loans, legislators moved the bill forward and bucked lenders who have poured millions of dollars in recent years into lobbying efforts and campaign contributions — including $39,000 to state senators in the last month.
California has lagged behind the rest of the country in its efforts to regulate small loans. In a 2018 report, the National Consumer Law Center said 39 other states have implemented caps on five-year, $10,000 loans.
The state limits interest rates on loans under $2,500 to between 12% and 30% a year. With no monetary limit on loans valued between $2,500 and $10,000, some lenders have set rates over 200% on high-risk borrowers.
California trails in regulating short-term lenders. This bill could finally rein them in >>
More than one-third of California borrowers who take out loans with interest rates at 100% or more end up in default, according to the state's business oversight department. Advocates say such loans are designed to fail.
"I cannot think of another product that fails so often without government stepping in to intervene," said Assemblywoman Monique Limón (D-Santa Barbara), who introduced the bill.
Nearly 20 lenders, who offer auto title loans, personal loans and other installment loans, have spent about $3.5 million lobbying at the state Capitol since 2017. More than a dozen gave an additional $3.2 million to lawmakers, political parties and campaign committees over the last decade.
Opponents of the bill argue that the rate cap will push many lenders out of the California market, making it more difficult for subprime borrowers with bad or no credit to obtain loans.
"With this bill passing, we feel like you're taking another option away from us and it's very concerning," said Maria Bello, a Rancho Cordova resident who testified against the bill. "We need our options open."
Sen. Ben Hueso (D-San Diego) abstained from voting and said he agreed that it would limit Californians' access to loans.
"Usually the ones who advocate for these programs are not the people who use these programs," Hueso said. "Telling people how to manage their finances, I don't think it's the government's job to do that."
Lenders opposing the legislation contributed campaign money to several state senators on the committee in recent weeks, including Hueso and Sens. Steven Bradford (D-Gardena), Anna Caballero (D-Salinas), Ling Ling Chang (R-Diamond Bar) and Brian Dahle (R-Bieber).
Several state senators questioned the morality of allowing lenders to offer loans with high interest rates.
Sen. Maria Elena Durazo (D-Los Angeles) noted that some low-income borrowers are at high risk of defaulting, a reason that lenders offer loans with extremely high rates.
"The risk is higher, but imagine the risk when the percentage rate is so high," she said.
Sen. Anthony Portantino (D-La Cañada Flintridge) said the proposal requires the Legislature to weigh the cost of high interest rates against the possibility of limiting some borrowers' access to capital.
"There are people who are victims of predators," Portantino said. "There are people who need that last-minute loan to get through that week. How do you protect somebody on both ends of this conversation?"
More stories from Taryn Luna »
Follow @tarynluna on Twitter.
---
Life is stressful. Our weekly mental wellness newsletter can help.
You may occasionally receive promotional content from the Los Angeles Times.