California watchdog agency says it needs more power to go after misuse of public funds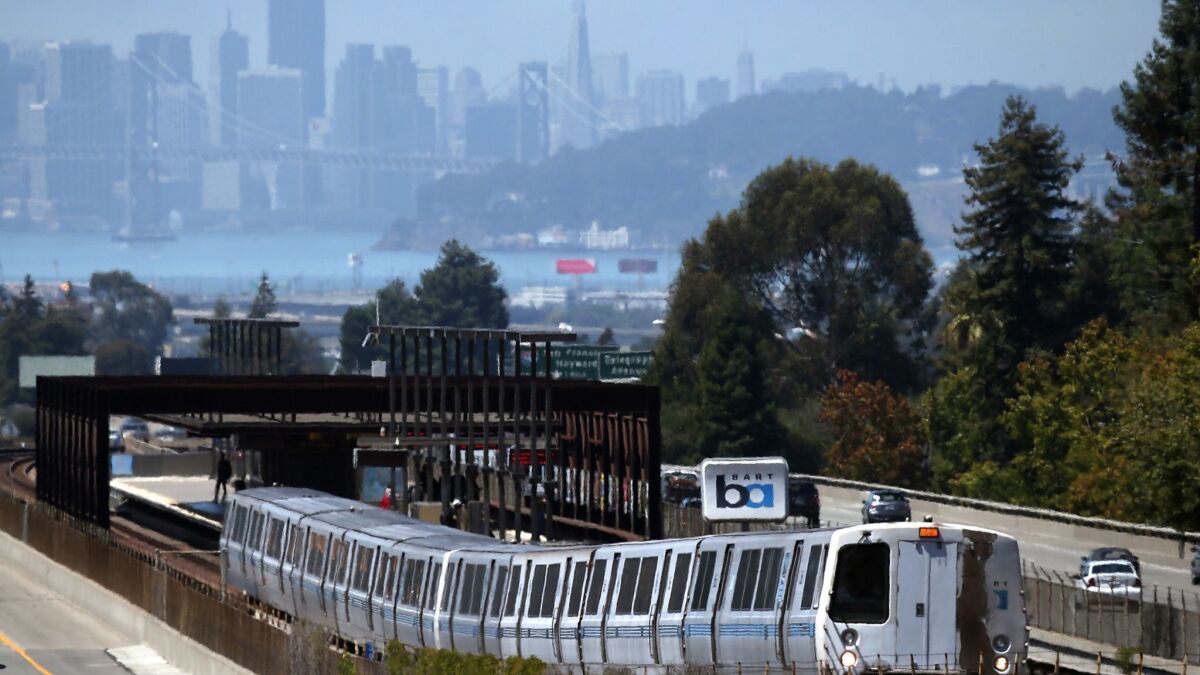 Reporting from Sacramento —
California's campaign watchdog agency is sounding an alarm that local prosecutors have failed to file charges in dozens of cases where officials have allegedly used public funds for political purposes.
The state Fair Political Practices Commission says they currently lack the authority to prosecute misuse of public funds because that power is reserved for city and county prosecutors and the state attorney general.
Now members, including Chairwoman Alice T. Germond, are proposing to expand their powers so they can act when district attorneys fail to do so.
"We want the opportunity to take action when public money is misused," Germond said. "Californians expect our tax dollars to be used appropriately and when that is not the case, I want to be able send a strong message on behalf of our citizens. And I want to set a clear precedent that such behavior is unacceptable."
An FPPC study this week said that since 2015, the agency has received 34 allegations of public agencies misusing taxpayer funds for campaign purposes, including mass mailings.
"The Enforcement Division is not aware of any actions brought by state or local prosecutors related to those cases," said the report by the agency's staff.
Commissioner Brian Hatch said the illegal activity is widespread.
"There has been plenty of it, but they choose not to bring charges," he said of county prosecutors.
The panel is scheduled to act Feb. 21 on sending a letter arguing for new power to seek administrative or civil penalties in cases of illegal use of public funds. Currently, the FPPC can only approve limited administrative fines for failing to disclose campaign spending, not the misuse of funds itself.
"Public agencies spending taxpayer dollars on campaign activity is a serious misuse of public funds," says a draft of the letter to be considered by the panel. "While the commission's resources are limited, we believe action must be taken to prevent misuse of taxpayer dollars."
Jon Coupal, president of the Howard Jarvis Taxpayers Assn., said he has been complaining about the issue for three decades.
"It is so epidemic, we do not have the resources to track and respond to every one," Coupal said, adding that district attorneys and the state attorney general are busy with violent crimes that are a higher priority for them. "If the FPPC steps up, that would be a good thing for taxpayers and, quite frankly, good for transparent government."
The taxpayer group filed a complaint that resulted in the FPPC conducting an investigation and issuing a finding of probable cause in 2018 that Los Angeles County failed to properly report paying to run television ads in support of a homeless services tax ballot measure the year before.
Although the FPPC lacks jurisdiction to prosecute for misuse of public funds, it found probable cause exists that members of the Board of Supervisors violated a separate law by not reporting political expenditures for advertising supporting Measure H, a quarter-cent increase in the sales tax.
The ads and social media posts touted the measure as providing "real help" and "lasting change."
The finding sets the stage for a hearing before an administrative law judge and possible administrative fines.
But the California State Assn. of Counties, which includes L.A. County, has sued to challenge the FPPC's authority to pursue an enforcement action.
The Los Angeles County district attorney's office has not announced any action on the allegations, and declined to comment on whether it is investigating.
Coupal is not surprised that no charges have been filed.
"The district attorney gets their budget from the county and the county was the defendant," he said.
Hatch said it is "unrealistic" to expect county prosecutors to take on political leaders in their county, he said.
"It's kind of like committing political suicide," Hatch said.
Other critics of the lack of enforcement include Carl DeMaio, who headed the campaign for Proposition 6, the unsuccessful initiative on the November ballot that would have repealed increases in the gas tax and vehicle fees being used to fix roads.
DeMaio's campaign filed a complaint in August with the San Diego County district attorney's office and the FPPC, alleging that taxpayer resources were used improperly to campaign against the initiative. He alleged that state-hired contractors working on a California Department of Transportation road project in San Diego County, with a state supervisor onsite, improperly stopped traffic and gave motorists fliers opposing Proposition 6.
A flier submitted as evidence urged voters to "Stop the attack on bridge and road safety."
A representative of the district attorney's office defended its handling of DeMaio's allegations.
"No charges were issued in that case," spokeswoman Tanya Sierra said. "We can only file charges when we believe we can prove them beyond a reasonable doubt."
The FPPC is still investigating the complaint.
"With no action by the FPPC on such an obvious violation of election rules, the pattern of undermining the citizens' right of ballot initiatives continues," DeMaio said.
Caltrans officials said in a statement that they interviewed agency employees and "reminded our contractors that we do not condone political advocacy or distribution of campaign information on work project sites. Due to the ongoing review by FPPC, we will refrain from discussing further until those results are released."
Based on the FPPC's interpretation of state law, the most it could do is find that Caltrans did not properly disclose campaign spending.
That is what the panel ended up doing in December, when it imposed a $7,500 fine against the Bay Area Rapid Transit District for failing to disclose spending on YouTube videos, social media posts and text messages to promote Measure RR, which authorized $3.5 billion in general obligation bonds.
The commission sent a letter to the state attorney general's office and the Alameda County district attorney urging them to pursue action against the Oakland-based transit district.
State and local prosecutors have not announced any action in the case.
"We don't comment on actual or potential investigations — even to confirm their existence — in order to protect the integrity of any action we might take," said Jennifer Molina, a spokeswoman for the Department of Justice.
It is uncertain whether legislators could muster the two-thirds vote needed to expand the FPPC's powers, but the idea received a positive response from Sen. Steve Glazer (D-Orinda), who was critical of the lack of stiff penalties in the BART case.
"Public agencies that break the law need to be held accountable," Glazer said. "That's not the case today. There are allegations of campaign abuse up and down the state every election cycle. And we need an empowered FPPC or a more active attorney general to protect the public trust."
Twitter: @mcgreevy99
---
Life is stressful. Our weekly mental wellness newsletter can help.
You may occasionally receive promotional content from the Los Angeles Times.