What California's big vote on climate change policies means for you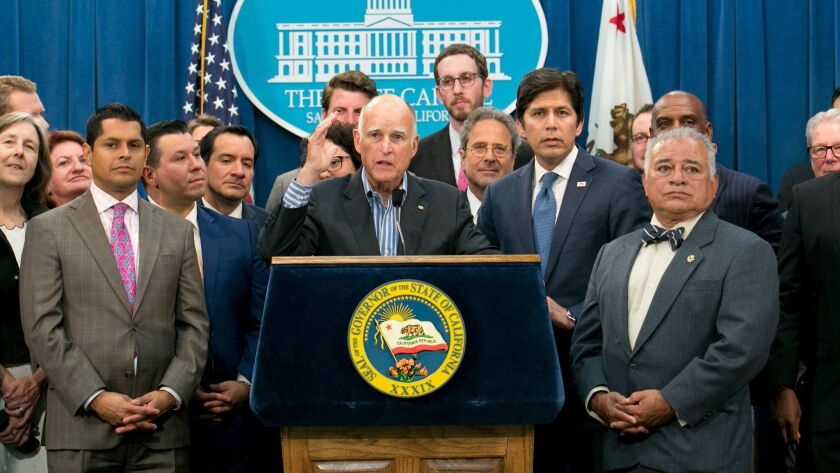 It's the centerpiece of California's battle against global warming, and it's so complex that it can make even hardened policy wonks shudder. Yes, we're talking about the state's cap-and-trade program.
The only system of its kind in the country, it's designed to reduce greenhouse gas emissions from facilities such as oil refineries, food processors and power plants. The program faced expiration by 2020, but lawmakers voted Monday to extend it until 2030.
California could end up relying on cap and trade for nearly a third of its emission-reduction goal. So how does it work? And what does the new legislation change about the program?
Let's start with a broad overview. At a basic level, cap and trade is supposed to put financial pressure on companies to reduce their emissions by requiring them to obtain permits, or allowances, for each metric ton of greenhouse gas they release.
Cap and trade's basic structure would remain intact under the new legislation, which includes three separate measures: Assembly Bill 398, Assembly Bill 617 and Assembly Constitutional Amendment 1.
But the legislation, which still needs to be signed by Gov. Jerry Brown, includes some changes to the program and other policies, such as boosting regulations for improving air quality in polluted neighborhoods. There are also shifts on unrelated fees and taxes, provisions that were added to broaden political support for cap and trade.
How would cap and trade change?
Current program in place until 2020
Regulators set a minimum price for emission permits. There's no maximum, but the state can offer additional permits at lower costs if there are price spikes from high demand. The state offers some permits for free to help companies comply with the regulations. The number of free permits was scheduled to start declining in 2018.
Companies can use offsets, which are generally cheaper than permits, to cover 8% of their emissions. Offsets are green projects such as forest preservation, and they can be anywhere in the country.
Nonpartisan legislative analysts estimated last year that gas prices were 11 cents higher per gallon in the state because of cap and trade.
Modified program after 2020
Regulators would keep the minimum price for permits, but also devise a stricter maximum price. The goal is to guard against price spikes that could occur as the state moves toward ambitious emission reduction goals.
The state would not reduce the number of free permits it distributes, a win for industry groups.
There would be stricter limits on using offsets. Only 4% of emissions could be covered by offsets from 2021 to 2025, then 6% after that. Half of a company's offsets would need to be located in California to create more local benefits.
Gas prices could be 24 to 73 cents higher per gallon by 2031, depending on the price of emission permits.
How would the state spend cap-and-trade revenue?
The current program
Revenue from cap-and-trade auctions can be spent on projects that reduce greenhouse gas emissions, such as rebates for electric cars. Gov. Jerry Brown has also used money to build the bullet train.
Money can be allocated with a majority vote of the Legislature.
Possible changes
The new legislation doesn't include a spending plan, leaving that open for future debate. There's been talk about using money to replace old farm equipment or to help the state adapt to rising temperatures from climate change.
Lawmakers approved a constitutional amendment that will be on the ballot next year. If approved by voters, it would require a one-time two-thirds vote in 2024 to keep spending cap-and-trade revenue. Republicans hope this gives them more influence in the discussion.
How would the state improve air quality?
Current policies
The cap-and-trade program is geared toward reducing greenhouse gas emissions, which contribute to global warming. Activists have wanted the state to take new steps to combat local pollutants that cause public health problems.
Changes starting in 2018
Pollutants from industrial facilities would be tracked more carefully by regulators, who would be required to develop new plans to tackle problems in communities with the worst problems.
What incentives were given to pass the legislation?
In order to cobble together the coalition necessary to pass the legislation, Brown offered Republicans some incentives to back the deal.
Starting this year, the legislation would suspend until 2030 a fire prevention fee levied on landowners largely in rural areas of the state. It would also extend a tax credit for manufacturers and broadens it to include some power companies.
---
Get our Essential Politics newsletter
The latest news, analysis and insights from our politics teams from Sacramento to D.C.
You may occasionally receive promotional content from the Los Angeles Times.