Democrats see opportunity in a strongly Republican California congressional district
Reporting from Sonora —
Regina Bateson was at home trying to get her young children to fall asleep before they realized Donald Trump would be their next president. Jessica Morse was volunteering in an empty office in Colorado surrounded by the wreckage of Hillary Clinton's failed campaign. Roza Calderon felt like she was living through a nightmare as she watched the results roll in with a friend.
None of these three women, all Democrats, had run for office before. Now they're all vying to unseat Rep. Tom McClintock, a conservative Republican who hasn't faced serious opposition from their party since winning his seat almost a decade ago.
The campaign could prove to be a test of just how far Democrats can reach outside their political comfort zone during next year's midterm elections. Republicans have a 15-point voter registration advantage here. Trump won by more than 14 points.
"It's going to be extremely difficult just because of the math," said Mattis Goldman, a Los Angeles-based partner with Three Point Media, a firm that works with the Democratic Congressional Campaign Committee. "You can't just sit there and hope that the wave lifts you over."
Democrats recently added McClintock, 61, to a list of Republican targets, a sign of increasing confidence after the party scored sweeping victories this month in Virginia and New Jersey. The decision could dramatically raise the profile of a usually sleepy district anchored by Sacramento suburbs and stretching from Lake Tahoe in the north to Kings Canyon National Park in the south.
The latest fundraising reports suggest new enthusiasm and financial muscle. Not only did Morse raise more money than McClintock in the most recent fundraising quarter, her $268,000 haul was larger than all the cash raised by McClintock opponents in each of the three prior elections, according to a California Target Book analysis.
Bateson has raised $195,000 total this year, while Calderon raised $77,000. McClintock has pulled in $423,000 for his reelection.
Local Democrats have chartered a new group, Sierra Forward, to lay the groundwork for the candidate who emerges from the June 5 primary to challenge McClintock.
"This is not a quixotic race," said Les Francis, the group's campaign manager who worked for decades in Washington before moving to the district last year. "This is not a hopeless situation."
Jon Huey, McClintock's campaign manager, dismissed the idea that a Democratic wave could reach the 4th Congressional District and pointed to the congressman's strong re-election bids.
"They've been electing him overwhelmingly because that's who they want as a representative," Huey said.
Returning home to run for office
A deer tiptoed in front of a house in Auburn one Sunday evening before Bateson arrived. Her audience is the Democratic faithful, mostly white-haired retirees, who have been meeting candidates at this early stage in hopes of finding one who can take down McClintock.
Bateson, 35, previously worked as a foreign service officer and conducted academic research in Guatemala. She received a doctorate from Yale University and found her way to MIT, where she started working as a political science professor.
After deciding to run for office earlier this year, she moved back to Roseville, where she grew up, with her husband and their three children.
"This is a time when we all have to stand up and do the most that we can do," she said.
California could flip the House, and these 13 races will make the difference »
Bateson was born with a genetic condition that made her bones fragile as a child, and the wrong twist in her car seat could cause a fracture. Protecting the Affordable Care Act is a central part of her pitch. She also stresses her moderate bent by saying she would join the bipartisan Problem Solvers Caucus in Congress.
Although McClintock voted against Republican tax-cut legislation over concerns that it would have "unintended and undesirable consequences," his hard-line record has provided plenty of fodder for Democratic critics. Bateson said he's more passionate about his conservative ideology than the district he's elected to serve.
"He has hitched his wagon to the Trump administration agenda," she said.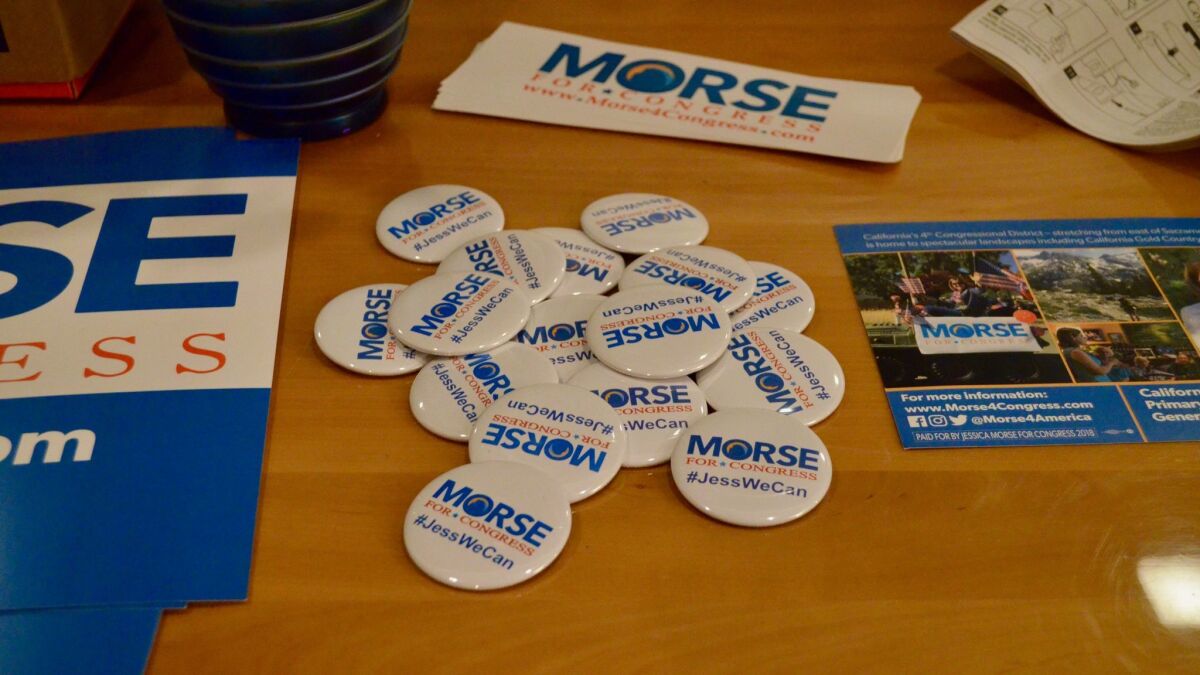 Foreign affairs to local politics
At the end of a winding dirt driveway in Sonora one recent Monday, dozens of voters have arrived to hear Morse speak in the pool house of a supporter's home. It's so crowded some stand in the cool evening air and watch from the doorways.
Morse, 35, grew up in Carmichael and received a graduate degree from Princeton. She spent more than a year in Iraq with the United States Agency for International Development, then worked for the State Department in Washington and U.S. Pacific Command in Hawaii. She moved back to California two years ago and lives in Pollock Pines.
Like other Democrats around the country, Morse wants to harness anti-Trump energy. During her stump speech she drew a comparison between today's politics and the rhetoric of 1930s Germany.
She also knows she's running in a district with strong conservative sentiment. She sometimes pauses to say, "Let me tell you how I frame this for Republicans," and talks up her childhood hunting experiences.
"We're not going to come and be crazy liberals and take away your guns," she said.
Morse repeatedly steers her pitch back to local issues, like the bark beetle infestation that has ravaged trees in the Sierras. She talks about turning the damage into economic opportunity with local businesses using the wood for furniture and other products.
"There's abilities for the government to come in with little grants and investments in vocational training to help jump-start these different economics in communities," she said.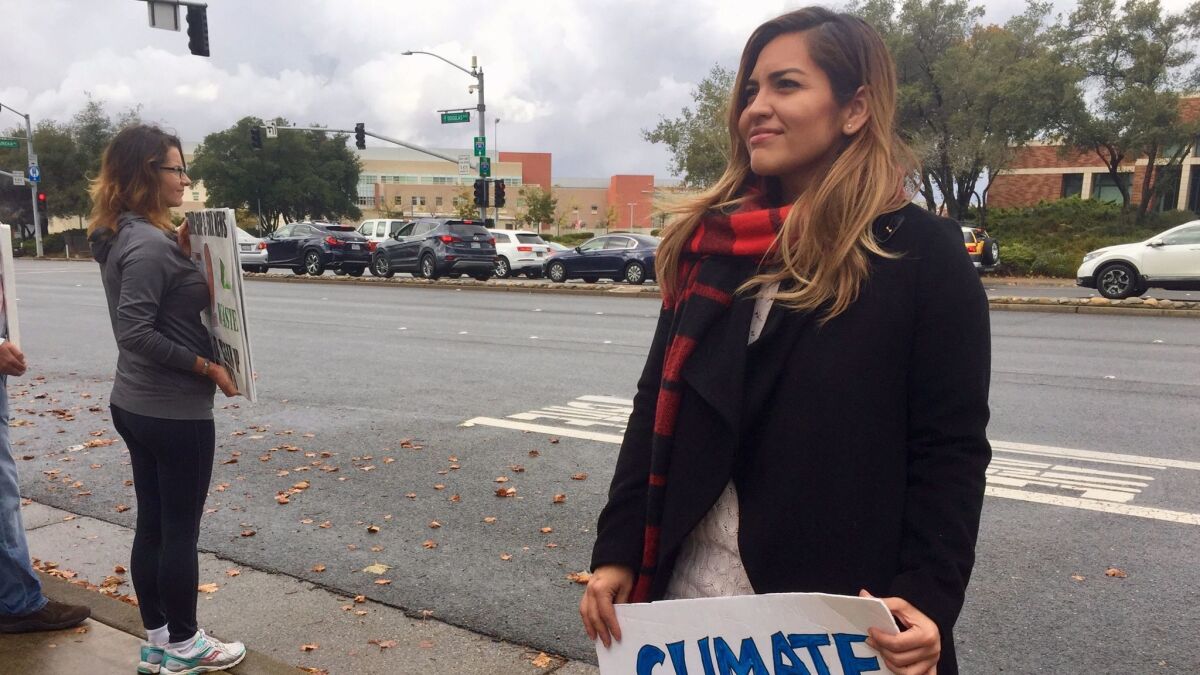 From protester to candidate
The rain let up outside McClintock's office in Roseville when Calderon started protesting in the parking lot on a weekday afternoon. Activists have been protesting here since Trump's inauguration, and Calderon still tries to find time to swing by despite her busy campaign schedule.
Calderon, 32, was born in El Salvador, where her mother fled after nearly being killed in a bombing. Her mother illegally crossed the border into the United States but received asylum, Calderon said, and was able to bring her daughters to Los Angeles.
They later moved to Northern California, and Calderon now lives in Granite Bay with her daughter. A longtime activist, she ran a geographic mapping company but recently stepped back to focus on the campaign.
"This is our one and only chance to defeat McClintock," she said.
Calderon has fashioned herself as the progressive standard-bearer in the race, and touts her support for single payer healthcare. Two groups established by supporters of Sen. Bernie Sanders, the Justice Democrats and Brand New Congress, have endorsed her.
She's also found herself at odds with local Democratic organizations. The Placer Women Democrats said Calderon improperly spent $1,900 while serving as the group's treasurer, including $790 on music festival tickets, according to the Sacramento News & Review. Calderon said the tickets were only accidentally charged to the group's account and have been reimbursed, and she said the other purchases were not improper.
"This all comes full circle to them asking me not to run," Calderon said. "They believe someone with my name and progressive ideals will hurt their chance to win this district."
Calderon said that's the wrong approach, a disagreement that reflects broader schisms among Democrats over how California should pursue universal healthcare and who should lead the state party.
"I talk about the Democratic Party as it was intended to be, a party of the people," she said.
Twitter: @chrismegerian
ALSO
Democrats' road to winning back the House goes through California, and it won't be as easy as it seems
Fundraising reports show Rep. Tom McClintock's challengers could give him a run for his money
Get our Essential Politics newsletter
The latest news, analysis and insights from our politics team.
You may occasionally receive promotional content from the Los Angeles Times.