Gaps in California arrest data make it easier for violent felons to get guns, study finds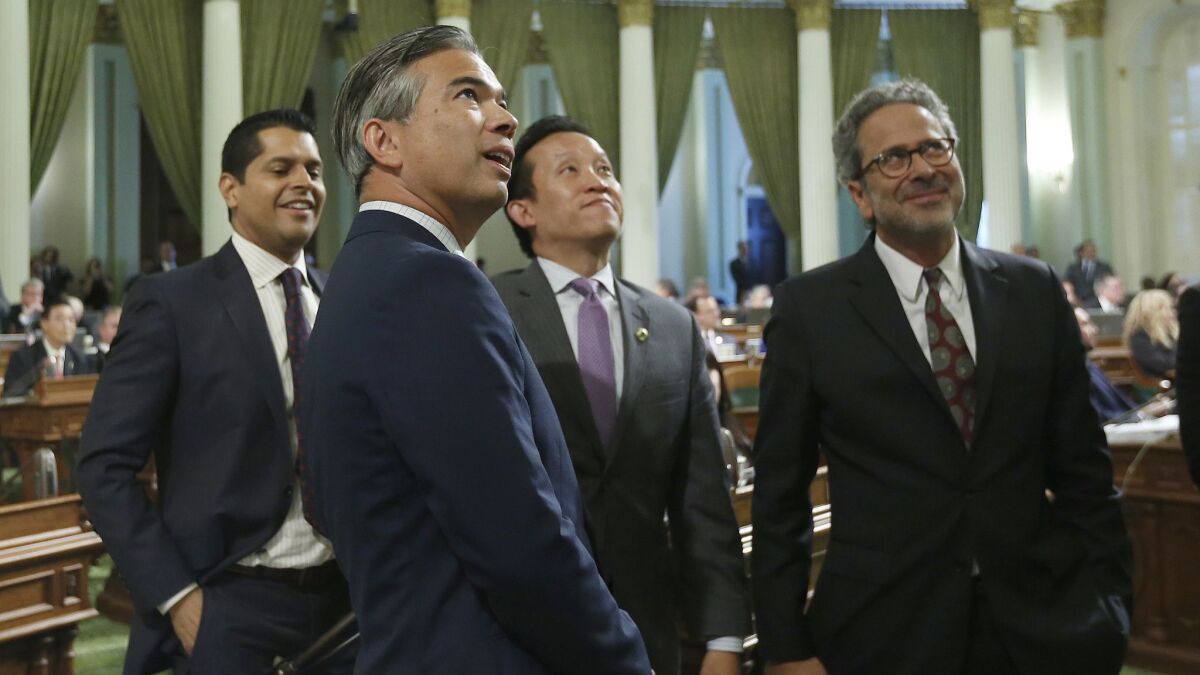 Reporting from Sacramento —
Before authorities charged Anton Lemon Paris last year with murder and attempted murder in the shooting of a Rancho Cordova sheriff's deputy and his partner, the most serious offense on his rap sheet had been a 2010 conviction for the possession of homemade nunchucks.
Such possession is a felony in California, and a Yolo County jury further enhanced the crime, finding he also had with him a firearm and an assault weapon. But Paris was able to later obtain the gun used in the Rancho Cordova shooting because state authorities incorrectly recorded the charge as a misdemeanor on his state criminal record, as first reported by the Sacramento Bee.
Researchers say the case underscores the wide gaps in statewide criminal justice data that mistakenly allow some offenders to own firearms and unduly criminalize others. The gaps also hinder state lawmakers as they work to roll back tough drug and sentencing laws that have disproportionately targeted people of color. The disparities, highlighted in a new report released Tuesday by Stanford Law School and a nonprofit criminal justice research group, Measures for Justice, have prompted lawmakers to consider establishing new reporting requirements for law enforcement agencies across California.
A proposal by Assemblyman Rob Bonta (D-Alameda) would create new statewide reporting standards for local and state law enforcement agencies and courts and clarify existing public records laws to allow greater access to the information.
The Stanford analysis found that up to 60% of arrest records compiled by the state's Department of Justice are missing disposition information, including violent criminal histories that might inadvertently allow some offenders to acquire firearms. Meanwhile, no statewide standards exist for how counties should track criminal cases, arrests or inmate records, even as criminal justice reforms in recent years have shifted greater control to local sheriffs and probation departments over the incarceration of adult and juvenile offenders.
"California's local criminal justice data infrastructure is inconsistent at best and, in some jurisdictions, almost non-existent," the report states. "Challenges with data collection are exacerbated by the absence of statewide data definitions and other standards, which means that even where data are collected, they are often inconsistent and difficult to compare."
The flaws in data collection make it tough to assess whether efforts to reduce incarceration and recent laws rolling back sentencing for offenders are working — and saving the state money, as its backers proposed, researchers, prosecutors and public defense lawyers said. And it's not only in the lack of coherent data where the problems arise, but in who can gain access to the information.
The California Department of Corrections has no formal policy to allow researchers, reporters or the public to obtain data, Stanford and Measures for Justice researchers found, and though court records are available to the public, rules that restrict the "bulk distribution" of electronic documents can hamper public access.
"What stood out to me was the ways in which failures — both in terms in collection and data access and transparency — have created this perfect storm, where we are able to know so much less than we should," said Mikaela Rabinowitz with Measures for Justice, which gathers criminal justice data from counties nationwide and works to improve collection practices. "It basically creates a black box, and we have advocates and legislators across the spectrum promoting policy without actual information to drive that policy."
Maria McKee, principal analyst in the San Francisco district attorney's office, and Max Szabo, its director of communication and legislative affairs, said the data disparities made it difficult for prosecutors to assess individual cases, make predictions about criminal justice proposals and evaluate laws passed.
State lawmakers are weighing bills to require law enforcement policies to collect data on hate crimes and prison rehabilitation programs, and to use a "risk assessment tool," a type of tech analysis, to release parolees who score under a certain level, posing less of a threat to public safety. But measuring the human and financial impact of such laws, they said, will be difficult without standard datasets already in place.
"Every day you're making decisions without data is a day you're not making the best decisions," District Attorney George Gascón said in a statement. "The absence of good data is a threat to public safety, but it's also a threat to good governance. We cannot make the best use of taxpayer resources and effectively manage our most important institutions on a hunch."
Perhaps no other proposal last year captured the data challenges as California's landmark bail law, which abolished the use of money as a condition of release from jail, replacing it with a system that grants judges greater power to decide who should remain incarcerated ahead of trial.
Stanford and Measures for Justice researchers found the lack of data reporting by law enforcement and courts made it hard to assess cash bail and pre-trial diversion efforts. Indeed, supporters and opponents of the legislation came to wildly different conclusions about its costs to counties, and a whole crop of criminal justice reform groups initially backing the measure dropped their support, fearing it could lead to greater number of people behind bars.
Bonta, who co-authored the bail law, said the challenges he encountered in crafting the bail legislation further motivated him to introduce his proposal this year to standardize data collection practices across the state.
"We need to have good data," he said. Good policies start "with high quality, comprehensive data that provides the full picture. And right now we have a system of criminal justice data that data scientists say is disjointed and imperfect, of lower quality than we need."
More stories from Jazmine Ulloa »
Follow @jazmineulloa on Twitter.
---
Life is stressful. Our weekly mental wellness newsletter can help.
You may occasionally receive promotional content from the Los Angeles Times.