California Democrats agree they have too many candidates for Congress. What to do about them is the problem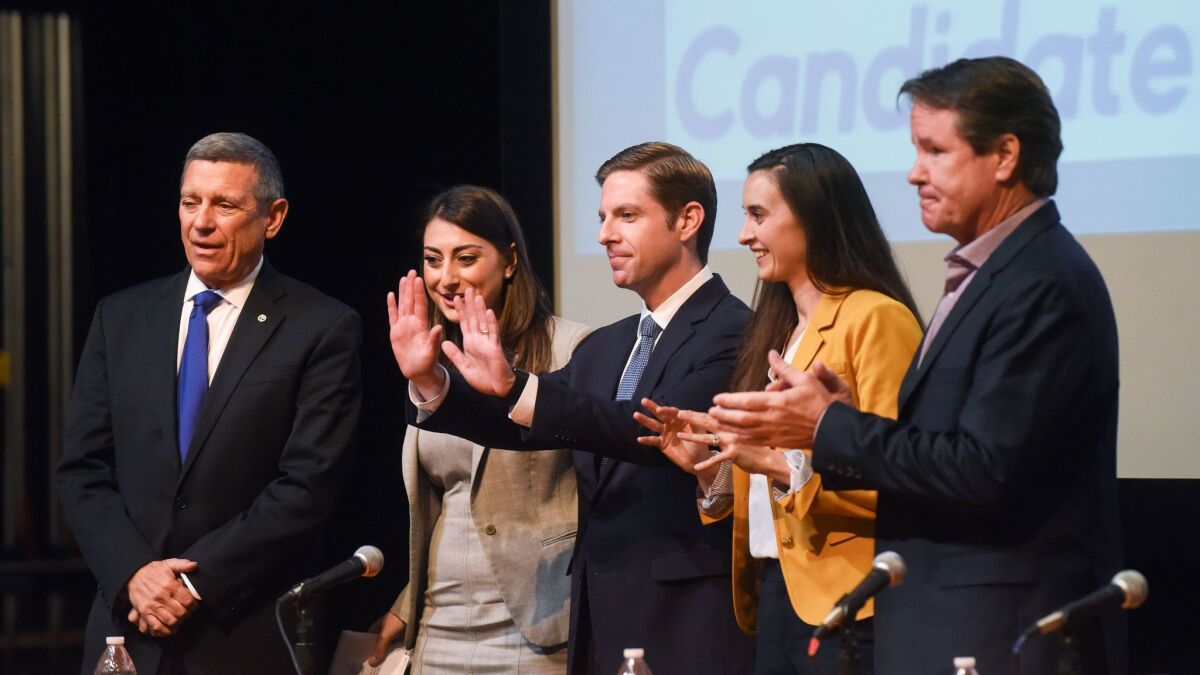 Democratic activists in Orange County threw an impromptu party with cake, party hats and singing after Republican Rep. Darrell Issa announced he was retiring.
But the exhilaration over the opportunity to capture a Republican congressional seat quickly turned to political panic.
There are so many Democrats running for Congress in some districts that they could split the votes in the June 5 primary and send two Republicans to the November election, thanks to California's top-two primary system. Democrats need 24 seats to reclaim the majority in the U.S. House — and are putting money and attention toward 10 California contests. In other words, every race matters.
The volume of Democratic candidates is a particular problem in Issa's 49th Congressional District in San Diego and south Orange County.
On a recent phone call with 300 local activists, organizers fretted over the entry of a fifth Democrat into the race and rumors about a sixth.
"What I would like to do is ship all these candidates to a deserted island for a season of 'Survivor,' " Terra Lawson-Remer, who leads the Flip the 49th grassroots group, said on the call.
Democrats also see possible trouble in the 39th Congressional District, set mostly in northeastern Orange County and currently represented by Rep. Ed Royce, who is retiring. There are at least eight Democratic candidates, and only one with experience as an elected official.
The fears are well founded. In 2012, when the top-two primary system began, the same dynamic cost Democrats a congressional seat in the Inland Empire despite a 5 percentage point advantage in voter registration.
The question for this year's high-stakes midterm elections is how Democrats can continue to harness the supercharged atmosphere of activism, enthusiasm and fundraising sparked by the resistance to President Trump in California while boosting the candidates with the best shot at winning.
"There is a very real risk that we don't get a single Democrat through the primary [in those districts] if nobody decides to drop out," said Rep. Ted Lieu (D-Torrance), western vice chair of the Democratic Congressional Campaign Committee, which runs House races for the party.
Track the California races that could flip the House »
"We don't have the power to force anyone out. We are trying to do this in a respectful manner because this is America," Lieu said. "But if you've got candidates that are polling at 2% or 4% in some districts … there's zero path to victory."
The DCCC has done polling showing Democrats could easily be shut out in some of these crucial California contests. At least two polls of voters in the 39th and 49th districts show it's entirely possible two Republicans would break through and leave Democrats with a missed opportunity.
These worries are a backdrop in San Diego this weekend as the faithful gather for the California Democratic Party's annual convention. They will need to make decisions about whether to put the full force of the establishment behind certain candidates in certain races, or stay out of intraparty warfare. There are eight House races on the convention agenda where the endorsement remains up for grabs.
Sen. Dianne Feinstein denied party endorsement at convention »
In January, small groups of Democrats met at the district level and voted for their preferred candidates. In several cases, including in the 39th District, no candidate received more than half of the votes. That means the state party won't make an endorsement.
Since they could not come to an agreement at the January meeting, Democrats from the 49th District will be voting at the convention on whether to back one of the five candidates seeking the party nod. To get the endorsement, the candidate would need support from 60% of the district's delegates attending the convention.
In some ways, having an excess of well-funded, viable Democratic challengers stepping up in congressional races up and down the state is a good problem to have. There are now multiple Democrats running in all of California's GOP-held House seats except one. The candidates are veterans, attorneys, doctors, tech executives and Obama-era political aides, and 18 already have raised at least $500,000.
On the other hand, infighting is costly and could impede the bigger-picture goal: winning Republican seats.
This also is not a unified group of Democrats. Lingering dissent within the ranks spilled out last year during the race to lead the state party. Eric Bauman, who defeated an upstart running to his left to become chair of the California Democratic Party, said he has had tough conversations with all of the candidates running in the 39th District.
"I really am trying to avoid having to put my foot on anybody's neck," Bauman said. He said his conversations might be a less traditional method than a typical election year, but Trump's "obnoxious agenda is an even greater danger."
Already, campaigns for the several dozen candidates attempting to make it past the primary in key races have gone on the attack against fellow Democrats, trying to get reporters to use their opposition research dredging up unsavory business practices, decades-old bankruptcies and exaggerated resumes.
The DCCC has allowed local candidates to sort themselves out instead of picking favorites. But there have been subtle moves to champion the candidates who seem like they have the best chances.
DCCC officials have made a point to alert reporters to certain candidates they consider to be strong. Last year, the committee invited at least one potential candidate to Washington for a round of meetings with senior House Democrats before he announced his congressional bid. And DCCC officials say they have reserved the right to get more involved before June to spend money on preferred candidates or against others, something they've already done in Texas.
The DCCC has commissioned extensive polls in Royce's and Issa's districts, testing potential campaign messages to assess the viability of the candidates.
Lieu says he and other California House members have presented some candidates with the opposition research they expect Republicans could easily turn into an "October surprise" in an attempt to persuade those candidates to opt against running. He declined to say which campaigns he'd talked to.
While he believes some of the candidates are taking the advice to heart, Lieu added that "there's also a lot of emotion tied to this" and not everyone is listening.
"There are some candidates that I think have a delusional view of their chances of winning," said Lieu, who has not endorsed in the competitive races.
Still, many of the candidates are outsiders with little regard for — or knowledge of — the conventional rules of running for office. Several are self-funded multimillionaires who don't need to rely on the DCCC for financial help.
Activists on the ground have tried to find ways to winnow the field themselves.
At a recent forum for Democrats in Royce's district, questions on LGBTQ rights and campaign finance were followed by a difficult one: Would they be willing to eventually drop their bids to ensure Democrats remain competitive? (None gave definitive answers, although one candidate promised the audience, "All I know is I ain't going nowhere.")
Back in Issa's district, Flip the 49th organizers used their polling to identify the two Democrats considered the weakest and, unlike the DCCC, released the results publicly. They plan to ask all the candidates to outline a credible path to victory next week at a "viability forum" in Oceanside.
"We haven't abdicated to folks in D.C. or folks who aren't local to figure out the path forward," Lawson-Remer told the activists on the call in late January. "As imperfect and messy and challenging as it was, we've taken this into our own hands."
While many of the candidates have been running for nearly a year, the official filing period began last month. They have until March 9 to make up their minds and appear on the ballot, or March 14 in the 39th and 49th district open-seat races.
Follow live coverage of the convention on our news feed »
Flip the 49th and other similar groups have organized candidate debates in hopes of helping voters sort through the issues and make early decisions.
Four of the Democrats running against Rep. Dana Rohrabacher in the 48th Congressional District along the north coast of Orange County demonstrated just how hard that can be at a recent Saturday forum.
In a lightning round, they agreed birth control should be free through all health insurers. They all want a $15 federal minimum wage and legal marijuana at the federal level. They also all would vote to remove President Trump under the 25th Amendment.
The differentiation came later, when asked about their favorite junk food. Two candidates chose french fries and mustard.
One quickly noted he is partial to Dijon. The other prefers yellow.
Times staff writer Javier Panzar contributed to this report.
For more on California politics, follow @cmaiduc.
ALSO
Updates on California politics
Life is stressful. Our weekly mental wellness newsletter can help.
You may occasionally receive promotional content from the Los Angeles Times.