The early numbers don't look good for California Republicans
There are far more challengers running for California's House seats in 2018 than at this point in the last campaign, and there hasn't been this much money raised for House elections this early in years, according to a Los Angeles Times analysis of campaign finance reports.
As Democrats work to regain power in the House, there are more than three times as many congressional challengers across the state today than there were before the 2016 election. With 80 challengers so far, the candidates have raised money more quickly than any group of challengers going back to 2003.
That's particularly true in the 13 races where Republican and Democratic incumbents are being targeted. Challengers there have raised more than five times more than the 2016 challengers had this far out from the election. Nearly 70% of the money raised by all congressional challengers has gone to the four Republican-held districts in Orange County that Democrats consider key to their chances.
Money is not the only factor in a tough campaign and much could still change ahead of the June primary, in which the top two vote getters advance to the November election regardless of party. But the totals so far give a window into the viability of the field of candidates and the energy behind their campaigns.
The numbers should give Republican incumbents plenty of reasons to worry.
There's way more money being raised in California House races
The $14.9 million the 80 challengers have raised to date is the highest amount of any similar period since 2003, according to data from the nonpartisan Campaign Finance Institute. The closest California congressional challengers came to raising this much the year before an election was $7.2 million, back in 2011. (Campaign finance data before 2003 is not comparable because of a landmark campaign finance law that went into effect that year.)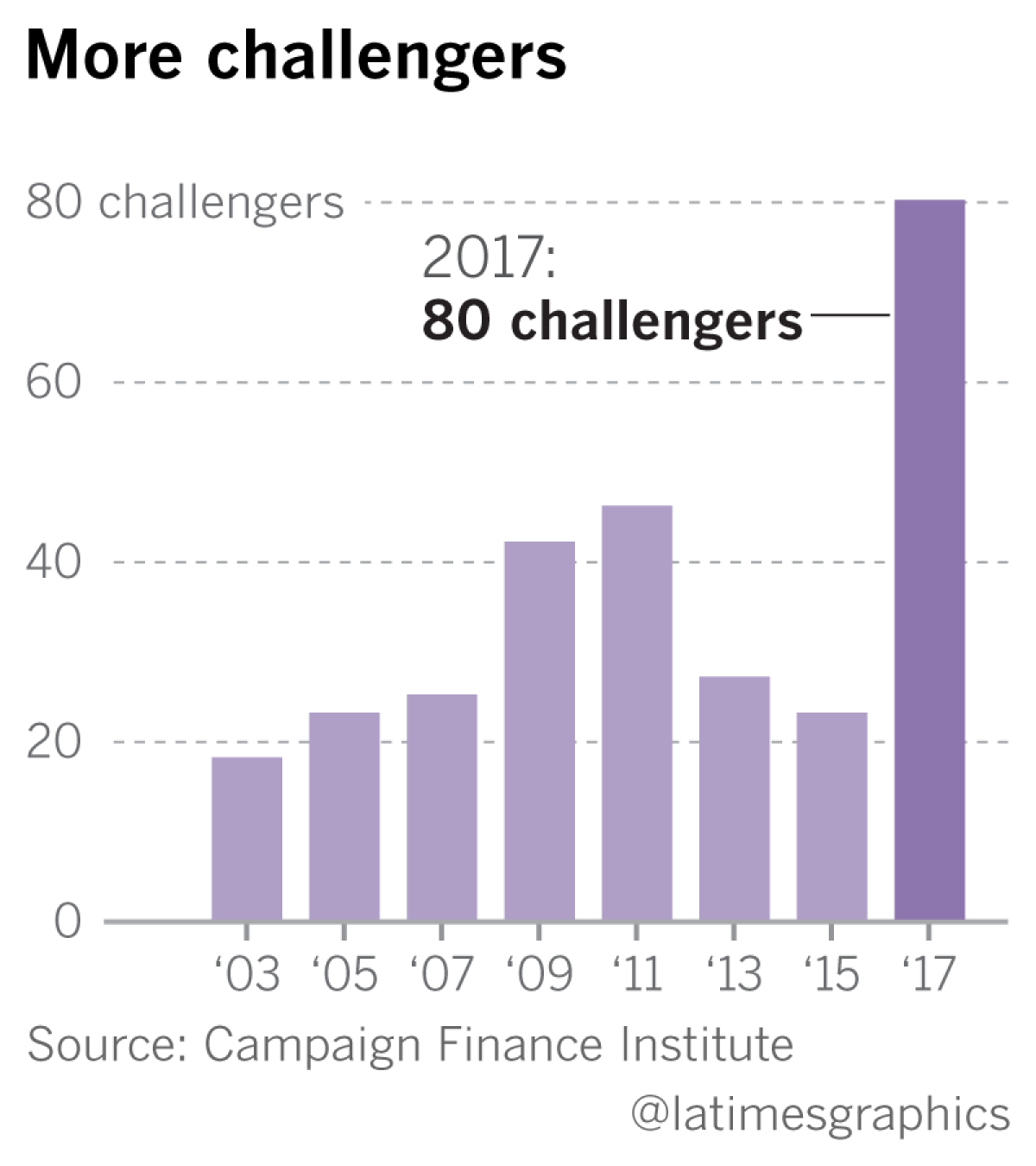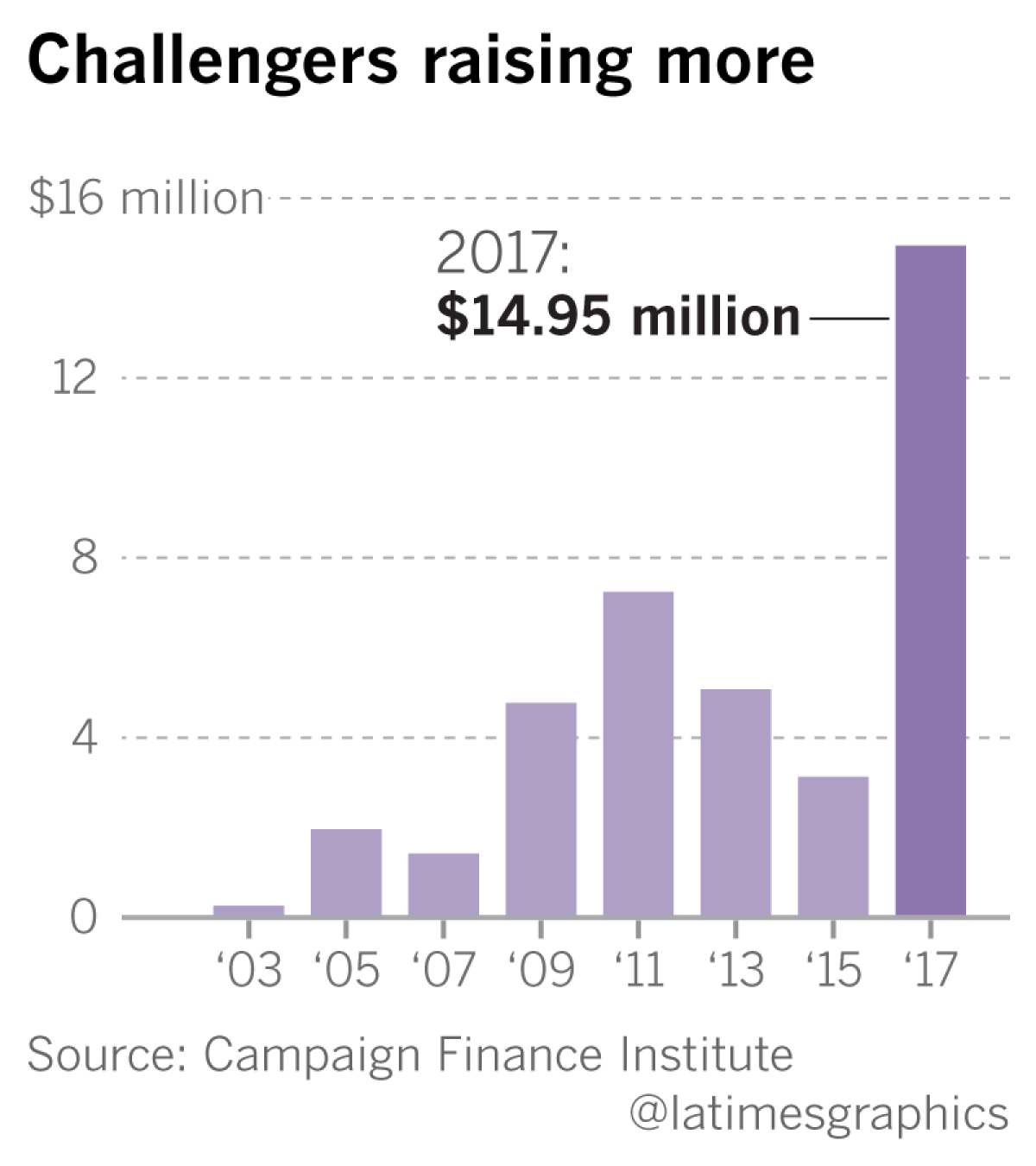 Most of the money is going to fight Republicans
The explosion of challengers and dollars is not evenly distributed: 90% of the money raised by California challengers has gone to Democrats, in part because they far outnumber Republican challengers. Of the 80, 58 are Democrats.
There are also nine Republican-held and five Democratic-held districts where at least one challenger has raised $100,000 or more — a record for those measures.
The California numbers reflect a nationwide trend
There are far more challengers running across the country this year too, and most of them are Democrats.
"In modern times, this is simply unprecedented," says Michael J. Malbin, executive director of the institute, a think tank that studies campaign money. "We've seen many Democrats deciding that this may be their chance. At the same time, you're seeing Republicans who might in other years be viable candidates, saying, 'This is not the year.'"
High numbers of challengers have preceded big wave elections
The closest either party has come to these numbers going back to 2003 was in October 2009, when 184 Republicans challengers and 71 Democrats reported raising at least $5,000. The next year, the GOP won 63 House seats and four in the Senate, the biggest sweep in decades.
Democrats enjoyed a more subdued bump in the number of challengers well ahead of the 2006 election — 89 versus the GOP's 44 in October 2005 — when a smaller wave helped Democrats capture 31 House seats. Democrats need to flip 24 to win back control of the House next year.
While a high number of Democratic candidates doesn't in and of itself predict a wave, Malbin says, it suggests the party will be in a good position to take advantage of one if it materializes next year.
Incumbents generally raise much more money than their challengers, but California's vulnerable Republicans are struggling as a whole
In the 13 California races The Times is watching closely, incumbents had out-raised their challengers by more than 2 to 1 by this point in 2013 and by more than 4 to 1 in 2015. That trend has reversed for the nine GOP incumbents being targeted by the Democratic Congressional Campaign Committee.
Their challengers have raised more than $13 million, significantly more than the $10.5 million the GOP incumbents have reported taking in.
The Democrats' numbers are bolstered by several challengers who have pumped six-figure amounts into their own campaigns, and one candidate who gave himself a $2-million loan. But GOP incumbents are still facing a far closer money race than they have in recent campaigns.
The four Democrats targeted by the National Republican Congressional Committee haven't had the same problem. They've raised more than $4.9 million to counter the $657,712 raised by their challengers.
The vast majority of money here is going to Orange County
Candidates and incumbents in California's 13 most closely watched congressional races have reported raising about $29 million this year. About half of that money has gone to four Republican-held districts in Orange County where Hillary Clinton won last year. They belong to Rep. Ed Royce of Fullerton, Rep. Mimi Walters of Irvine, Rep. Dana Rohrabacher of Costa Mesa and Rep. Darrell Issa of Vista.
Of the more than $14.9 million raised by all of California's congressional challengers, more than $10 million has gone to candidates in those four races.
But there's a bright spot for some Republicans
Some GOP incumbents in Orange County are raising more money than they did in their last campaigns and hold a major cash advantage.
Walters has raised more than double the amount she had this far out from the 2016 election, and Issa has taken in more than five times the amount he had in the last election, when he nearly lost his seat. Even Rohrabacher, who has been known for his lackluster fundraising in the past, has raised about $900,000 so far this year, more than double his haul at this point in the last campaign.
These incumbents also have significantly more money in the bank than their opponents, who must battle one another in the June primary. Despite the fact that Royce's five Democratic opponents have collectively out-raised him by nearly double, his closest opponent, Andy Thorburn, has $1.9 million in the bank (nearly all of it from a personal loan) to Royce's $3.4 million. Similarly, Walters has $1.4 million stashed away, while Brian Forde, her closest Democratic opponent, has just over $359,000.
Times staff writer Maloy Moore contributed to this report.
For more on California politics, follow @cmaiduc.
ALSO
Updates on California politics
California could flip the House, and these 13 races will make the difference
Democrats' road to winning back the House goes through California, and it won't be as easy as it seems
These political newbies are stepping up to run for Congress, and many say it's because of Trump
In California, vulnerable Republicans are backing away from hard-line immigration stances
Get our Essential Politics newsletter
The latest news, analysis and insights from our politics team.
You may occasionally receive promotional content from the Los Angeles Times.