Democrats win back a supermajority in California's Legislature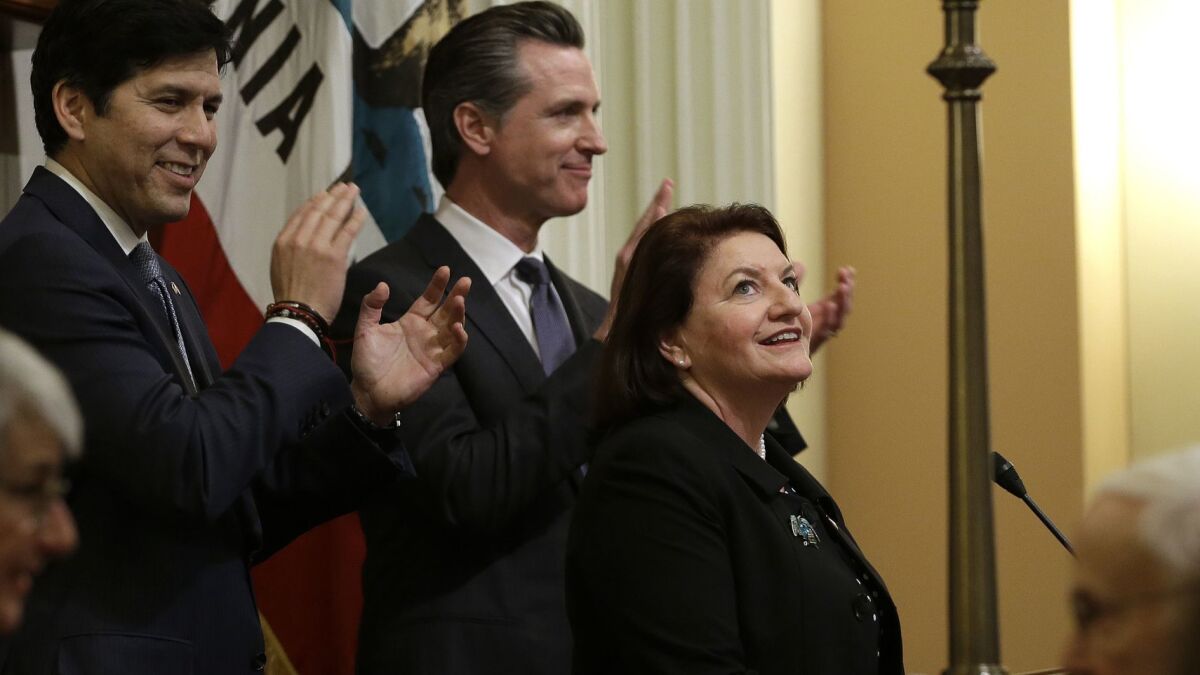 Reporting from Sacramento —
California Democrats cemented supermajorities in both houses of the Legislature on Monday, giving Gov.-elect Gavin Newsom more partisan allies in the state Senate and Assembly when he takes office in January.
Election results announced on Monday showed Democrats winning two Central Valley Senate seats previously held by Republicans, allowing the party to regain the two-thirds majority they held in the chamber before former state Sen. Josh Newman of Fullerton was recalled from office in June over his vote last year to raise the gas tax.
The party also is expected to pad its existing supermajority in the state Assembly.
"It just means the Republican Party has gone from the minority party to the endangered party," said Wesley Hussey, an associate professor of political science at Cal State Sacramento.
Coverage of California politics »
Hussey said he was surprised that the number of seats picked up by Democrats was so large, even with the advantage Democrats have in voter registration in most districts across the state.
Senate President Pro Tem Toni Atkins (D-San Diego) said that while some ballots are still being counted, Democratic candidates did a "remarkable job" and voters responded to the progress Senate Democrats have made in improving the state.
A supermajority is the threshold of votes needed for Democrats to override vetoes by the governor and pass tax increases or craft statewide bond measures without GOP legislative support. The state's majority party last enjoyed such dominance of both houses after the 2012 election but saw it fade after resignations, including two members who left in the wake of criminal investigations.
"There's no magic number, but a strong Democratic majority means we can do more to build a better life for more Californians and make things like housing, healthcare and higher education more affordable," Atkins said Monday, adding "we are looking forward to working with Gov.-elect Newsom and the Assembly to do just that."
Democrats had an easy time of regaining their supermajorities in part because of "huge and growing" party registration numbers, said Larry Gerston, professor emeritus of political science at San Jose State University.
Democrats make up 43.5% of all registered voters in California, while the percentage held by Republicans has dropped from 35.5% in 1998 to only 24% today. "The changing demography has proven to be a boon for the Democrats, especially since the Republicans make no effort to woo minorities, and in many cases, chase them away," Gerston said.
The latest results give Democrats 28 of the 40 seats in the Senate. The party's pickups in last week's election include the 12th Senate District, vacated because of term limits by Republican Anthony Canella of Ceres.
Republican Rob Poythress conceded the contest Monday to Democratic Assemblywoman Anna Caballero of Salinas, who received 52.2% of votes in the Senate race, with some straggling votes still being counted.
"The outcome tells me the message and vision of our campaign was the right one for rural California and the district's voters," Caballero said in a statement.
In the 14th Senate District, where Democrats have a similarly big advantage in voter registration, incumbent Republican Sen. Andy Vidak of Hanford conceded Monday that he has lost to Democratic challenger Melissa Hurtado, a member of the Sanger City Council, who received 54% of the votes tallied so far.
"It has been the greatest honor of my life these past five years to represent my friends and neighbors in the 14th State Senate District," Vidak said in a statement to the Associated Press, which declared Hurtado the winner.
One seat held by Democrats could be vacant early next year. Sen. Ricardo Lara (D-Bell Gardens) continues to lead Steve Poizner, a former Republican turned independent, in the race for state insurance commissioner. Even so, Democrats would maintain their supermajority status.
In the Assembly, some races appeared too close to call still. Incumbent Republican Assemblyman Matthew Harper of Huntington Beach was trailing Democratic challenger Cottie Petrie-Norris in the 74th District on Monday by a little more than 1,800 votes.
Gerston warned that having Democratic supermajorities does not necessarily mean it will be easy for liberals to push through their agenda, because business groups — from oil companies to the pharmaceutical industry — have actively courted moderate Democrats.
Susan Rubio, a business-aligned Democrat and member of the Baldwin Park City Council, received 52% of the vote in the latest count to edge out more left-leaning Democrat Mike Eng, a former assemblyman representing the San Gabriel Valley.
Rubio's candidacy was helped by a $2.8-million independent expenditure campaign funded almost entirely by oil companies, including Chevron Corp., Phillips 66, Valero Energy Group and Tesoro Companies Inc.
"Increasingly the fight in the Legislature is between the more liberal Democrats and the moderate Democrats," Hussey said. "A lot of business and interest groups have given up on Republicans and started giving money to Democrats in these races."
Having a supermajority in both houses of the Legislature will help Newsom on strictly party-line issues, experts said.
But the election of moderate Democrats backed by businesses "may make it more difficult for Newsom to gain those absolute two-thirds majorities on some key issues," Gerston said. "In California, more than ever, it's not only whether a legislator is a Democrat; it's what kind of Democrat."
Twitter: @mcgreevy99
Get our Essential Politics newsletter
The latest news, analysis and insights from our politics team.
You may occasionally receive promotional content from the Los Angeles Times.