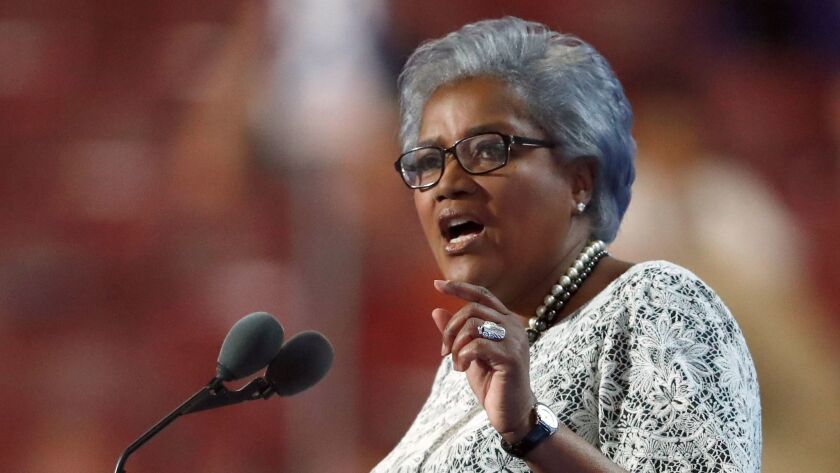 Reporting from San Francisco —
After publishing an unfettered memoir critiquing Hillary Clinton's failed presidential bid, former Democratic Party leader Donna Brazile on Thursday doubled down on her criticism of the nominee before a receptive audience in deepest-left California.
Brazile's tell-all book has revived sour election day memories for Democrats, including her claim that the party gamed the nomination process in Clinton's favor.
In one of the most jarring bombshells, Brazile wrote that she found the Clinton campaign so inept, and the former secretary of State's health so concerning after she fainted, that she considered having then-Vice President Joe Biden take over as the White House nominee.
"My Democratic friends are mad at me. So what? No gumbo for them," said Brazile, a Louisiana native, prompting a laugh at a sold-out book tour event Thursday night at the Commonwealth Club in San Francisco.
For most of the evening, Brazile focused on the extent to which the party and Clinton campaign were handicapped by the Russian cyberhacking that hijacked party emails and usurped social media platforms to smear Clinton, saying she wrote the book as a warning that American democracy was under attack. The threat still exists, she said, because of the indifference of a president who refuses to acknowledge it happened, let alone take measures to prevent it.
The audience of close to 300, former Assembly speaker and San Francisco Mayor Willie Brown among them, was regaled by Brazile's behind-the-scenes tales of the demolition-derby of a campaign, and the costly mistakes made by Clinton's staff.
The revelations in Brazile's book come on the one-year anniversary of Clinton's upset loss to Republican Donald Trump, rekindling the animosity that still burns among many loyalists for Sen. Bernie Sanders who have accused the party of working feverishly to undercut his populist campaign.
More than 100 Clinton campaign aides signed a letter firing back at Brazile, most forcefully over her questioning whether Clinton was fit to be the nominee after she collapsed outside a Sept. 11 commemoration ceremony in New York City. They accused Brazile of buying into "false Russia-fueled propaganda."
The book by the longtime Democratic insider, "Hacks: The Inside Story of the Break-ins and Breakdowns That Put Donald Trump in the White House," was published on Tuesday and caused a stir almost immediately after the first excerpts went public.
During her stop in San Francisco, Brazile described Clinton's campaign advisors as heavy-handed and condescending. They were enamored with metrics and micro-targeting and largely saw Brazile, a veteran of on-the-ground, retail campaigning, as a relic from politics past, she said.
"Let's give Donald Trump some credit. I know you're all going to boo me. He cracked the blue wall. He saw every day what we saw. He saw Hillary's campaign flying over Michigan and Wisconsin," said Brazile, referring to two pivotal states Clinton lost.
Given the outcome, veteran Democratic political consultant Ace Smith said that Democrats would be wise to take a deep breath and study what Brazile has to say.
"Donna Brazile is one of the truly brilliant minds in the Democratic Party, and she's venting her frustration on the way she was treated, and, frankly, she has every right to do so," said Smith, who worked for Clinton's 2008 presidential campaign. "And, frankly, people should sit up, take notes and change things instead of carping about it."
In the book, Brazile writes that the Clinton campaign in essence took over the Democratic National Committee, dictating staffing moves, completely controlling the purse strings of the party and crafting a fundraising agreement between her campaign and the DNC that was pivotal in keeping the party afloat financially.
"They're mad at me because I said we should never have a campaign where one candidate chooses how to spend money for a political party before [she is] the nominee," Brazile said.
During the hourlong book-tour event, Brazile also took a shot at the Democratic National Party's hyperfocus on pivotal swing states during presidential races, saying the party raised nearly $1 billion and it was spent only in a "handful of states."
She noted that her home state of Louisiana didn't receive party funding for organizing, voter registration campaigns or to hire political strategists. Brazile said the Democratic victories in Tuesday's election, including the hotly contested governor's race in Virginia, proved that the party can win races in every state.
"We have to become relevant. We have to run candidates at every level," said Brazile, who wants to see the party active in all 50 states. "We have ceded too much ground to Republicans in the South."
She criticized the Democratic Party for courting young voters at election time, then allowing them to drift away after ballots are cast. Brazile also said that the Democratic Party should treasure veteran politicians such as House Minority Leader Nancy Pelosi (D-San Francisco) and Sen. Dianne Feinstein (D-San Francisco), but it also needs to make room for young generations of candidates. Otherwise, the party will slowly disintegrate.
"The bench is shrinking," she said. "I don't want the Dianne Feinsteins and the Nancy Pelosis of the world to leave the room. I want them to scoot over."
Brazile took the reins of the DNC in July 2016 after its chairwoman, Debbie Wasserman Schultz, resigned when internal DNC emails were leaked showing that party staffers were discussing tactics to douse the Sanders campaign.
Brazile herself faced allegations of favoritism toward Clinton when she worked as a CNN political analyst. Additional leaked emails revealed that, before a CNN town hall in March 2016, Brazile provided Clinton with questions that would be asked during the event. As a result, the cable network fired Brazile.
Twitter: @philwillon
ALSO:
Former party chief Donna Brazile stokes divisions among Democrats
Trump vs. Clinton: Why are we still obsessed a year later?
Democratic surge in suburbs forecasts a potentially rough 2018 for Republicans
---
UPDATES:
Nov. 10, 7:50 a.m. This article was updated with additional comments from Donna Brazile about the Democratic Party.
This article was originally published at 9:20 p.m. Nov. 9.
---