California's top talkers: Which congressman spoke the most in 2015?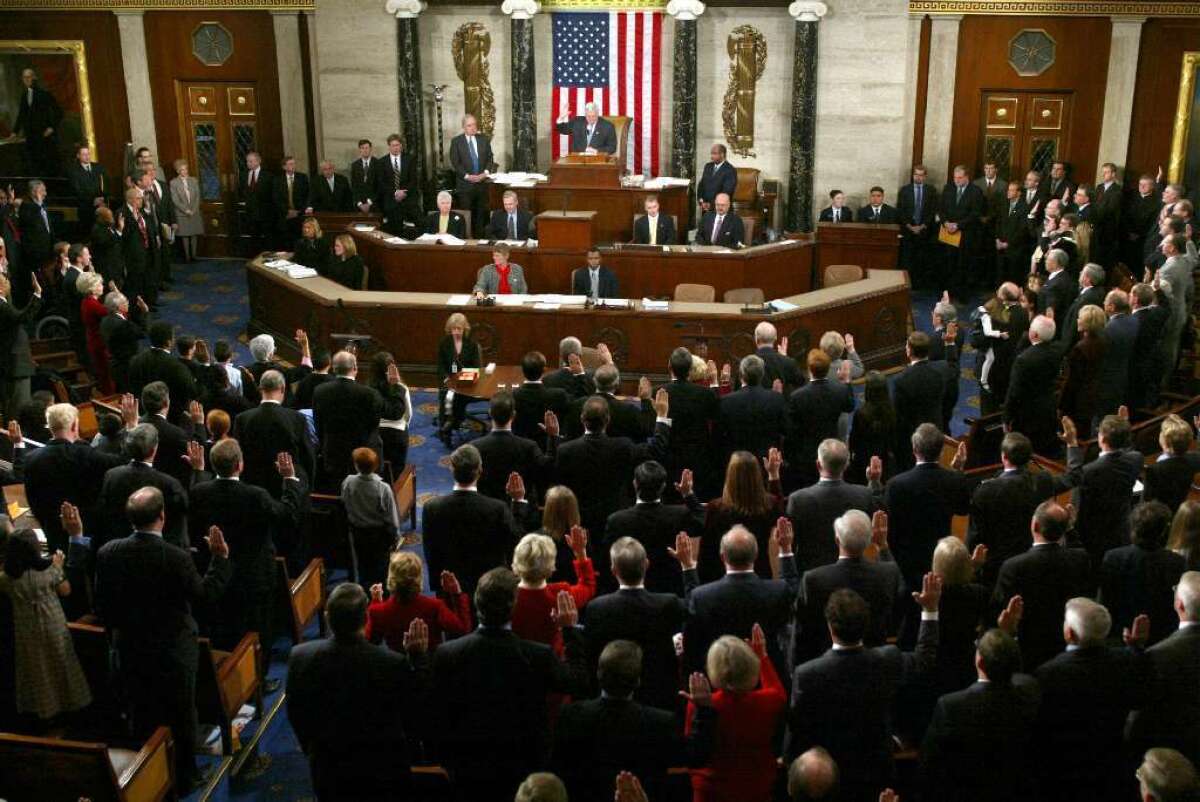 Rep. Doug LaMalfa apparently has a lot to say.
The Richvale Republican stood on the House floor and addressed colleagues on 72 of 157 legislative days this year, more than any other member of California's congressional delegation.
LaMalfa, a farmer who serves on the Agriculture and Natural Resources committees, often talks about rural or agricultural issues. His family has been growing rice in Richvale since the early 1930s. He often sounds like a small-town politician directly relating events in Washington to individuals back home.
His Northern California district stretches from the Interstate 80 crossing of the mountainous Nevada border north of Lake Tahoe, across the northern Sierra Nevada, and takes in areas west of Interstate 5 in Shasta and Siskiyou counties.

The number of speeches LaMalfa delivered this year in Congress is especially notable considering the Golden State's 53-member House delegation includes figureheads from both major parties, Majority Leader Kevin McCarthy and Minority Leader Nancy Pelosi.
CSPAN, the cable network that covers congressional goings-on, posts an annual list of the number of days members speak on the House or Senate floors. Some may have spoken more than once a day.
The count does not include committee meetings, some of which CSPAN doesn't air. It also does not include speeches of up to an hour after legislative business is done for the day about topics of lawmakers' choosing, known as special orders.
Had the CSPAN count tallied those, Rep. John Garamendi might have been a contender for top talker. The Walnut Grove Democrat is a particular fan, delivering 87 special orders this year, more than any other House member.
Garamendi's special order speeches have ranged from the climate talks that took place in Paris earlier this month to infrastructure needs on Interstate 5 near Sacramento.
CSPAN's count includes when members ask for a moment of silence to recognize a tragic event, such as when Rep. Pete Aguilar (D-Redlands) and most of the California delegation went to the front of the House chamber last week to recognize the 14 people killed in San Bernardino earlier this month.
LaMalfa is the third-most active member of the House, behind only Reps. Glenn Thompson (R-Pa.), who spoke on 110 days, and Sheila Jackson Lee (D-Texas), who spoke on 87 days.
Over the year, the second-term congressman gave a "one minute" speech on the House floor every few days, talking about what legislation would do for his Northern California district, recognizing individuals or events, and making his opinion known on international issues.
They begin with the line "Mr. Speaker, I ask unanimous consent to address the House for one minute and to revise and extend my remarks." At that point, members can talk about whatever they want for up to a minute, and the text of the brief speech is included in the Congressional Record.
Speeches occasionally last too long, and members are given a bit of leniency before the gavel taps in warning.
Snippets from the floor speeches often appear in LaMalfa's weekly email newsletter, such as this clip of him announcing the names of students he has nominated to attend military service academies.
His most recent speech, about how a tax package passed by the House would benefit his constituents, was on Dec. 18, the day Congress left for the year.
McCarthy (R-Bakersfield) is the second-most prolific speaker in the delegation, speaking on 44 legislative days. Pelosi (D-San Francisco) was the fifth-most active, speaking on 38 days.
SIGN UP for our free Essential Politics newsletter >>
Rep. Paul Cook (R-Yucca Valley) was 2015's least-talkative Californian, speaking on the House floor just once this year about swapping land on behalf of the Morongo Band of Mission Indians. That was June 13, and he was joined by Rep. Raul Ruiz (D-Palm Desert), who also supports the legislation that traded privately owned land surrounded by the Morongo reservation for some land outside the reservation.
Sen. Barbara Boxer was the more vocal of the state's two senators. She spoke on the floor 40 days. Sen. Dianne Feinstein spoke 21 days.
With speeches on 148 of 157 days, Majority Leader Mitch McConnell of Kentucky spoke most frequently on the Senate floor, followed by Senate Minority Leader Harry Reid of Nevada, who spoke on 127 days.
Top talkers
Here is the CSPAN tally of the number of days each member of California's delegation spoke
72 Rep. Doug LaMalfa (R-Richvale)
44 Rep. Kevin McCarthy (R-Bakersfield)
40 Rep. Barbara Lee (D-Oakland)
39 Rep. Janice Hahn (D-Los Angeles)
38 Rep. Nancy Pelosi (D-San Francisco)
32 Rep. Lois Capps (D-Santa Barbara)
30 Rep. Maxine Waters (D-Los Angeles)
28 Rep. Jeff Denham (R-Turlock)
27 Rep. Tom McClintock (R-Elk Grove)
26 Rep. Ed Royce (R-Fullerton)
26 Rep. Scott Peters (D-San Diego)
25 Rep. Dana Rohrabacher (R-Costa Mesa)
24 Rep. Xavier Becerra (D-Los Angeles)
24 Rep. Alan Lowenthal (D-Long Beach)
21 Rep. Mimi Walters (R-Irvine)
21 Rep. Brad Sherman (D-Sherman Oaks)
20 Rep. Loretta Sanchez (D-Santa Ana)
20 Rep. Pete Aguilar (D-Redlands)
19 Rep. Eric Swalwell (D-Dublin)
19 Rep. Mike Thompson (D-St. Helena)
18 Rep. John Garamendi (D-Walnut Grove)
18 Rep. Mark Takano (D-Riverside)
18 Rep. Sam Farr (D-Carmel)
17 Rep. Judy Chu (D-Monterey Park)
17 Rep. Jerry McNerney (D-Stockton)
17 Rep. Jackie Speier (D-Hillsborough)
15 Rep. Jim Costa (D-Fresno)
15 Rep. Adam B. Schiff (D-Burbank)
14 Rep. Tony Cardenas (D-Los Angeles)
13 Rep. Jared Huffman (D-San Rafael)
13 Rep. Zoe Lofgren (D-San Jose)
12 Rep. Doris Matsui (D-Sacramento)
12 Rep. Ami Bera (D-Elk Grove)
12 Rep. Susan A. Davis (D-San Diego)
12 Rep. Mark DeSaulnier (D-Concord)
11 Rep. Steve Knight (R-Palmdale)
11 Rep. Michael M. Honda (D-San Jose)
10 Rep. Ted Lieu (D-Torrance)
10 Rep. Julia Brownley (D-Westlake Village)
10 Rep. Duncan Hunter (R-Alpine)
10 Rep. Lucille Roybal-Allard (D-Downey)
10 Rep. Grace F. Napolitano (D-Norwalk)
9 Rep. Linda T. Sanchez (D-Whittier)
9 Rep. David Valadao (R-Hanford)
9 Rep. Devin Nunes (R-Tulare)
8 Rep. Darrell Issa (R-Vista)
8 Rep. Ken Calvert (R-Corona)
7 Rep. Norma J. Torres (D-Pomona)
7 Rep. Raul Ruiz (D-Palm Desert)
7 Rep. Karen Bass (D-Los Angeles)
5 Rep. Juan Vargas (D-San Diego)
3 Rep. Anna G. Eshoo (D-Menlo Park)
1 Rep. Paul Cook (R-Yucca Valley)
Follow @sarahdwire on Twitter
Read more about the 55 members of California's delegation at latimes.com/politics
ALSO:
---
Life is stressful. Our weekly mental wellness newsletter can help.
You may occasionally receive promotional content from the Los Angeles Times.