Newsletter: Essential Politics: Covering the 55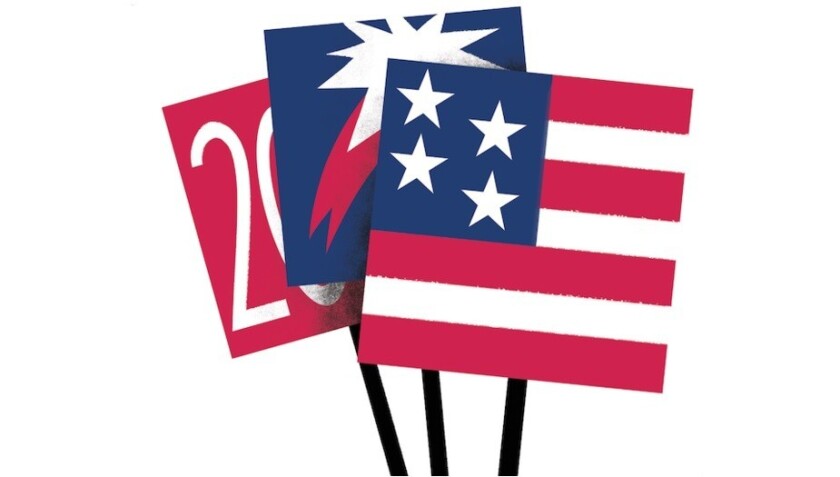 I'm Christina Bellantoni, the Essential Politics host getting your week started.
California's congressional delegation is the largest — with 53 in the House and Barbara Boxer and Dianne Feinstein in the Senate. The House majority and minority leader each hail from the Golden State, a powerful punch, even if one of them isn't going to be speaker.
The California delegation is a diverse bunch that represents one in 10 Americans and important national industries — from entertainment and agriculture to technology and tourism. It is the No. 1 delegation on the Roll Call Clout Index ranking the states by their influence.
I've written quite a bit about our new politics project here at the Los Angeles Times, and a major component will be more robust coverage of the 55, from Anna Eshoo to Mimi Walters and the competitive congressional races next year.
Take, for example, Alice Walton's story in Sunday's California section about Rep. Janice Hahn. The Democrat is aiming to leave behind her job in Congress to return home to Los Angeles as a county supervisor representing 2 million people — more than double her current constituency.
Walton spent the day with Hahn in Washington to help educate our readers on what it's like to campaign for local office, from nearly 3,000 miles away. That's the kind of piece we want to do more of in the coming weeks and months, just over one year out from Election Day.
California voters time and again say they don't feel connected with their members of Congress, and participation rates in local elections are near rock bottom.
The new latimes.com/politics seeks to be a hub to help readers better understand and connect with local, state and federal politics, learning about the people within government and how those people influence their own lives.
Lisa Mascaro and Noah Bierman are doing terrific work covering Congress from our D.C. bureau, and they'll be joined starting today by Sarah Wire. We're calling her beat "The 55," and the idea is to help Californians learn more about their members of Congress, what they are working on and what they are like as human beings.
And as readers of Essential Politics would notice, here in Los Angeles reporter Javier Panzar is keeping an eye on California politics at the local and congressional level.
Follow them @sarahdwire and @jpanzar and feel free to send your story ideas, news tips and feedback to politics@latimes.com.
While we're on the subject of Congress, over the weekend House Minority Leader Nancy Pelosi told the Texas Tribune that her Democrats are open to joining with some Republicans to elect a consensus choice as the next speaker.
"I think in our caucus there is interest and support, there's an openness to a bipartisan approach to this," Pelosi said in an interview with reporter Abby Livingston at the Texas Tribune Festival.
Don't miss Mascaro's excellent front-page look at the seeming standoff between Rep. Paul Ryan and the House Freedom Caucus. As the House GOP ponders its options following a weeklong recess, it could mean Speaker John Boehner sticks around longer than he planned until the mess gets sorted out.
TODAY'S ESSENTIALS
-- Gov. Jerry Brown is moving into a new old home, Phil Willon and Chris Megerian write from Sacramento.
-- Common ground on transportation appeared elusive Friday when lawmakers held a hearing in hopes of getting negotiations back on track, part of a special session that has stretched into the Legislature's fall recess, Megerian reports.
-- Columnist George Skelton says lawmakers shouldn't dally in adjourning the special legislative session on healthcare.
-- Paige St. John has an investigative piece on the Monday front page finding that while Brown has repeatedly said California's wildfires are more frequent and less predictable due to global warming, climate science shows no such link.
-- Our Editorial Board is Grading Sacramento. See how Assembly Speaker Toni Atkins fared.
-- How will the new Motor Voter law work? Melanie Mason explains.
-- Seema Mehta finds Sen. Ted Cruz is wooing supporters who had seemed like Sen. Rand Paul people.
-- Reps. Ted Lieu and Mark DeSaulnier called for the Department of Justice to probe what Exxon knew about climate change following the kickoff of our investigation into the matter.
-- Kurtis Lee identifies the powerful union Democrats need to win in Nevada.
-- President Obama is a total geek. Christi Parsons and Michael Memoli have the details.
LOGISTICS
Did someone forward you this? Sign up here to get Essential Politics in your inbox daily. And keep an eye on our new politics page throughout the day for the latest and greatest. And are you following us on Twitter at @latimespolitics? Please send thoughts, concerns and news tips to politics@latimes.com.
---
Get our Essential Politics newsletter
The latest news, analysis and insights from our politics teams from Sacramento to D.C.
You may occasionally receive promotional content from the Los Angeles Times.