Young Democrats find a topic that connects with millennials: Massive debt
Millennials might look at California Rep. Eric Swalwell and think he's just another member of Congress, albeit one who looks younger than most of his colleagues. But then he talks about his nearly $100,000 in student loan debt.
"A lot of people in our generation think of Congress as an institution made up of people that don't look like them, or go through experiences they have to go through. When you see members who do have student loan debt, you think, OK, maybe they do get it," Swalwell said during an interview in his Capitol Hill office.
A year ago, the 35-year-old Democrat from Dublin, Calif., was tasked by House Democrats to lead a group of young — and youngish — lawmakers to connect Congress with the loosely (and poorly) defined generational group known as millennials, people in their 20s and early 30s.
After a year of stops at college campuses, start-ups and at least one brewery, the group, called the Future Forum, has heard a single resounding concern from millennials again and again.
"They are in financial quicksand across the country; Manchester [N.H.] to Los Angeles, from Seattle to Denver," Swalwell said. "They have different backdrops but the same challenges. Student loan debt seems to be the one [thing] that no matter where you go, that is holding a generation back."
Swalwell, who was first elected in 2012, said he's just recently knocked his six-figure student loan debt from earning undergraduate and law degrees at the University of Maryland below $100,000.
The Future Forum members hear stories from people they meet about ways student loan debt has stalled life's milestones, he said.
"Starting families later, not being able to buy a home, not starting a business, it's all kind of the same reason: less money at the end of every month to do it because so much of it's going out the door to student loan payments," Swalwell said.
The meetings have spurred several pieces of legislation and are helping Swalwell's colleagues (In Congress, the median age is 57 in the House and 61 in the Senate) understand why they should pay attention to the up and coming generation, he said.
The 18 Democrats in the Future Forum include California Reps. Pete Aguilar, 36, Redlands; Ted Lieu, 47, Torrance; and Raul Ruiz, 43, Palm Desert; along with Reps. Joaquin Castro, 41, Texas; Tulsi Gabbard, 35, Hawaii; Joe Kennedy, 35, Massachusetts; Patrick Murphy, 33, Florida.
---
Like a lot of millennials, Swalwell is used to sharing his life publicly on social media.
Snapchat followers see his daily routine. Twitter and Instagram users get a photo of his feet each time he hops on a plane (a habit started as a campaign promise to return home each weekend that spurred the hashtag #Swalwelling).
---
---
Connecting with people where they are
Future Forum stops are not your grandfather's town-hall meetings.
Attendees might sip at a local brewery or happy hour along with the members of Congress, share selfies with the hashtag #FutureForum or text responses to poll questions that populate a word cloud about the biggest concerns of people in the room.
Normally the main concerns are student debt or climate change, Swalwell said, but at an event in Boston last spring, there was another main tension: Quarterback Tom Brady's suspensions for playing with a deflated football.
The meetings are collaborative, he said. Members sit down with small groups of attendees to hear their ideas and then the larger group comes together to discuss policy.
"We really do believe in group-texting these problems, that we can group-text a solution," Swalwell said.
They've met at Amazon, toured YouTube and stopped at college campuses in Seattle, Houston, Denver and Boston. In Colorado, they met millennials at Avery Brewing and at a cannabis start-up.
A whiteboard in Swalwell's office ticks off the group's next events in Providence, R.I., Chicago, Baltimore and Michigan. Swalwell is talking with studios in the Los Angeles area about a "millennials behind the camera" event this fall.
Rep. Ruben Gallego, 36, (D-Ariz.) said people are often surprised when House members show up who aren't much older than they are.
"They like the fact that we can relate to them," he said. "I have student loan debt… Eric Swalwell has student loan debt that's never going to go away, so they like the fact that we're approachable, we're there to listen."
At 43, Ruiz is on the older side, but he said young people seem to relate when they hear he's still paying for his Harvard medical school education.
"It's definitely a connection," Ruiz said. "It's sort of like, I feel the pain because I'm living it now. What you're afraid of, I'm going through and so we need to make sure that future students don't feel that pain."
---
Following it up in Washington
The meetings already have spurred policy.
A Colorado millennial's question prompted Swalwell to explore ways to change student loan forgiveness rules for workers in public sector jobs. Currently, people in public service jobs who pay federal student loans on time for about 10 years can get the remaining balance forgiven. The attendee, who works at a Denver nonprofit, asked why a portion isn't being forgiven if a person leaves public service early.
Swalwell and Rep. Scott Peters, 57, (D-San Diego) have introduced legislation to let public and private colleges and universities compete for Small Business Administration grants to build business incubators on campus so students can get practical experience running a business.
Another bill would double the amount of student loan interest people can claim on their taxes from $2,500 to $5,000, and remove the cap on how much they can earn to qualify.
"If you live in the Bay Area or in the L.A. area, your first job could pay $70,000 a year and you're still living with your parents," Swalwell said. "Unless we went to a regional system, where you use a regional cost of living I don't think it's fair to have that cap."
Other legislation would increase Pell grant awards, allow student loans to be refinanced like mortgages or fund colleges based on tuition rates.
Many of these issues are popping up on the campaign trail, as Sen. Bernie Sanders overwhelmingly wins the votes of millennials as he seeks the Democratic presidential nomination.
---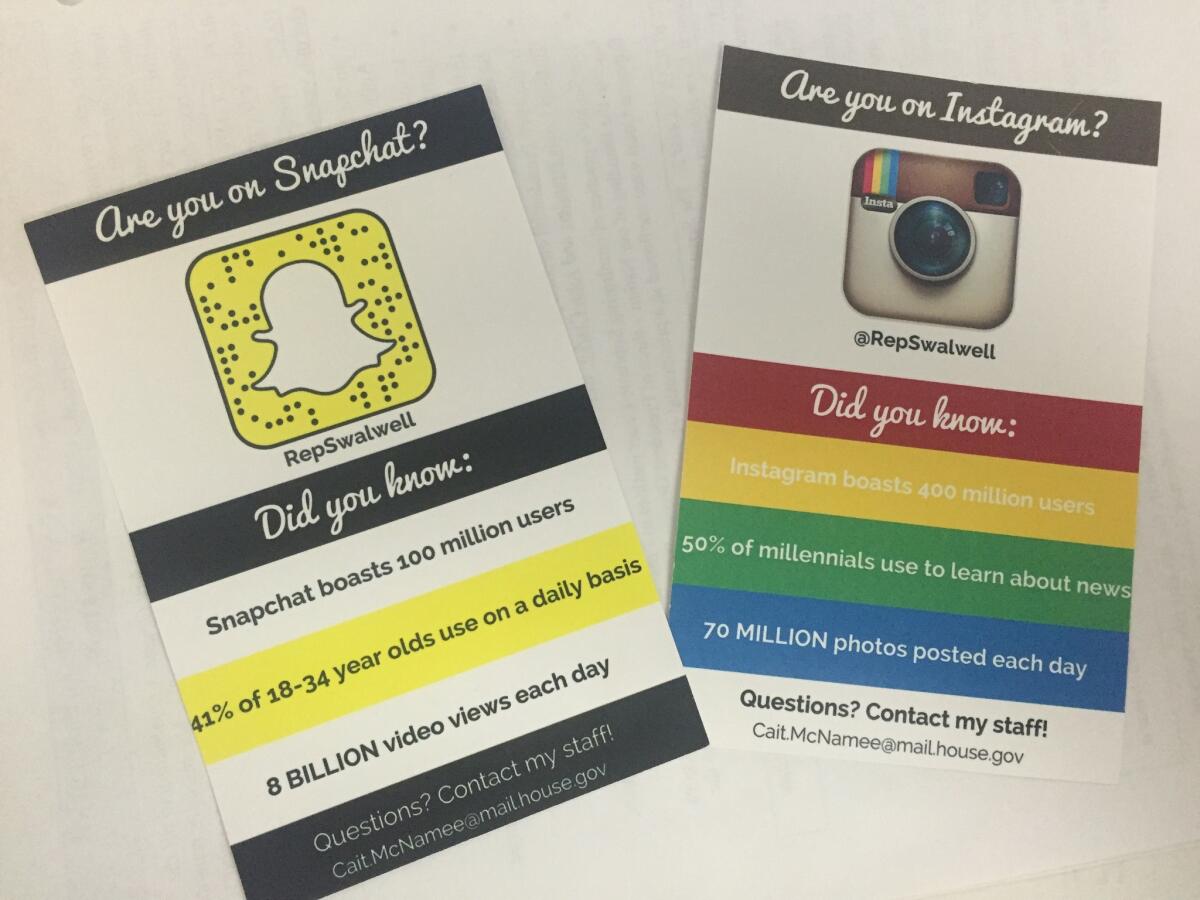 Social media converts
Swalwell is trying to bring his colleagues into the millennial world as well, calling himself "in-house IT" for the Democratic caucus.
In the House chamber recently, Swalwell handed out fliers with statistics about Instagram and Snapchat that directed members to contact his staff about setting up accounts.
He knows of at least one convert, and says Rep. Diana DeGette (D-Colo.) joined Snapchat after watching him use it during several stops in her state.
He tells House members considering Snapchat and Instagram that they need to be authentic with millennials.
"They just want you to be real. They just want you to shoot straight," Swalwell said. "If you try to B.S. them, they are going to go to Google and they have 100 sources that are going to figure out whether you are being real with them or not."
Future Forum members periodically meet on the House floor to formally discuss topics affecting millennials. Swalwell polls his Twitter followers for suggestions of what to talk about. The hour-long discussions are shown on CSPAN and often draw in older members.
While the Future Forum is part of the House Democratic Policy and Communications Committee and will be present at the Democratic National Convention in Philadelphia, members try not to proselytize the party at Forum meetings, Swalwell said.
"We don't talk politics. We wrap every listening session by telling them, we don't care at all whether you leave here and register as a Democrat, a Republican or as an independent," he said. "We know as millennials, or [as the] millennial-minded, that we're a stubbornly independent generation. We just want them to engage, we just want them to show up."
Follow @sarahdwire on Twitter
Read more about the 55 members of California's delegation at latimes.com/politics
ALSO:
Female politicians are losing ground in California
Harry Potter, Padres opening day and dog park visits: How members of Congress spent spring break
'We have a moral obligation': Lawmakers want the U.S. to provide attorneys for immigrant children
Get our Essential Politics newsletter
The latest news, analysis and insights from our politics team.
You may occasionally receive promotional content from the Los Angeles Times.