Newsletter: Essential Politics: Republican defections and crying babies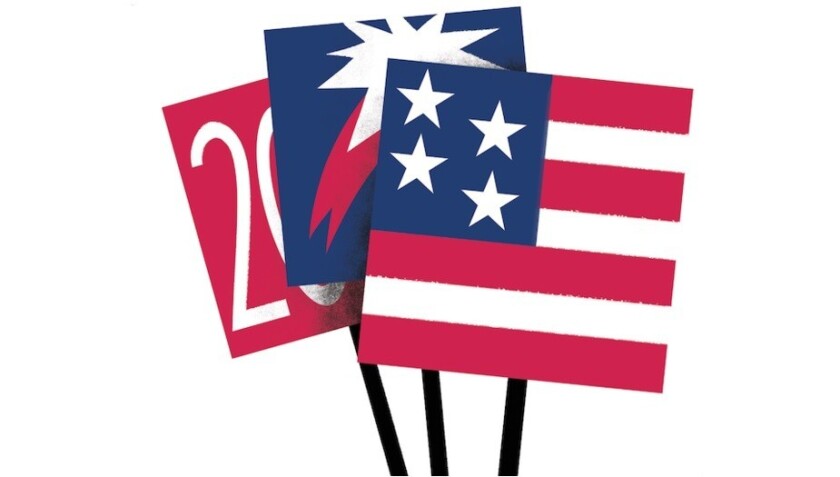 What do babies, profanity and a lawsuit saga have in common?
If it's 2016, the answer is the Republican presidential nominee.
I'm Christina Bellantoni, and this is Essential Politics, a guide to the newsy — and sometimes wacky — happenings in the political world.
The biggest thing that happened to Donald Trump came late Tuesday when the San Diego judge who has been the target of the politician's repeated criticism blocked the release of Trump's testimony videos in the Trump University legal battle.
U.S. District Judge Gonzalo Curiel denied the request from news organizations for transcripts and video of Trump's depositions. He said there might be legitimate public interest, but the likely media frenzy that would come had a greater potential for harm.
Also making headlines Tuesday were a cursing child at a Trump rally, and a crying baby that the billionaire real estate mogul at first called "beautiful" and then added when it didn't stop, "Actually … You can get the baby out of here."
DEFECTING REPUBLICANS
President Obama suggested Tuesday that Republicans should pull their endorsements of Trump, calling him "unfit to serve" in the White House.
That's probably not the reason a top aide to Gov. Chris Christie said Tuesday that she'll be voting for Hillary Clinton. "I'm voting for her because I don't believe it's enough to say you aren't for Donald Trump," said Maria Comella.
Also opting out was retiring New York Rep. Richard Hanna.
But the biggest defection of the day was Meg Whitman, the Hewlett-Packard chief executive who ran unsuccessfully for governor of California in 2010. "As a proud Republican, casting my vote for president has usually been a simple matter. This year is different," she wrote on Facebook. "Donald Trump's demagoguery has undermined the fabric of our national character."
Meanwhile, Trump declined to endorse Sen. John McCain or Speaker Paul Ryan for re-election.
BACK TO THE BANK
Clinton returns to California to raise money for the campaign later this month.
The marquee event is a star-studded $33,400-per person luncheon at the Los Angeles home of Oscar winning actor Leonardo DiCaprio on Aug. 23. According to an invitation obtained by The Times, DiCaprio's other hosts include Jennifer and Tobey Maguire, Jennifer Aniston, Scooter and Yael Braun, Shonda Rhimes and Chris Silbermann.
There is an Aug. 22 evening fundraiser in Beverly Hills chaired by Megan and Peter Chernin, Willow Bay and Bob Iger, Marilyn and Jeffrey Katzenberg, Cheryl and Haim Saban, Alba and Thomas Tull, Ellen and Jon Vein and Laura and Casey Wasserman. Minimum contribution levels are $2,700. Co-hosts get a reception with the candidate and must give or raise $27,000. Hosts must give $100,000 per couple, and they get a photo and dinner with Clinton.
There are two Aug. 23 fundraisers in Laguna Beach. One is hosted by Frank Barbaro, Mike Levin and Melahat Rafiei and has similar contribution levels to the Beverly Hills event. Proceeds first go the campaign, then a Democratic National Committee fund, then state parties.
The other Laguna Beach fundraiser that day is a lunch hosted by Janet Keller and Chantal and Stephen Cloobeck. It costs $33,400 or $100,000 per couple.
Clinton announced Tuesday she raised $90 million in July for her campaign and other Democrats.
Get the latest from the campaign trail on Trail Guide and follow @latimespolitics. Check our daily USC/Los Angeles Times tracking poll at the top of the politics page.
DNC WOES CONTINUE
The fallout from leaked emails that cost Debbie Wasserman Schultz her job as chairwoman of the Democratic National Committee continued Tuesday, with the departures of three other high-profile party officials. Chief Executive Amy Dacey, Chief Financial Officer Brad Marshall and Communications Director Luis Miranda all left their posts at the DNC, departures tied to the emails, a source told The Times.
OOPS, WRONG WINNER!
Secretary of State Alex Padilla's office accidentally told two congressional candidates that they would be on the November ballot, despite finishing in third place, Sarah Wire reports.
Democrat Joe Shammas said he bought signs and posters, and even resumed campaigning before he found out it was a mistake.
For the latest on California politics, watch our our Essential Politics news feed.
HAPPENING IN L.A.
Billionaire Democratic political activist and potential gubernatorial candidate Tom Steyer toured skid row Tuesday with Los Angeles County Supervisor Mark Ridley-Thomas, who said afterward that he is courting Steyer's support for a potential March sales tax initiative for homeless services.
And Los Angeles County voters will be asked in November to approve a half-cent sales tax increase that would continue indefinitely to fund a major expansion of Southern California's transit network.
TODAY'S ESSENTIALS
— Trump said Tuesday he has no regrets for taking on the Khan family.
— Continuing the national trend, South Bay GOP assemblyman David Hadley (R-Manhattan Beach) says says he won't vote for Clinton or Trump in November, calling his own party's nominee a "recurring litany of insults, provocation and polarization."
— Democratic congressional challenger Bryan Caforio called on Republican Rep. Steve Knight to disavow Trump after the Khan dust-up. Knight's campaign would only say the congressman has not endorsed anyone in the presidential contest. He may not endorse before November, the campaign said.
— The Supreme Court has its first chance this week to weigh in on the legal controversy over transgender students, as a Virginia school board seeks an emergency order exempting it from the Obama administration's policy to allow students to use bathrooms "consistent with their gender identity."
— Who will win the November election? Give our Electoral College map a spin.
LOGISTICS
Miss yesterday's newsletter? Here you go. Did someone forward you this? Sign up here to get Essential Politics in your inbox daily. And keep an eye on our politics page throughout the day for the latest and greatest. And are you following us on Twitter at @latimespolitics?
Please send thoughts, concerns and news tips to politics@latimes.com.
---
Get our Essential Politics newsletter
The latest news, analysis and insights from our politics teams from Sacramento to D.C.
You may occasionally receive promotional content from the Los Angeles Times.