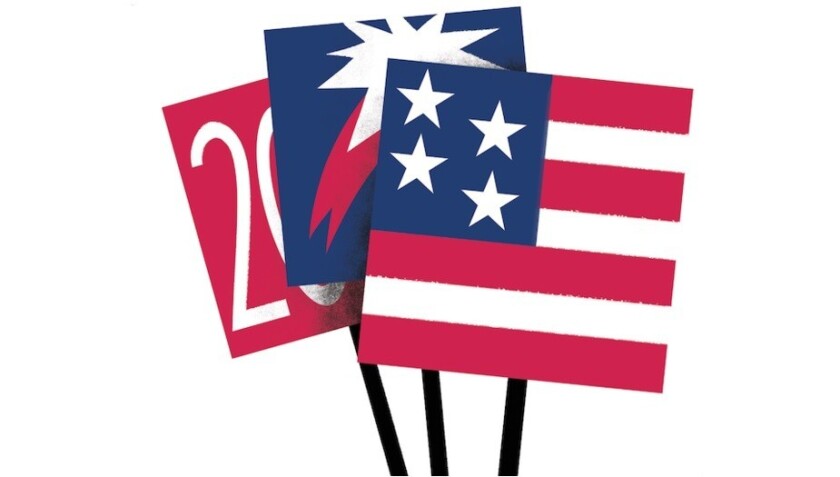 A Nigerian billionaire and a famed basketball player drew the most attention on the presidential campaign trail over the weekend.
I'm Christina Bellantoni. Welcome to Essential Politics, in what might be the final quiet week of this election.
On the front page of the Los Angeles Times on Sunday, Joseph Tanfani introduced readers to the global philanthropy of Gilbert Chagoury, one of Africa's richest men, and his ties to the Clinton family dating back to the 1990s. This is a man whose name is on a gallery at the Louvre and a medical school in Lebanon, who owns a seven-bedroom hilltop mansion in Beverly Hills, and who has a high-level network of friends from Washington to Lebanon to the Vatican, where he serves as an ambassador for the tiny island nation of St. Lucia.
Over the years Chagoury has been writing large checks, including a contribution of at least $1 million to the Clinton Foundation.
From Tanfani's story:
By the time Hillary Clinton became secretary of State, the relationship was strong enough for Bill Clinton's closest aide to push for Chagoury to get access to top diplomats, and the agency began exploring a deal, still under consideration, to build a consulate on Chagoury family land in Lagos, Nigeria.
But even as those talks were underway, bureaucrats in other arms of the State Department were examining accusations that Chagoury had unsavory affiliations, stemming from his activities and friendships in Lebanon. After a review, Chagoury was refused a visa to enter the U.S. last year.
We also posted in full the billionaire's detailed response to the investigation. He says, in part, he can't understand what all the fuss over the foundation is about.
Another big story this weekend happened as Donald Trump was criticized for his comments about the murder of Chicago Bulls player Dwyane Wade's sister, after he linked the tragedy to his recent push attempting to win over black voters by highlighting urban plight. "Just what I have been saying. African-Americans will VOTE TRUMP!" he tweeted when acknowledging the shooting. The dustup continued into the weekend.
In Iowa, Trump returned to tough immigration talk, telling the crowd at Sen. Joni Ernst's Roast and Ride that when it comes to "criminal illegal immigrants … We're going to get rid of these people."
The GOP nominee plans a speech on immigration Wednesday.
TROUBLE IN TEXAS
Molly Hennessy-Fiske takes readers to Texas' 23rd Congressional District, where freshman Republican Rep. Will Hurd is trying to outperform Trump and save his seat while Democrats consider his turf part of their best-case scenario attempts to win back control of the U.S. House.
For former Rep. Pete Gallego, attempting to win back his seat, he tries to talk about issues that matter to residents of the sprawling West Texas district. But the Democrat finds there's one focus when he goes out to speak with voters: "The No. 1 local issue is Donald Trump."
Get the latest from the campaign trail on Trail Guide and follow @latimespolitics. Check our daily USC Dornsife/Los Angeles Times tracking poll at the top of the politics page.
MARK LENO: 'I FIGHT FOR THE UNDERDOG'
This week marks the final days in the Legislature for a number of powerful lawmakers whom term limits are sending back home. Few have been as prominent on more issues than San Francisco Democrat Sen. Mark Leno, a fierce advocate on everything from LGBT issues to state budget priorities and beyond.
John Myers takes a closer look at Leno's long record in Sacramento and how a rabbinical school dropout ended up being one of California's most impactful lawmakers of the last decade.
THE STATE'S ENERGY REGULATOR CAN STILL HAVE PRIVATE MEETINGS WITH ENERGY COMPANIES
Under a major deal between Gov. Jerry Brown and lawmakers to overhaul the state's scandal-ridden utility regulator, private communications between California Public Utilities Commission officials and energy companies will get more transparent.
But some advocates and observers are worrying that the new restrictions don't go far enough, Liam Dillon reports. One consultant said that because even small decisions could lead to tens of millions of dollars in profit for energy companies, the entire practice should be banned.
One bill that's part of the overhaul got sent to Brown's desk last week.
WHAT HAPPENED IN SACRAMENTO THURSDAY AND FRIDAY
It was another jam-packed few days at the state capital. Our lightning round is below to catch you up in a few clicks.
Emotions flared after the state Assembly failed to take up legislation that would expand overtime pay for California farmworkers. Assembly Speaker Anthony Rendon assured he would do everything in his power to get AB 1066 passed on Monday.
Facing growing opposition from the political establishment, a state lawmaker has dropped a bill that would have reorganized the Los Angeles County Metropolitan Transportation Authority Board to give more voice to the dozens of small cities in the county.
Nearly a year after a 19-year-old special-needs student died in Whittier after being left in a sweltering bus parked with its windows closed, state lawmakers sent the governor a bill that would require new safety steps for school bus drivers. Sen. Tony Mendoza named his bill after Hun Joon "Paul" Lee, who could not verbally communicate and needed special care.
A bill to give developers more incentive to build low-income housing cleared the Senate.
Protections against race-based wage discrimination in California could grow stronger if Brown signs the bill lawmakers approved Thursday.
California women may soon be able to pick up a year's worth of birth control pills at once under a bill sent to the governor.
Lawmakers approved a bill Friday that would ban California theme parks from breeding orcas or featuring them in performances for entertainment purposes.
Californians convicted of driving under the influence may have to install a device in their cars that would ensure they are sober before they can start the ignition, a policy already in place in Los Angeles County.
Californians might soon be able to look up violent deaths in the state if the governor signs a bill the state Senate sent him Thursday.
Brown signed a bill Friday that could help four L.A. mega-projects get built three years sooner by limiting potential environmental lawsuits against them.
Brown signed legislation Friday that prohibits the California Transportation Commission from providing money for any new bulk-coal terminals in the state, and he urged cities with ports to take action to reduce such shipments. "I believe action on multiple fronts will be necessary to transition away from coal," Brown wrote in a signing message.
Cellphone cases made to look like guns will be outlawed in California under a bill Brown signed Friday. The legislation was introduced by Assemblyman Jim Cooper in response to concerns by law enforcement officials that the phone cases might be mistaken by police officers for a real firearm and lead to a violent confrontation.
There are three days left for the California Legislature to handle all of its business. We're tracking where the biggest issues stand and monitoring breaking news, so keep an eye on our Essential Politics news feed for the very latest from Sacramento.
PODCAST: LEGISLATURE'S LAST LAP
This week's California Politics Podcast takes a closer look at the divides between Democrats that flared up in the climate change negotiations in Sacramento. Myers also leads a discussion on what to watch this week, plus how two longtime statehouse staffers influenced decades of California public policy.
TODAY'S ESSENTIALS
-- Our business desk took a look at claims from businesses that California's climate change legislation might cripple the economy.
-- Lance Bass made a political fashion statement on the VMAs red carpet
-- This is the next phase in the Bernie Sanders revolution.
-- After the decades-old domestic violence charge against Trump campaign chief Stephen Bannon emerged, our team dove into the details of what happened between Bannon and his now ex-wife Mary Louise Piccard in Santa Monica in 1996.
-- George W. Bush's Iraq war architect Paul Wolfowitz is voting for Clinton. He's the latest Republican to defect. Track the others on our Trump endorsement spectrum interactive.
-- President Obama and Vice President Biden are returning to the campaign trail in September.
-- Clinton spent just over two hours getting her first national security briefing over the weekend.
-- Los Angeles County Dist. Atty. Jackie Lacey has accepted more than $10,000 worth of gifts over the past four years from criminal defense attorneys, police unions, business owners, prosecutors in her office and others who could have an interest in influencing her decisions as one of the most powerful law enforcement officials in the county. The gifts include necklaces and a pearl box, sporting event tickets, bottles of wine, expensive clothing and a glass rose dipped in 24-karat gold, records show.
-- The state auditor blasted various California agencies for ethics violations and wasteful practices, including the failure to collect nearly $315,000 in rent and utilities over five years from tenants of a mobile home park owned by Caltrans.
-- What do you think of Clinton? We want to hear from you.
-- Who will win the November election? Give our Electoral College map a spin.
LOGISTICS
Did someone forward you this? Sign up here to get Essential Politics in your inbox daily. And keep an eye on our politics page throughout the day for the latest and greatest. And are you following us on Twitter at @latimespolitics? Please send thoughts, concerns and news tips to politics@latimes.com.
---