Newsletter: Essential Politics: Budget deal reached, no wall included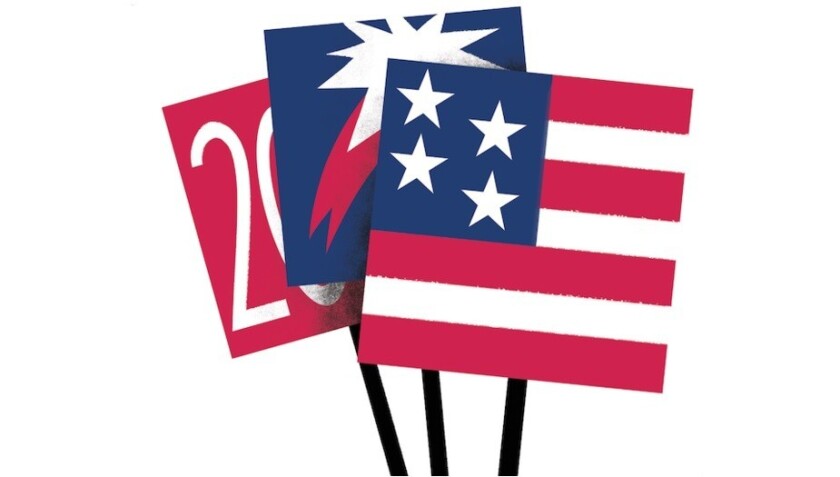 Congressional leaders reached an agreement Sunday night on $1 trillion in funding for the federal government, but rebuffed President Trump's requested cuts to federal agencies and provided no money for his border wall.
I'm Sarah D. Wire, I cover the California delegation in Congress. Welcome to the Monday edition of Essential Politics.
Details of a final deal to fund the government through September, when the federal fiscal year ends, started to come out Sunday night.
Lisa Mascaro has a look at the deal, which includes increased military spending, $1.5 billion for border security and $295 million to help Puerto Rico pay for its Medicaid burden. It also includes more funding for for the National Institutes of Health, opioid addiction treatment, and money to reimburse New York City and other cities for protecting Trump's properties.
Republicans need Democratic support to pass the spending bill, so it does not include a number of Republican priorities, including stripping funding from Planned Parenthood and agencies like the Department of Health and Human Services.
The House and Senate have until Friday to get the bill passed and keep the government open.
Get the latest about the Trump administration on Essential Washington and follow @latimespolitics and keep an eye on our Essential Politics news feed for California political news.
100 DAYS
Trump marked 100 days in office Saturday with a speech before a friendly crowd in Pennsylvania. He revived the racially charged language that infused his election campaign, lashing out at immigrants and promising to jail or deport anyone who doesn't belong in the U.S. He held the rally instead of attending the White House Correspondents Assn. Dinner, as his predecessors have.
Trump called for action on three of his top priorities — North Korea, healthcare and tax reform — but gave mixed signals on each of them.
Mark Z. Barabak took a look at what he calls "the somewhat arbitrary nature" of evaluating a president on early-term accomplishments.
Evan Halper has the story on the area of Trump's biggest success: upending environmental protections and climate actions fossil fuel industries have been targeting for years. On Saturday hundreds of thousands of people marched over climate change and climate research in Washington, Los Angeles and other cities.
OFFSHORE DRILLING OUTRAGE
Trump ordered his administration to review prohibitions on offshore oil drilling, a decision that could affect federal waters along California's coast, but the state's leaders and environmentalists immediately promised to block any new drilling.
A team of reporters from The Times explored the fierce opposition, which is rooted in a painful history of oil spills and bolstered by legal authority that could make additional pipelines impossible to build.
California Atty. Gen. Xavier Becerra said he is prepared to fight any attempt to expand oil drilling off the California coast.
DISCOVERING MAXINE WATERS
In the last few months, young people have embraced 78-year-old Rep. Maxine Waters and her acerbic comments about President Trump, bringing the Los Angeles Democrat national fame in her 14th term, and a new nickname: Auntie Maxine.
I have the story on the congresswoman's sudden popularity, and her long record in Southern California politics.
GAS TAX ANGER
Starting Nov. 1, California drivers will pay higher gas and diesel taxes, which is expected to provide $5.2 billion annually for road and bridge repairs and expanded mass transit.
Gov. Jerry Brown's plan also includes new fees for vehicle registration and has sparked a significant backlash. Opponents have launched a recall campaign against one state senator who voted for the package, which Brown signed on Friday, and are talking about trying to roll back and control the taxes and fees. Other lawmakers said they received harassing phone calls about their votes on the bill.
GOP AND CLIMATE CHANGE
Around the country, Republicans have blocked, resisted and undermined efforts to fight global warming. But Chris Megerian shows how that could be changing in California. Some Assembly Republicans want to work with Democrats to extend the state's cap-and-trade program, which requires companies to buy permits to release greenhouse gases.
UC SYSTEM'S INDEPENDENCE
Last week's scathing audit of the University of California served as a reminder of something many Californians may not know: The university has long had free reign over its operations.
In his Sunday column, John Myers takes a look back at how the university's freedom from politics was baked into California's founding documents. And while there have been efforts in Sacramento to change that, the UC system has managed to beat back all of them.
TODAY'S ESSENTIALS
— The Brown administration's draft regulations for selling and using medical marijuana in California. Now, industry officials, law enforcement officers and state legislators are likely to seek changes to the draft regulations.
— This week's California Politics Podcast is a special edition from the recent Los Angeles Times Festival of Books, featuring a panel discussion on the view from California in the era of Trump.
— Over the last 100 days, thousands have graded Trump's performance in office. Weigh in on his first 14 weeks, and see what others had to say.
— California's tax revenue in April could come up $600 million short of official projections.
— Antonio Villaraigosa argued Friday that he is best suited to be California's next governor because he proved while he was Los Angeles' mayor that he can make politically unpopular decisions in the best interests of the people.
— Some voters are upset with Robert Lee Ahn's "misleading" mail tactics that helped him get into L.A.'s congressional runoff.
LOGISTICS
Essential Politics is published Monday, Wednesday and Friday.You can keep up with breaking news on our politics page throughout the day for the latest and greatest. And are you following us on Twitter at @latimespolitics?
Miss Friday's newsletter? Here you go.
Please send thoughts, concerns and news tips to politics@latimes.com.
Did someone forward you this? Sign up here to get Essential Politics in your inbox.
---
Get our Essential Politics newsletter
The latest news, analysis and insights from our bureau chiefs in Sacramento and D.C.
You may occasionally receive promotional content from the Los Angeles Times.