California voter approval of gas tax increase gives hope to other groups that want to fund state priorities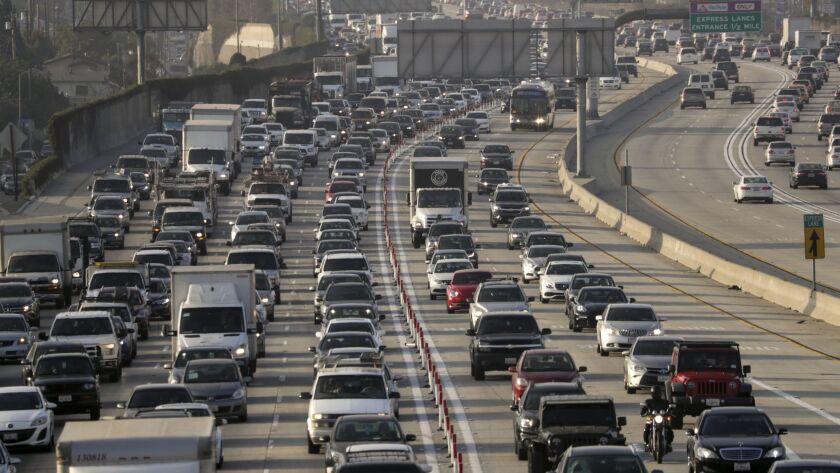 Reporting from Sacramento —
When California voters opted to continue paying higher gas taxes and vehicle fees to fund state transportation projects, groups hoping to drum up money to expand other state-funded services were encouraged.
Proposition 6, which would have repealed those taxes, was rejected by 55% of voters in Tuesday's election, though the results show Californians were divided geographically over the initiative. Opponents say they won by clearly detailing how the levies would be spent to fix deteriorating roads and bridges and improve mass transit.
That same approach could work with other issues, including preschool and healthcare programs, said advocates such as Ted Lempert, president of the group Children Now.
"If the voters see that there are current areas that clearly need significant new support, the voters have shown their willingness [to vote for them]," Lempert said. "With early learning, now that there is such an understanding of how critical this issue is to our collective future, the polling shows the voters are very willing to invest more in [preschool]."
The election of Gov.-elect Gavin Newsom, who vowed to expand and improve early childhood education and child care programs, and the potential for a larger majority of Democrats in the Legislature, also has some officials and groups saying other tax measures may be politically feasible.
Newsom and advocacy groups have also talked about reducing homelessness and creating a state-sponsored single-payer healthcare system.
Assembly Speaker Anthony Rendon said after the election that he is open to considering future proposals to improve early childhood education, including new taxes to fund such programs.
"Some of those would take more revenue than others, but there is no proposal on the table now," Rendon said Thursday.
The higher gas tax and vehicle fees are estimated to raise more than $5 billion annually to reduce a $130-billion backlog of road and bridge repairs.
Brown said after the election that voters made the decision that the tax is worthwhile.
"Where did the money come from? It had to come from the people in the form of a gas tax," Brown said. "People knew what they were voting for."
Voters also approved bond issues on Tuesday to fund housing for veterans and construction of children's hospitals, although they turned down a third bond measure that would have provided $8.9 billion for water projects.
Assembly Republican Leader Marie Waldron of Escondido said it would be a mistake for Democrats to take the vote on Proposition 6 as a green light to seek other tax increases.
Coverage of California politics »
"We just finished the recall of Sen. Josh Newman in the last cycle over that gas tax," she said, referring to a Democrat from Fullerton who supported the higher levy. "My hope is that [Democrats] will move cautiously. I hope the Legislature will consider the affordability of California and the fact that we do pay some of the highest taxes in the nation."
Child care and preschool programs have long been underfunded — only 14% of infants and toddlers whose families meet income requirements receive government-funded care, while more than 200,000 income-eligible 3- and 4-year-olds are not enrolled in preschool programs, Lempert said.
"The key is quality child care and preschool, and to do that it's clearly going to take significant additional resources," Lempert said. "If you look at the polling on this, the voters are very supportive of dollars going to kids."
Assemblyman Phil Ting (D-San Francisco) said that Tuesday's election results were a positive sign for those who want to improve state services.
"By rejecting Proposition 6, voters sent a clear message, agreeing with the prioritization of transportation funding," said Ting, chairman of the Assembly Budget Committee. "Whether it's a parcel tax for schools or a bond for affordable housing, voters continue to support revenue measures, as long as they're confident the money will be spent on their priorities."
Meanwhile, the election results on Proposition 6 demonstrated once again that California is a state that is divided politically — and it comes down to geography.
The initiative failed in the statewide vote. It won in 32 of the state's 58 counties, mostly in rural areas, but also including Orange, San Bernardino and Riverside counties. San Diego County, home to Proposition 6 campaign leaders Carl DeMaio and John Cox, saw 52.6% of voters support the measure that would have repealed the higher gas tax in initial election returns.
The measure was rejected by more populous, coastal areas, including Los Angeles County, where only 40% of voters favored repeal, and San Francisco County, where only 18% voted for Proposition 6.
Twitter: @mcgreevy99
---
Get our Essential Politics newsletter
The latest news, analysis and insights from our politics teams from Sacramento to D.C.
You may occasionally receive promotional content from the Los Angeles Times.