Newsom to women seeking abortions: California welcomes you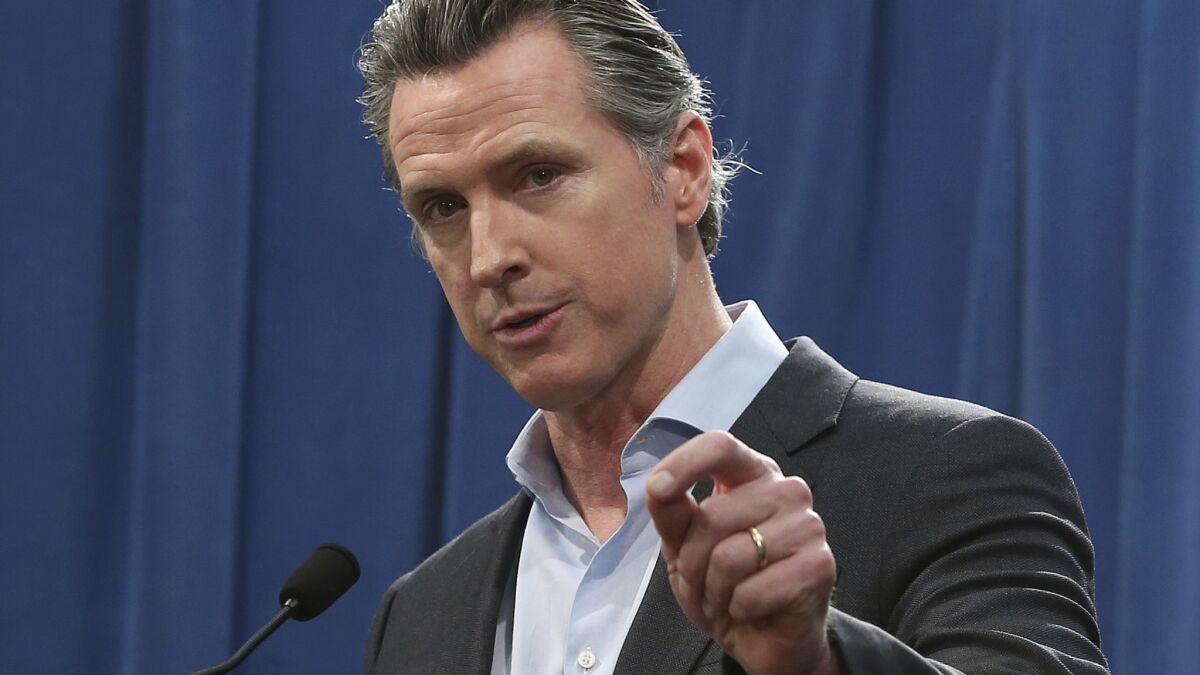 Reporting from Sacramento —
With a wave of conservative states enacting tough new limits on abortions, Gov. Gavin Newsom invited women from across the nation to come to California to "fully exercise their reproductive rights."
On Friday, Newsom signed a proclamation "welcoming women to California" for the procedure and reaffirming the right of women to terminate a pregnancy, a protection enshrined in the state's Constitution.
The governor also joined with fellow Democratic Govs. Kate Brown of Oregon and Jay Inslee of Washington to urge states to pass laws protecting abortion rights.
"In the absence of federal leadership on this issue, states must step up and put in place their own protections — both in statute and in their state constitutions, and through the expansion of family planning and education — to defend every American's right to reproductive freedom," the governors said in a joint statement released Friday morning.
The actions come in response to a wave of new legislative efforts pushing back against the 1973 U.S. Supreme Court Roe vs. Wade decision, which protected abortion rights.
Alabama, Georgia, Kentucky, Louisiana, Mississippi and Ohio have each enacted laws barring abortion once a fetus has detectable cardiac activity, making the procedure illegal before some women might be aware they are pregnant. Missouri has also enacted an eight-week ban on abortion, and Alabama, Louisiana and Missouri do not allow exemptions in cases of rape or incest.
The new state abortion restrictions are the latest in the nation's longstanding political clash over the issue. Advocates on both sides anticipate that the U.S. Supreme Court, with the recent appointments of conservative justices by President Trump, will move toward a possible overturning of Roe vs. Wade.
In California, abortion rights are settled law.
The state first legalized abortion in 1967, years before the Roe vs. Wade decision, and those protections have since been expanded by the Legislature and governor, rulings by the California Supreme Court and a 1972 voter-approved state constitutional amendment protecting privacy rights.
Those protections include the funding for abortions provided to low-income women covered by the Medi-Cal program and the right of minors to obtain an abortion without parental consent.
Twitter: @philwillon
Life is stressful. Our weekly mental wellness newsletter can help.
You may occasionally receive promotional content from the Los Angeles Times.